The thriving metropolis of Spokane has plenty of natural beauty, as well as manmade masterpieces scattered through the city. Whether it be the mountains and rivers, historic houses and buildings, or architectural wonders and scenic landscapes, Spokane features it all, showcasing to the world the artistic display we have to offer every day. No matter where you go within the community, there is plenty of beauty to behold. Leading the path to these breathtaking views are plenty of significant landmarks along the way, each piece portraying a beautiful work of art representing Spokane's history and the beauty it holds. Enjoy the art of Spokane with a landmark and sculpture walk through the city.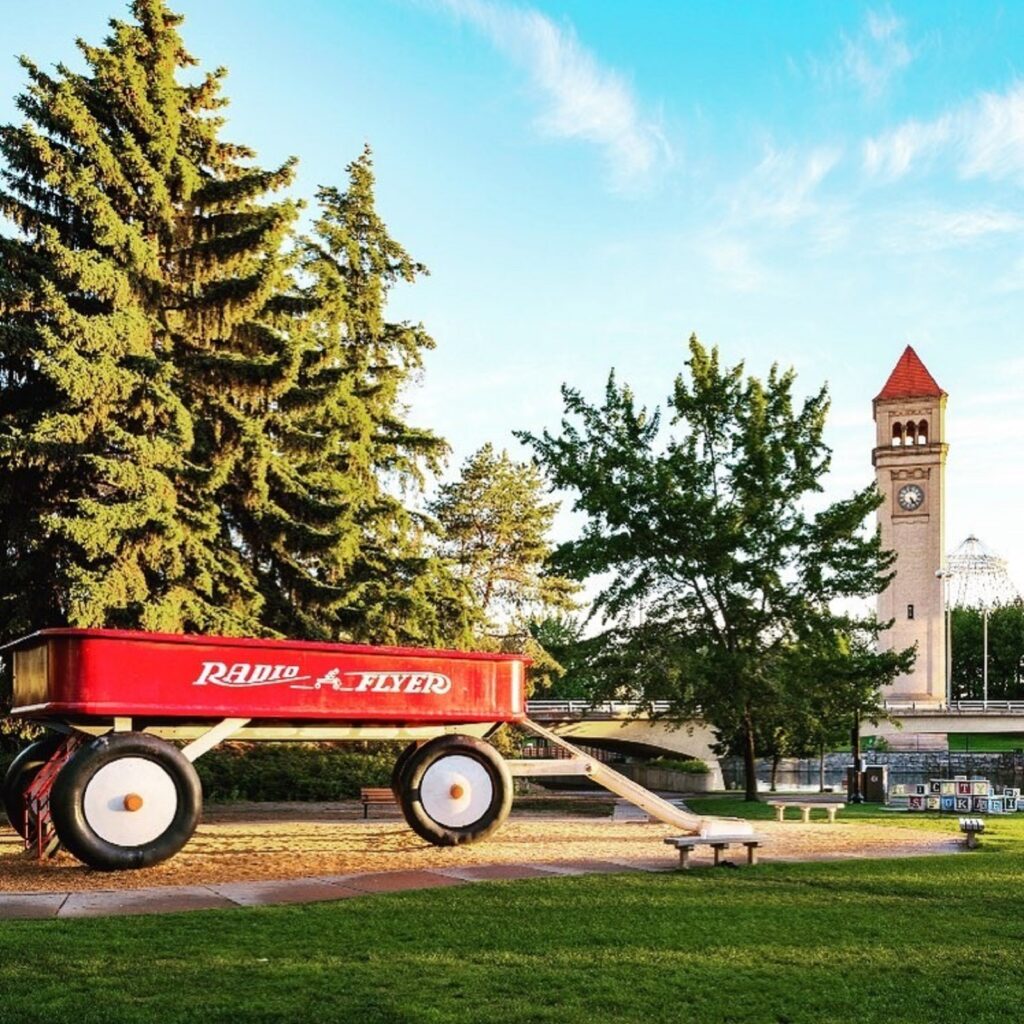 Red Wagon
507 N. Howard St.
One of the most prominent and most well-known landmarks in Spokane's Riverfront Park area is the Red Wagon. This local landmark was built in 1989 as part of the "Centennial Celebration of Children." It is now the world's largest Radio Flyer wagon, and the best part about it is that it's not just a sculpture to be viewed but to be played with as well. That's right! Kids of all ages are more than welcomed to climb into the bed of the wagon, big enough to fit 300 people, and enjoy taking a ride down the giant white handle that serves as a fun slide.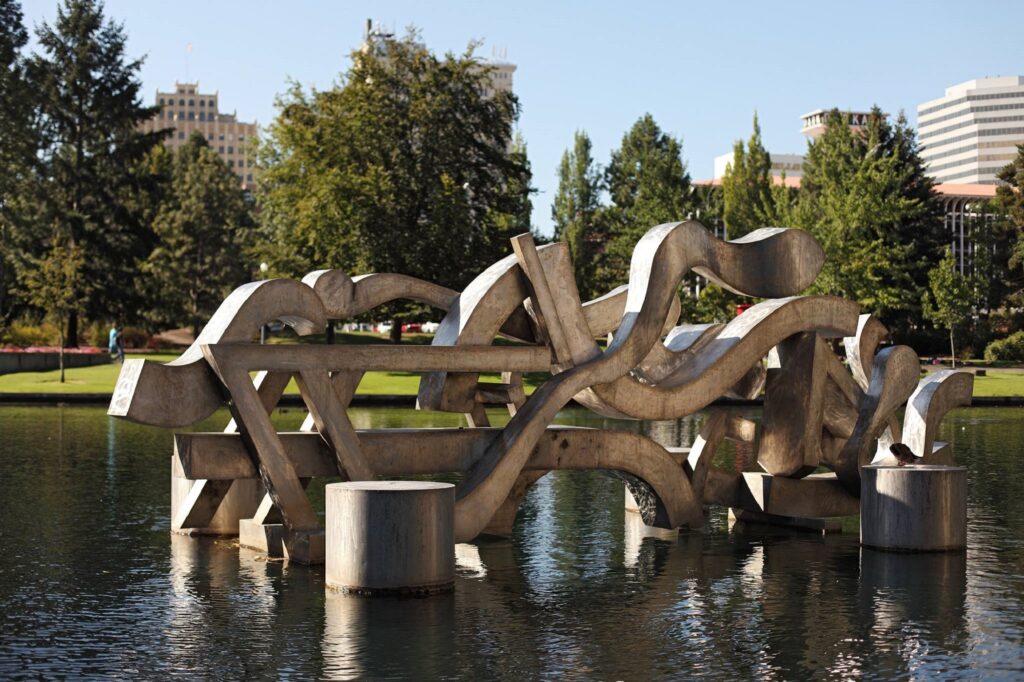 Centennial Sculpture
Riverfront Park
Unlike the Red Wagon, Spokane's Centennial Sculpture must be admired from afar as its nestled in the waters of Riverfront Park. This local landmark was created in 1978 by Harold Balazs, a renowned Spokane figure and famous American sculptor and artist. The sculpture was then dedicated to the city in 1981 to celebrate Spokane's centennial year. Today the sculpture still resides in the waters, appearing to gracefully float on the river in Riverfront Park.
Alive, Lively, Living
Riverpoint Campus
Located within Spokane's very own WSU within the Riverpoint Campus is a beautiful masterpiece known as Alive, Lively, Living for Ramona Hodges. This piece was created by native Spokane artist Jim Hodges and was installed on the campus's lawn east of the Nursing Building. It's a unique work fabricated from three stainless steel panels and features irregular edges on the tops and sides. Hodges calls the work "a paradox of solid steel and open windows; a fusion of manmade modernity and natural environment."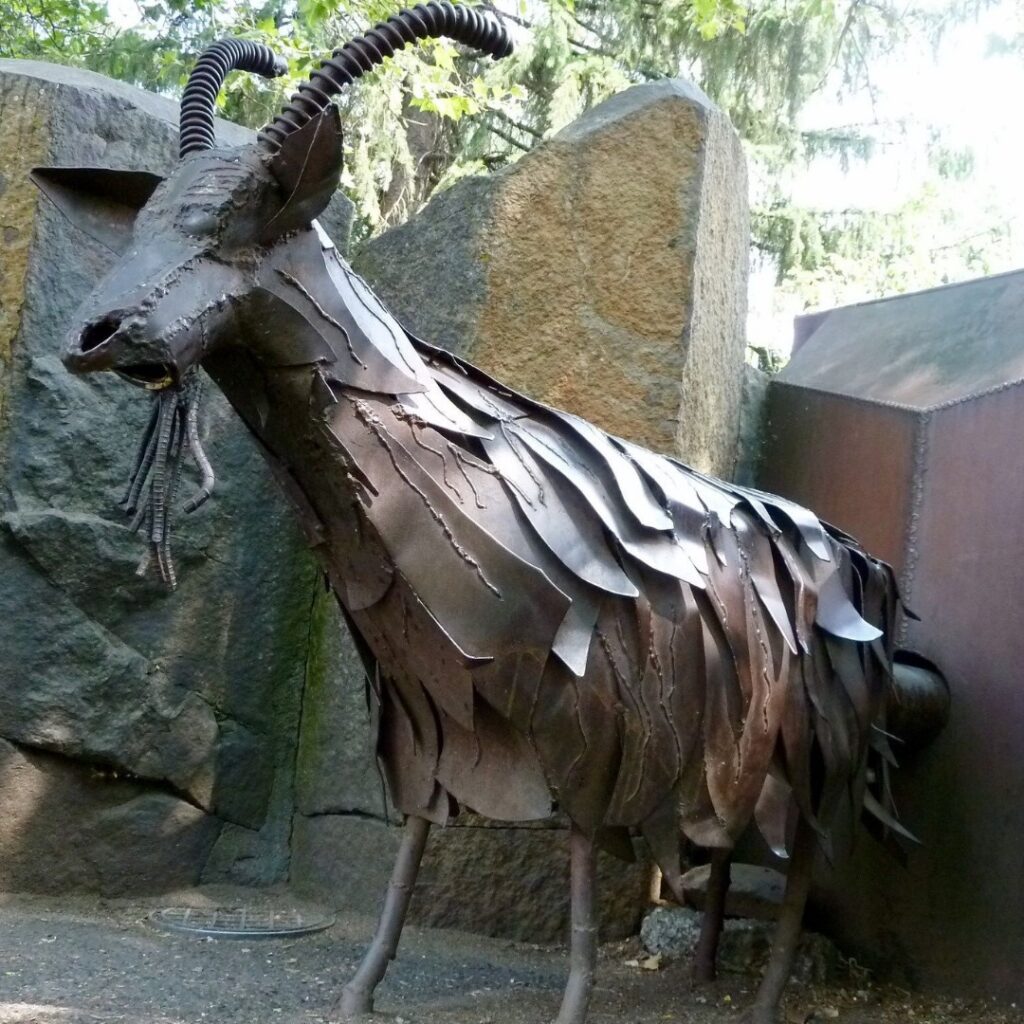 Garbage Goat
507 N. Howard St.
No walk through the lush Riverfront Park is complete without a quick visit to Garbage Goat. The statue was created by Sister Paula Mary Turnbull, who became famous not only in Spokane but worldwide as the infamous "welding nun." The goat was placed in the park in 1974 as part of the World's Fair. Since litter was beginning to be more commonplace, the city tried to make it fun to throw away trash by installing the garbage-eating goat statue, complete with a vacuum inside that allows it to "eat" small pieces of trash
The Place Where Ghosts of Salmon Jump
Southern end of Monroe Street Bridge
The Place Where Ghosts of Salmon Jump is a truly unique local landmark because it's not just a work of art — it's also a poem. The poem's author, Sherman Alexie, is a nationally recognized writer and a member of the Spokane and Coeur d'Alene Indian Tribes. The sculpture's location is where Sherman was inspired to write the poem after he ventured to the falls to try and see the river from his ancestor's point of view. Today, this environmentally sensitive poem is written on an entirely polished granite spiral and set in concrete overlooking Spokane Falls so that we may all reflect on what Spokane once was.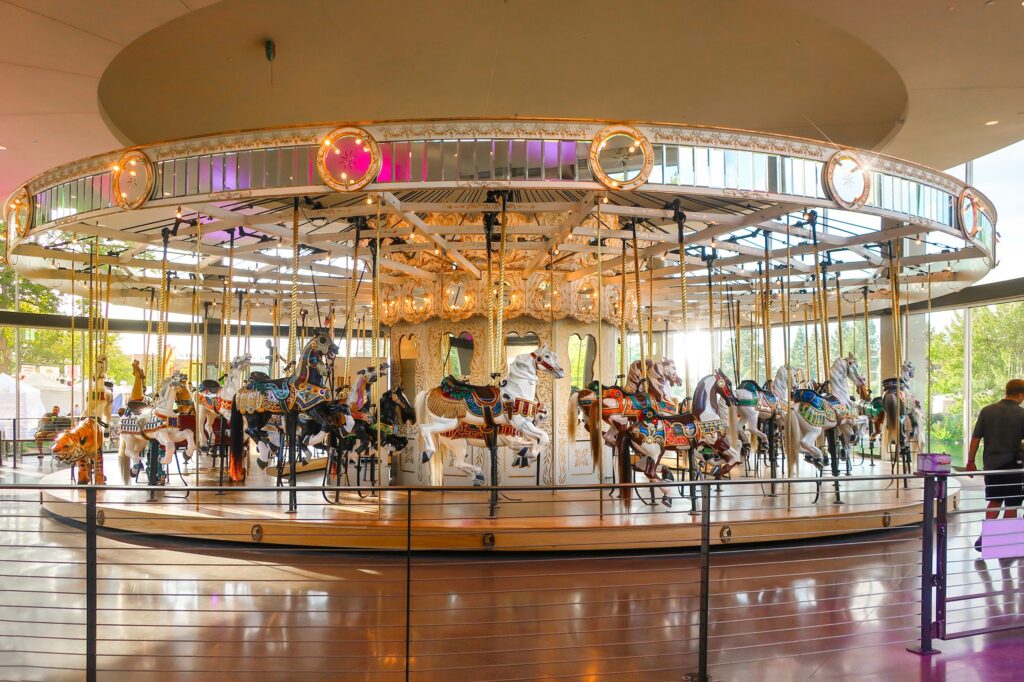 Looff Carrousel
610 W Spokane Falls Blvd.
Spokane's very own Looff Carrousel is another historical landmark found within Riverfront Park. Erected in 1909, the carrousel has since been added to the National Register of Historic Places and is one of America's most well-preserved hand-carved wooden carrousels. Charles I. D. Looff built the carrousel. He is known as a master carver and builder of hand-carved carrousels, building 40 carrousels between 1876 and 1916. Our Spokane carrousel is one of only ten to survive the times. With 54 horses, two Chinese dragons, one giraffe, and one tiger, there is plenty of room for boys and girls of all ages to ride through history on the carrousel today.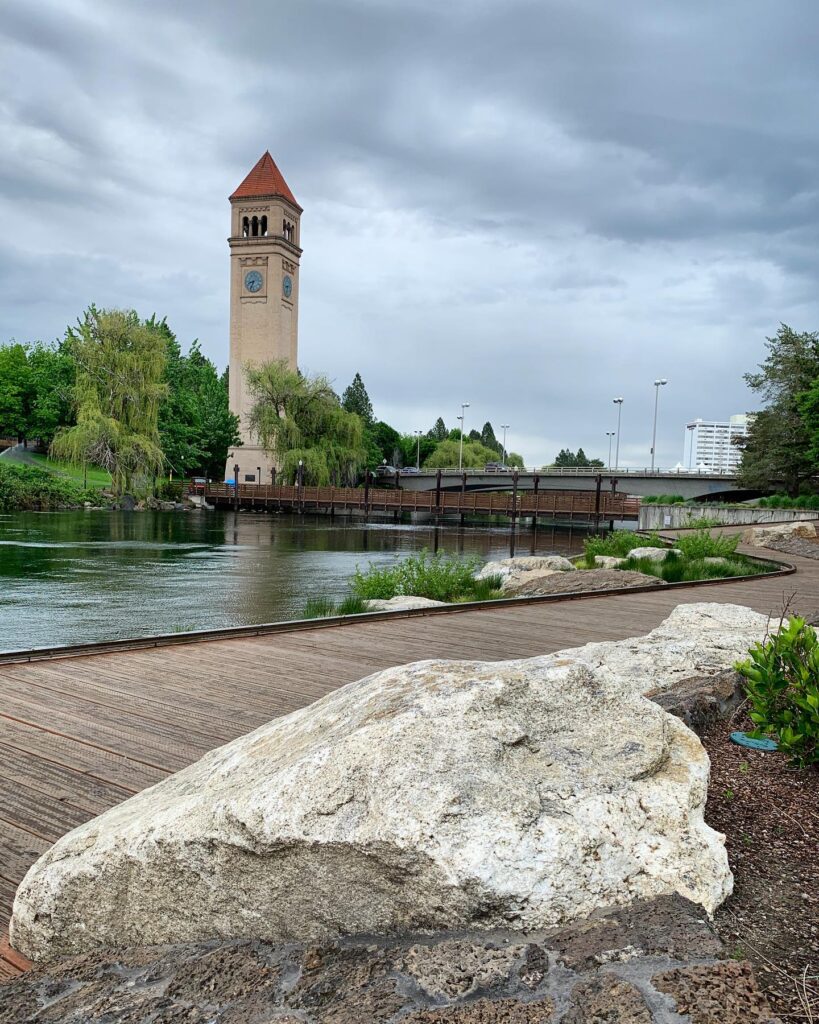 The Great Northern Clocktower
Riverfront Park
Once upon a time, on both sides of the Great Northern Clocktower, the Great Northern Depot welcomed train passengers to the Pacific Northwest. Stepping off the trains, this now historic landmark was the first thing to greet these travelers to Spokane. The busy rail yard has been long gone, with the tracks being torn up to make room for Expo '74. But the mighty Clocktower still stands, serving as a sightseeing beacon for visitors today and showcasing the city's booming rail history.
Yes, no matter where you go in beautiful Spokane, there are magnificent sights to be had. From the smallest sculptures to our most prominent buildings, there is plenty to see. So next time you feel like sightseeing, consider taking a stroll along Spokane's very own landmark and sculpture walk!