If you're living in the Spokane area, you probably are already aware of all the fantastic outdoor activities surrounding the city. However, did you know you're within a two-hour drive of five of the top ski resorts in the Pacific Northwest?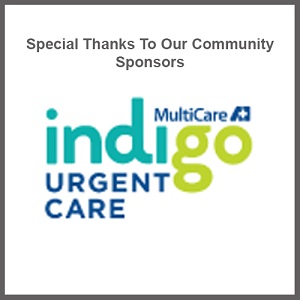 Sometimes it's hard to get outside during the cold winter months, but a day spent on the slopes is always a day well spent. To keep you smiling from ear to ear during all seasons, see our top winter resort suggestions for skiing and boarding fun around the Spokane area.
Schweitzer Mountain Resort
10000 Schweitzer Mountain Rd
Sandpoint, ID
208.263.9555
Schweitzer is known as the largest resort in Idaho and Washington. Located in the rugged Selkirk Mountains nearest the town of Sandpoint, Idaho, Schweitzer rivals world-renowned ski resorts for a portion of the price, and you'll hardly ever have to wait in line. With 2,900 acres of incredible terrain, you'll never have to ski the same run twice. They are known for many long groomed runs, amazing tree skiing of differing levels of difficulty and authentic winter-resort style living.
Whether you're looking to spend the day on the slopes, skiing or snowboarding, Schweitzer is a fun time for all. They've recently finished a Sky House that overlooks the beautiful Lake Pend Oreille. Along with the Sky House, Schweitzer has many other dining and shopping options located in the Schweitzer Village.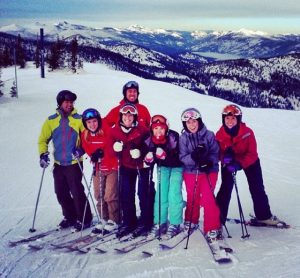 At Schweitzer, you can rent equipment, tune-up your gear, rent lockers, bust a move at their terrain park, go tubing, nighttime twilight skiing, or use their Nordic cross-country ski trails.
If you're new to the sport, Schweitzer offers highly organized private lessons for children and adults. They also have a great daycare center where your children can ski, craft, and explore the mountain while you spend your day on the slopes or around the village.
Are you looking to stay the night or a weekend? Schweitzer has a great selection of lodging properties, including the Selkirk Lodge, White Pine Lodge, condos and RV parking rentals. Plan your stay at Schweitzer HERE.
Schweitzer hosts a variety of exciting winter and summer events. From costume parties to ski-demo days to summer lift-rides, mountain biking and brew festivals, Schweitzer is an excellent experience at all times of the year. Check out Schweitzer's full event schedule HERE.
Silver Mountain
610 Bunker Avenue
Kellogg, ID
208.783.1111
We can talk about what makes Silver Mountain great all day! They have light, fluffy powder, unrivaled tree skiing, and enough terrain for first-timers and experts alike. Once you've skied at Silver, you'll want to go back again and again.
The biggest thing that makes Silver Mountain great is the atmosphere you experience while skiing there. From the employees to the locals and the season pass holders, everyone comes together to call Silver Mountain "home." They are always welcoming new members to the Silver family, so stop by!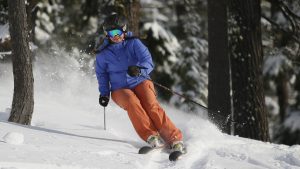 Special Event Spotlight: Leadman on April 17. Leadman is an adventure triathlon consisting of skiing, downhill biking, and running. This race is a test of endurance and is completed as a team or individually. In collaboration with the Kellogg Rotary Club, Leadman raised over $140,000 for local charities over the past 17 years. Registration for Leadman is now open HERE.
Silver Mountain's spring season pass sale began on March 1. As the lowest price offering of the entire year, if you're looking to save some money while hitting slopes, now is the time to purchase. Buy a pass for winter 2021-22 (next season) now, and you will be able to ski for free for the rest of this season.
Silver Mountain has luxury condos that automatically include access to Silver Rapids Indoor Water Park. They have ski and stay packages that come with discounted lift tickets in addition to water park passes. Find more information about lodging and packages HERE.
The ski mountain, waterpark, hotel, bike park, and golf course all work together to give their guests a wonderful and inclusive experience.
Lookout Pass
I-90 Exit 0
Mullan, ID
208.744.1301
Lookout Pass is a unique mountain located on the border of Idaho and Montana. Ski this mountain, and be in two places at once, literally! Located in the Rocky Mountains, Lookout Pass is about 90 minutes from Spokane on I-90. They love to say, "life is better on the border!"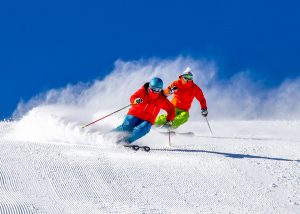 With a passion for making a good day of skiing and riding a great day, they strive to be the best in all they do. It's not the biggest mountain, but they wish to provide a pure and exhilarating ski and snowboard experience at an affordable price. With varied terrain, Lookout Pass is a great place for all levels of ability.
Lookout Pass hosts a genuine, family-friendly atmosphere with many days of magical untouched powder and world-class specialty grooming on the days between big powder dumps. They're excited about being the only ski area located in the Northern Rocky Mountains at the Bitterroot Range base.
With around 400 inches or 33 feet of annual snowfall, their snow is often the lightest and driest in the region. Lookout Pass is wind-protected and usually fog-free, allowing for an abundance of enjoyable sunny days on the mountain.  Because most of their slopes face North or Northeast, the snow usually stays light, dry and easy to ride.
Lookout Pass was voted "the most family-friendly mountain resort in the Pacific Northwest." Why do families love Lookout so much? Their adult, senior and youth lift tickets are affordable. College students can save big, and children under six ski for free when accompanied by an adult.
Mt. Spokane Ski & Snowboard Park
29500 N Mt. Spokane Park Dr.
Mead, WA
509.238.2220
Mt. Spokane is the closest ski area to downtown Spokane. You can join Mt. Spokane for some sweet turns during the day or after dark with their unique night skiing program. With a wide variety of group and private lessons, it's never too late to learn how to ski or snowboard.
They pride themselves on going above and beyond to provide exceptional service for all your ski and adventure travel needs. The team provides an amazing experience you will remember for years to come.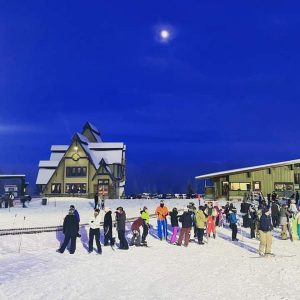 At Mt. Spokane, find two housing options at the historic lodges and free parking all over the mountain. You can ski or board in the winter and use their terrain park, tube, Nordic ski, snowshoe, and snowmobile. During the summer, find fun with hiking, birdwatching, and mountain bike trail activities. Their summer campground, open from mid-May through mid-September, is a beautiful place to take in the serenity of Spokane's wildlife and surroundings.
The park features 25 kilometers of beautiful multi-use, all-season Nordic ski trails. If you're not into skiing, drive to the top of the Summit Road from mid-June through mid-October. Here, you can find the highest point in Spokane County and enjoy spectacular vistas, flora and fauna. Visit the historic Vista House and other historical monuments to view the area and lakes with their telescopic viewfinders.
Need a venue for your wedding or event?  Mt. Spokane Ski & Snowboard Park's newly remodeled spaces accommodate gatherings of all sizes. Experience a spectacular scenic backdrop by including a chairlift ride to the top of the mountain for all your guests.
Bring your Toyota, Scion, or Lexus for a ski-free Friday at Mt. Spokane on March 12. To guarantee a spot, reserve your free ticket online.
Led by the best female instructors on the mountain, the Lady's Day Clinics are some of Mt. Spokane's most popular events. Clinics include three hours of instruction (grouped by ski level), coffee, lunch, an after-party and various door prizes.
49 Degrees North Mountain Resort
3311 Flowery Trail Rd.
Chewelah, WA
509.935.6649
49 Degrees North is unique in its ability to offer something fun and exciting for everyone. From long groomers to tree skiing and lots of learning terrain for beginners, it's all there. They welcome guests of all ages, disciplines and abilities to come and have a fantastic time on their mountain.
Head to 49 Degrees North for a great day of snow on the mountain. With a laid-back culture, this mountain is family-oriented and community-based. When you arrive, their friendly parking attendants direct you to an open spot. Unload your gear here and head towards the lodge.
Stop by the ticket office and rental shop or check-in at the Ski & Snowboard School to book a lesson. Reserve your tickets by booking online. Once you've purchased a lift ticket, head to the Quick Turn Cafe for a warm cup of coffee or hot chocolate before spending the day outside.
First time skiing or snowboarding? Make your first day a success by taking a lesson through their Snowsports School. They have certified instructors, great deals and all the gear you'll need to rent.
In terms of terrain, 49 Degrees North has long stand outs, consistent pitches, incredible glades for tree skiing, and a ton of variety in tree-spacing and grades. The mountain has three distinct basins with their own unique personalities. Their north-facing aspect makes for awesome snow that lasts the duration of the season.
Their annual season pass sale starts on March 1, 2021. They have a Ski with Patrol Day (in honor of International Women's Day) on March 7, The Sheimo Cup on March 13, Demo Day on March 14, Women's Clinic on March 15, Telemark Clinic on April 4, and Spring Skiing Week from April 5 to April 11. See their full events schedule and book reservations HERE.
Winter Resorts Conclusion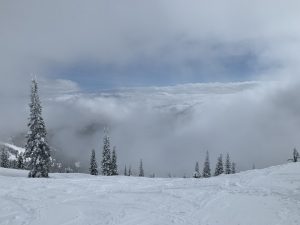 It's essential to get outside and breathe the fresh air through these strange times. A day or a weekend spent at one of the fabulous ski areas around Spokane is truly an unforgettable experience for you and the family.
Because of COVID-19, most resorts require pre-booking and rentals, so make sure to reserve your spot before heading to the mountain of your choice. You don't want to arrive there only to find all tickets are booked. Plan ahead — adventure awaits you!
Stay warm, explore nature, test your skills and head to a friendly local mountain to join in the winter fun to be had around Spokane.