From the doodle on your notepad to the discarded craft project in your office and the murals that make Spokane buildings come to life to the magnificent works that vibrantly decorate the halls of the Northwest Museum of Arts and Culture, there is art all around us. The bold colors and long brushstrokes draw us in every time, stirring questions, revealing life's wonders and making us pause, if only briefly, to share what were once long-kept secrets.
Every piece is different, special, and unique, just like the artists who create these wonderful works that inspire minds and capture our imagination. Like the art they so dearly hold a passion for, they too are everywhere, and it's not surprising that many local artists call our artistic, cultural hub of Spokane home!
Travis Chapman
Artist, Painter
A roofer by day, once Spokane native Travis Chapman sheds his work clothes, he picks up a paintbrush and transforms into quite the artist. With a flair for comedy, his surreal compositions infuse detail and reality in fun and vibrant ways. Each piece is a fantastic mash-up of humor and fictional nonfiction, with Chapman stating on his website that he's "just trying to entertain you with my painting."
You can find all his available works for sale on his Etsy shop, where you'll find brilliant pieces such as "Drinking Buddies," which features Jaws himself enjoying a cold one as seasoned shark hunter Quint pours the beer straight into the mouth of the beast. Equally humorous is his painting of Edgar Allan Poe dressed up as Po from the Teletubbies, which is quite the play on the famous poet's name. All of these pieces and more can be found on Chapman's Facebook or Instagram pages which he regularly updates with his new, witty creations.
Emma Noyes
Artist, Writer, Graphic Facilitator, Researcher
When Emma Noyes isn't doing amazing work as the research director at Inatai Foundation, you can find her creating beautiful works of art. A member of the Confederated Tribes of the Colville Reservation, Emma has continued the storytelling traditions of her family that she heard growing up in the Omak district of the reservation. Noyes finds new ways to depict characters of coyote stories, particularly with an emphasis on coyote's wife, mole woman. She also incorporates her appreciation for Scandinavian art and design in her work, a nod to her Danish heritage, as she draws inspiration from both sides of her family.
Mainly Noyes uses brush and ink as her go-to medium, but she also creates digital works of art. For over ten years, she has kept a daily journal full of illustrations and has a longstanding commitment to creating a visual and written universe of tribal plateau indigeneity. She's even gone further in this commitment and wrote a book, "Baby Speaks Salish, " published by Scablands Books. The book is currently available on the publisher's website, a one-of-a-kind manual created by a mother seeking to share more Colville-Okanagan Salish language with her daughter. It was designed to provide simple examples of integrating more Salish words into adult-and-child interactions. Those interested in purchasing a copy can also find the book at Auntie's Bookstore, From Here, or Wishing Tree Books. You can also follow Noyes on Instagram for more information about her work.
Jaime Crain
Painter, Freelance Graphic Designer
Inland Northwest artist Jaime Crain creates soulful paintings that explore the beauty and power of the human mind through themes such as memory, mental illness, and contemporary social issues. She primarily works in oil paint, combining figures with a nonobjective environment and embracing heightened, often unexpected color. Since graduating summa cum laude from Whitworth University with a bachelor's degree in fine art and graphic design, Crain has gone on to create a variety of colorful masterpieces that draw on her personal experiences with extreme emotional highs and lows.
Already she's received numerous awards and scholarships from organizations such as the Northwest Watercolor Society and the Spokane Valley Arts Council. She's even been included in several group exhibitions, the most notable one she co-founded and curated herself, the Garage Sale Exhibition. Those moved by Crain's work can find pieces they can take home on her Etsy Shop. What's more, you can also check out Crain's Instagram, where she posts short snippets of herself painting these soulful masterpieces.
Chandler Wheeler
Painter, Graphic Designer, Mixed Medium Artist
Capturing life at the intersections of disability, queerness, and neurodivergence is autistic, non-binary artist Chandler Wheeler. Wheeler's primary passion lies in creating media content that is accessible, mindful, and represents a variety of diverse experiences, including that of their own, as they desire to be better understood through art. When Wheeler isn't creating works of art for personal expression, they can be found hard at work as a graphic designer and media manager for LGBTQ+ non-profit Odyssey Youth Movement.
Wheeler works in various mediums, including jewelry, apparel, and paintings, primarily focusing on plants, people, and abstractified subjects. Those interested in following Wheeler's creative process can check out their Instagram page. Likewise, supporters can proudly wear some of Wheeler's accessories or even commission them for some unique pieces by contacting them on their Wixsite.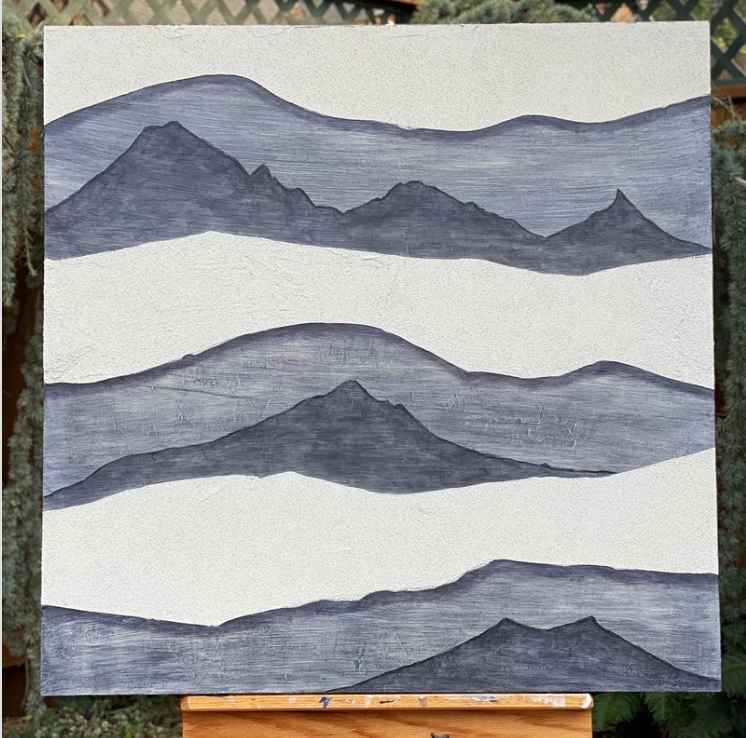 Monica and Scott Hampton
Painters, Muralists
Creative duo Monica and Scott Hampton started a journey in 2018 that led them through graphic design, hand lettering, screen printing, and painting. Scott had already been a professional painter for over 30 years when they took on the journey, with Monica dedicating herself as a full-time artist that same year. For the next three years, the pair dedicated long hours to honing their skills and developing expertise while creating their uplifting style with art that takes inspiration from scenes and details of the natural world.
By 2021, the dynamic duo's efforts had consolidated around painting fine art canvases, murals, and commissions. Today these creations can be found at their studio Hampton Visual, which they founded the same year they began their art journey in 2018. Here, these giddy artists offer lovely art to their happy clients, all of which have been made using the highest-grade tools, materials, and supplies to create works that radiate excellence and vitalize spaces, so they fit into any home.
Yes, artists are everywhere but especially here in Spokane. So, the next time you find yourself out and about in the city and find yourself intrigued by the art you just happened to pass by, keep in mind it was most likely created by a local Spokane artist who wants to brighten the world one brushstroke and color pallet at a time!