In the words of my favorite song, "I don't know where you come from, but what I do know is: We come from the same LOVE." Amongst the Sequoia trees in King's Canyon in 2018, Love on Every Billboard budded in John Pogachar's awareness. "We were always talking about how to better serve ourselves and the world. How can I do that?" Putting "LOVE" on billboards rose to the surface and is spreading love across Spokane and the world.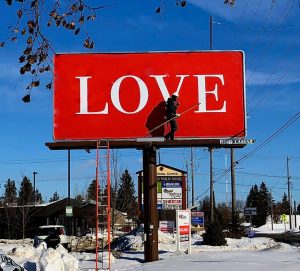 Doubting himself at first, as we all do when important missions fall into our laps, he questioned: "Am I worthy? Am I good enough?" John now preaches, "Step into the shoes you were given and know your ideas hold value."
After the inkling sparked, John recognized the scale his project could render. "Imagine seeing 'LOVE' on display windows, shirts, benches, business cards, books, and Netflix contracts. Almost anything imaginable can send the message of LOVE," and it all started here in Spokane.
To put love on a billboard, they discovered Lamar, who has sponsored several posters across the USA. "Most advertising companies don't give like that. This was a different connection," ventured Pogachar. "We all wanted LOVE on outdoor advertisements, and we wanted to start now. This is what our world needs, not only on Valentine's Day but always."
Designing the preliminary emblem, a bold red and white logo simply stated, "LOVE." Out of pocket, Pogachar's first billboard went up for $950. The project then received support from coaching groups and team members who jumped on board, singing, "Wouldn't it be great if ALL billboards in the world just said, LOVE?"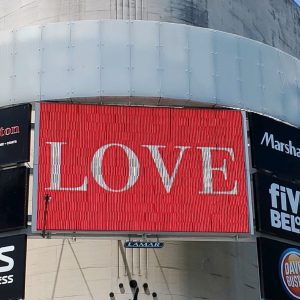 Kyle Cease, a transformational comedian who whitifies the voice in your head that tries to keep you small, sponsored the second ad, the third, and the fourth. He discovered Love on Every Billboard through an online post exclaiming, "Where is the love?" Pogachar noted. "Once you query 'where is the love?' You'll realize it starts within you."
Pogachar fell in love with lectures and many gurus that speak on living life to the fullest, accepting the past, owning the future and forgiving yourself. As the initial outside-sponsor of a banner, Kyle's support brought tears to Pogachar's eyes. From here, "the whole thing came about. Assistance with web development opened many important channels to receive monetary donations. Through word-of-mouth, people started donating, and things started to blossom."
"I have all these philosophies, but I have to practice. It's a constant [undertaking]: sitting down, meditating… Freeing your mind is like lifting weights. Trauma can come up, and traumas just want to be seen." He recommends that people cry it out, love it, and allow it to leave their bodies. "Don't resist, accept. Recognize and let go of what's holding you down — the things that don't fulfill you. Go with the flow and follow your passions. Capture ideas, or else you'll lose them."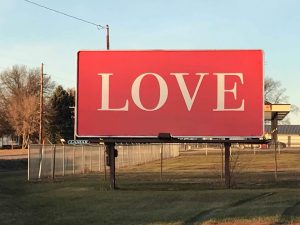 "Everything has been organic. It all kind of just happened," remembered Pogachar, excited about their first media feature on KHQ NBC in Spokane, where Peter Maxwell broke the story that went national. Since then, they've had placements in Chicago Now Tribune Online, KHQ Q6, Today Show, KREM 2 News, Apple Podcast, KXXV TV, 614Now, LocalSYR, Billings Gazette, Times, Times Republican, WZZM13, KHTS Los Angeles, and now SpokaneTalk.
Dave Krygier was contacted to film a documentary that follows Love on Every Billboard's expedition. "Details on the project came forth, and it grew into making a documentary," mentioned Krygier, "It was natural, and our visions really aligned. We saw the movement going beyond to film festivals, music festivals, and other places of positive impact." Donations are presently raising proceeds for the film and "the opportunity to get in front of people with knowledge to move things forward." Both John and Dave are Spokanites with studios at The Steam Plant downtown.
Not only is Love on Every Billboard conveying an important memo, but the signs have also changed people's lives. "People have been through natural disasters, shootings, [etcetera]. Billboards should be in these places. We want to honor people who have experienced traumas, so they'll have something to look to and know they are loved." Pedestrians pull to the roadside, "all they can do is cry. They're surprised someone is doing this without selling anything. There's no agenda here. We just want people to know they are LOVE."
Krygier came up with the concept for the documentary: "Let's grab everyone's stories with Love on Every Billboard and build the narrative around people's perspectives on the importance of seeing them. It's a journey rather than a destination." Much more has stemmed from it than the two possibly imagined. "Everything you go through is part of the [process], so fall in love with it."
Inspired singer-songwriter Laurel Nakai and guitarist Mike Shelter developed Love on Every Billboard's theme song. "It came to them, downloaded from the universe," believes Pogachar. Jason Mraz's music video, "Love Is Still the Answer" also spotlights a LOVE billboard in St. Lewis, Missouri.
Today, Love on Every Billboard has a shoppable website with gifts, yard signs and business cards promoting LOVE. "Cards can be handed out wherever you are, and lawn signs can be put in every yard, and love can live everywhere. It's been fun to watch people take the idea and grow it in their own way."
Currently, 147 billboards have gone up in five countries and 14 states. "People have pushed this forward. It was supposed to be a social experiment, but so many people put their hands in and blew wind into the sails." The non-profit wishes to share its message through all types of media.
"It's not two guys, it's a movement that's touched a lot of communities worldwide, and it's just getting started." Sincere to their purpose and everything they're doing, they continue to "spread a message of love in this time where only bad things seem to be happening. This one message can be the light in someone's day," affirmed Pogachar.
"You can't give from a depleted cup; you have to fill your own cup." If you are in a space to give, the project proudly accepts donations through their website. You can follow and share their journey on Facebook.