We did it! We made it through the autumn smell of pumpkin spice just to walk into the nostalgic aroma of the Christmas tree. That warm, refreshing earthy scent that's a mix of citrus lemon, and sandalwood is already decorating houses as everyone begins to prepare for the upcoming holidays. After all, it's never too early to pick out the perfect Christmas tree and lucky for residences in Spokane, there are plenty of places to forage for the evergreens.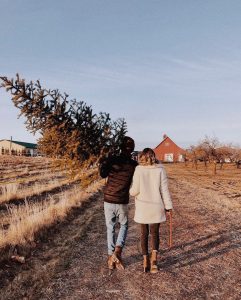 Green Bluff Tree Farm
8022 E Greenbluff Road, Colbert
509.998.9967
If you want to get a Christmas tree from the place that's been offering them to our community since 1950, then you better make a reservation with Green Bluff Tree Farm. This holiday season, the only days they will be open to the public for their U-cut Tree Season for this Christmas is November 26 through 29.
The farm will have a wide variety of shapes and sizes to choose from, ranging from Grand, Nordmann, Fraser, and Corkbark fir trees and many more. No matter what type you pick, any tree at any size is $80, and saws are provided for your cutting experience. There is also complimentary hot cocoa and fresh Green Bluff cider available to really get you into the Christmas spirit during your visit.
Legacy Farm Christmas Trees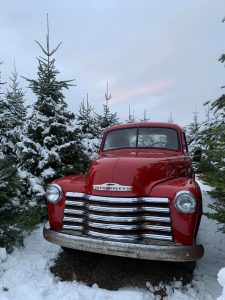 10321 # Day Mt Spokane Road, Mead
509.979.5322
Though Legacy Farm started in 1961 after Roy and Cathy Marlow purchased the land, it didn't become Legacy Farm Christmas Trees until 2006. That is when granddaughter Lisa, who grew up on the farm, inherited the land two years prior and spent some time deciding what to do with it with her husband, Mike. Lisa's love for the Christmas holiday was what drove the decision, and ever since, they've lived by the saying that "our legacy is your tradition."
The couple strives to create the perfect destination for families to come and harvest their own Christmas tree year after year. To create this atmosphere, they also offer Santa visits, kid's scavenger hunts, hot cocoa, candy canes, vintage trucks for photo ops, and much more. This year, those looking to come to get a tree will need to make a reservation online and then enter the farm email address to schedule their slot to come to pick a tree.
Holly Lane Tree Farm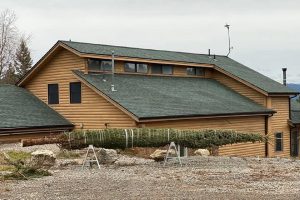 14012 N Norman Road, Spokane
509.928.5970
Opening for the 2021 Christmas season on November 26 is Holly Lane Tree Farm. They've been growing Christmas trees for the Spokane community since 2001. With every year's season arrival comes a warm greeting, a complimentary cup of your favorite hot beverage, a bottle of water for your trek out to the field, and a sharp saw to help with your tree hunting adventure.
Trees up to 15 feet are $80 plus tax, and any tree over 15 feet is an additional $10 per foot. They also sell beautifully handmade wreaths in various sizes with custom options available. So, decorate your home not only with a real tree but also a natural Christmas wreath on the front door to greet holiday visitors.
Carver Farms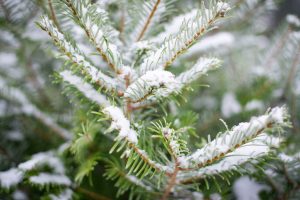 9105 N. Idaho Road, Newman Lake
509.226.3602
Opening their doors from November 26 to 28 and December 4 to 5 for their U-cut season is Carver Farms. Due to the limited number of trees they can sell each year, reservations must be placed on their website. They have a wide variety to choose from — Grand, Blue spruce, Concolor, Frasier, and Trojan Fires, all starting at $75. There will be free hot cocoa and cider on-site to create a cozy experience.
Carver Farms also sells a variety of goods to get you into the holiday spirit that can also make great gifts, such as their wreaths, locally made candies, lotions, soaps, crafts, and roasted coffee, along with Carver Farms Bean Soup Mix and their locally grown honey.
Hutton Settlement Christmas Tree Farm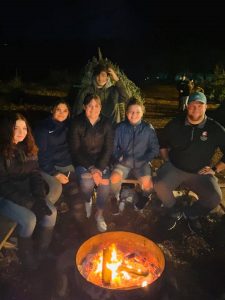 9907 E Wellesley Ave., Spokane Valley
509.926.1027
Of course, nothing says Christmas like the spirit of giving that comes with it. At Hutton Settlement Christmas Tree Farm, community members are given a chance to cut down their own tree while also donating to the Hutton Settlement Fundraiser since all the proceeds from the farm go to their cause. These funds go to Hutton's on-campus, youth-led education programs and help the Hutton Settlement continue its commitment to providing long-term alternative housing for children ages 5 to 18.
This year they will be running from November 26 until December 17. U-cut Hutton Trees will only be $35, while pre-cut trees start at $35 and up. Fresh garland, poinsettias, and fresh wreaths will also be for sale that goes toward the cause this year. There will also be an additional market on site to shop from known as "Hutton Goods" that will offer a variety of locally made crafts and goods.
Yes, Halloween is officially over, and it is now socially acceptable to put up that Christmas tree. Luckily for members of our Spokane community, there are plenty of Christmas tree farms to choose from. It's time to grab your winter coats and head off into the forest with the family in the spirit and tradition of the season with a good old-fashioned hunt for the perfect Christmas tree.