Though Spokane is some 1,200 miles away from the bright lights of Hollywood, the spotlight still manages to shine upon the dazzling Lilac City from time to time. And with our city's vibrant downtown, lush forests, beautiful mountains, mighty rivers, and welcoming community, it's easy to see why those big, famous directors keep picking Spokane as their perfect backdrop for so many movies, tv shows, and music videos. The city has also been featured in many historical documentaries, on various reality shows, travel channels, and more.
With all this free publicity, it's no surprise Spokane has even had the pleasure of hosting Guy Fieri's famous Diners, Drive-Ins and Dives! The Food Network star traveled all the way here on a cross-country road trip to visit some of America's "greasy spoon" restaurants. Now he's making audiences' mouths water all across the globe for a taste of Spokane by featuring local, homegrown restaurants on the big screen.
Chaps Diner and Bakery
4237 South Cheney Spokane Road, Spokane
509.624.4182
During season ten, Guy visited a tiny café and bakery on the edge of town when he came to Spokane's Chaps Diner and Bakery for the "Fresh, Filled and Fried" episode. The cozy spot with strong coffee, great music, and a friendly atmosphere offers community members comfort food they can relate to as every meal is prepped and based on farm living. Not only that but what makes this place stand out is that all the recipes used to this day stem from the one and only grandma!
Guy agreed the little restaurant was one of the best places to start the day, with the French toast being one of his favorite breakfast items. The plates here are full of yummy goodness, with portions that will fill up even the hungriest bear, so be sure to bring your appetite! In this kitchen, it's all about made-from-scratch American comfort food that's oh-so-familiar, just like how your mama used to make it. Stop in for breakfast, lunch, or dinner and don't forget to swing by the bakery to check out their mix of European and French-style creations for some decadent dessert options to take home with you.
Elk Public House
1931 West Pacific Avenue, Spokane
509.363.1973
Through a series of creative renovations, what was once the historic Browne's Addition neighborhood pharmacy in the 1930s has transformed this iconic location into a fantastic diner that has people from all across the country coming down for a visit, including Guy Fieri himself in the episode "Sandwiches Plus" during season 10! The eclectic pub known as Elk Public House has been a Spokane classic since it opened its doors as an eatery in 1999. The popular gathering hole that has since revitalized the neighborhood it calls home is the perfect spot to bring a date, hold a business meeting, or enjoy a cold one or two with friends.
No matter why you stop in, you'll have fun and enjoy some delicious culinary masterpieces, including their world-famous corn pasta salad, lamb sandwiches, BBQ ribs like no other, and much more. As a bonus, patrons can also enjoy one of their creative weekly specials, homemade soups, and innovative cocktails, all on the Elk's patio, which is widely considered the best patio dining in the city.
Waddell's Neighborhood Pub & Grille
4318 South Regal Street, Spokane
509.443.6500
Named after the eccentric and legendary baseball pitcher Rube Waddell, Waddell's Neighborhood Pub & Grille was proud to offer Guy and his crew Spokane's best draft selection in the episode "From Crepes to Kreplach" from season 11, providing over 50 various brands of beer to its patrons. Waddell's is happy to pour some of the best craft brews in Inland Northwest, continuously rotating over 80% of their 50-tap handle lineup. Whether trying something new or enjoying a pub favorite, each cold pint pairs deliciously with their excellent pub grub meals. Popular choices here include beer-braised lamb Philly sandwiches, incredibly juicy Rube Waddell Burgers, and the Big Dog Burger, which is pure satisfaction.
At Waddell's, modern pub food takes traditional classics and steps them up quite a few notches into tasty delicacies. Guy recommends that you always come hungry here and be prepared to share your plate, as servings are relatively large and paired with a few drinks — they'll keep the good times rolling!
Ruins
225 West Riverside Avenue, Spokane
509.474.1262
Guy enjoyed a fresh, rotating assortment of bar fare and craft cocktails in season 29's episode "From Pork to Pasta" after visiting Spokane's Ruins. At the time of Guy's visit, owner and chef Tony Brown was cultivating Ruins into his own culinary Disneyland. Guy quickly became enamored with his specialty dishes, such as the Dirty Fries, which consisted of crispy shoestring potatoes tossed with house-made aioli, salsa verde and roasted pork shoulder, along with the can't-miss Parisian-styled gnocchi that was made with pate a choux dough instead of potato and then crisped up and tossed with gruyere and tarragon.
Though Ruins faced hard times during the pandemic and a threat of closure, the hidden gem has remained resilient. It continues happily serving the Spokane community for lunch and dinner at its new location. The fun staff and thoughtful service are all still the same, as well as their tasty American-fare cuisine with a menu that continues to change weekly.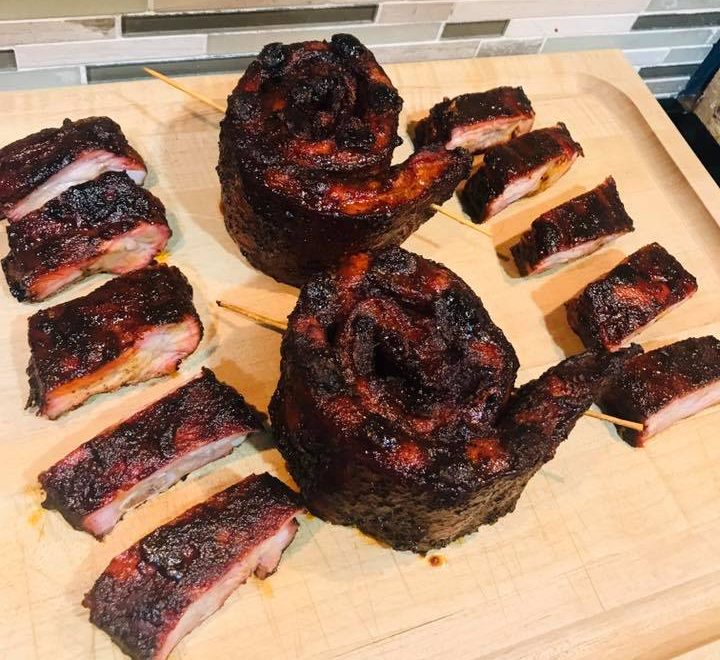 Nordic Smoke BBQ
509.720.3850
Guy and his crew couldn't help but include Spokane's premiere BBQ food truck and catering company, Nordic Smoke BBQ, in season 29's episode "Sandwiches, Southern and South of the Border." It had been a while since they had stumbled upon a worthwhile food truck, so they were excited to share this fabulous local find with the rest of the world. Originally the truck started as two brothers' daydreams in 2013 that soon took them to national television after being forged in their Spokane backyards. Through trial and error, beers drank, and briskets squandered, they created a remarkable BBQ menu that has captivated BBQ aficionados like Guy since that fateful first bite. It's all bold flavors, excellent service, and a truly amazing experience at a local food truck favorite. You won't want to miss out! Nordic Smoke BBQ has everything from beef brisket to homemade cornbread and banana pudding!
Guy also paid Spokane a visit for the iconic Food Network show Diners, Drive-Ins and Dives in a few other episodes. He once visited the Lilac City twice in season 11, going to Hill Restaurant & Lounge and Picabu Neighborhood Bistro Restaurant. Sadly, both establishments have since closed, but as they were both dear favorites that are sincerely missed by the community, we felt it only right to give them each a shout-out and thank them for their outstanding years of service providing citizens with tasty goodness.
Are there any local restaurants in our Spokane community that you'd love to see featured on Guy Fieri's Diners, Drive-Ins and Dives on the Food Network? If so, email your suggestions to storyideas@tripledinfo.com, and who knows, you might see your favorite local restaurant next on the show!