The holidays are swiftly approaching. With large shipments stuck in ports, it's crucial to support small businesses around Spokane this holiday season. They need your business now more than ever, and by shopping local, it's guaranteed that your gifts will get to your loved ones instead of caught up in customs.
Buying local allows you to invest in familiar faces who better their communities through their product or service offerings. Purchase from local sellers whose mission and vision promote a more positive, healthy, and happier future for the environment and people. Select items from brands consciously working for change, equality, health, freedom, and safety of Earth and society. Try to buy things that are long-lasting, recyclable, and durable. Be mindful with giving, as gifts often sit idle in closets before ending up in a landfill. Gift cards are great if you're unsure of what or who you're shopping for.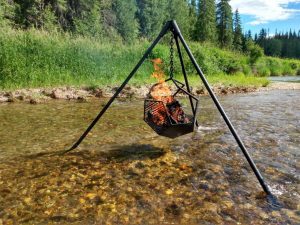 Are you searching for ideas on local gifts for guys, gals and kids in Spokane this holiday season? Shop local this year with these fun suggestions!
Gifts for Guys
Solid Fire Pits
A Solid Fire Pit is perfect for that special guy in your life. These "Kinetic Fire Sculptures" were sparked by the combination of a welding class and a Fine Arts degree while designer Scott Shumake was attending Spokane Falls Community College. "Since the beginning of time, fire and food have brought family and friends together," said Shumake. A Solid Fire Pit puts a new spin on fireplaces with a simple aesthetic that stands durably through the test of time. All fireplaces can be customized with any logo, theme or pattern to make them unique to you, your home and your man.
Home Brew Classes & Kits
For the crafty fellow that loves his beer and wine, Jim's Beer & Wine Supply offers a variety of beer and wine kits that can get you brewing your own at home. They carry all the supplies to brew and bundle any beer recipe your guy desires. For the wine-maker in your man, they have all necessary additives for fruits, grapes and other fermentations. Are you looking to bottle your own home-brews? They have a variety of boxing kits to streamline this process. Oh, and did I mention they have barrels of pre-made beer to go?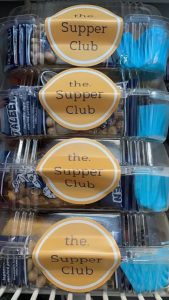 Meal Delivery Service
The Supper Club is a local meal-prep and delivery service. You can get lunches or dinners delivered directly to your man's door or office, made with love from their kitchen to his. Take and bake meals are an excellent gift for a guy, ready to eat and nourish him through his busy days. Tell him to skip the drive-through and enjoy a home-cooked meal (like his mamma made him) without the stress of meal planning and packing. Food is one of the easiest ways to let someone know you love them. Eating healthy meals with high-quality ingredients is now made easy through this exceptional delivery service.
Gifts for Gals
The Plant Project
The Plant Project carries houseplants, pottery, local art, and small-batch ointments, lotions and soaps. They have botanical accessories, macrame, and room decor. If your lady loves plants and making things, they offer macrame, planting, and art classes she'd love to partake in. For gals with green thumbs, give her a variety of healthy houseplants, including cacti, succulents, aroids, carnivorous, and rare tropical plants. Here, you can find potting soil blends for best drainage, improved root health, and reducing pesky pests. They offer all the plant-care information she'll possibly need. Get your special gal some plants, or gift her a class if she's into learning, crafting, planting, or terrarium-building.
Tickets to Local Theaters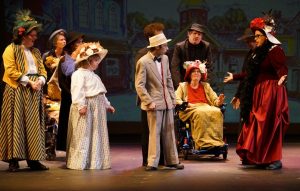 Theatre helps us see from an outside perspective. We can experience humanity, psychology, conflict and resolution that's something different from our own. It gives true power and advocates for diverse voices. The gift of theater grants immediate satisfaction, and it's always a unique experience. Scripts may stay the same, but each performance is different and can never be replicated. If your lady loves social discourse, dialogue and change, the cultural phenomenon of theater is the perfect pairing for her. Local theater tickets support local businesses, actors, stage-crew and the arts all at once. Check out these lovely local Spokane theaters for tickets this season: Coeur d'Alene Summer Theatre, Lake City Play House, Aspire Community Theatre, and Out of The Shadows Theater.
Spa and Facial Treatments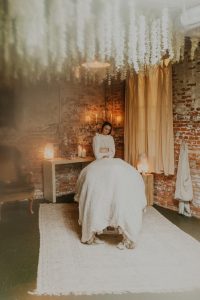 The Master Estheticians at Find Your Glow craft fully-customizable treatments for each specific and unique skin type. They use vegan, botanical-based products to give your girl's skin and psyche time to relax, feel grounded, and reconnect. Plant medicines to restore the vibrancy of complexion and various massage techniques are utilized to release muscle tension, reduce stress, and keep the nervous system calm this holiday season. Give the gift of a cleanse, exfoliation, masque, waxing, brow tinting, lash lifts, eyelash extensions, and full-facials. Indulge your lady in healing modalities, such as "Lymphatic Drainage, Cupping, Gua Sha Sculpting, Reflexology, LED, Ozone Therapy, Gemstone Healing, Meditation, Herbal Poultice Massage," and much more magic in an elegant spa-setting.
For the Kiddos
Mobile Craft and Paint Parties
Cra-Cra Crafts opened in 2013 with the idea of creating and crafting made simpler. They offer kid's crafting kits, classes, mobile paint parties and completed items. There's a little something for everyone! Creative arts can teach your kiddos so much. They can "offer comfort through hard times, a fun celebration in happy times and sanity." As a mother of three children, the owner hopes to teach kids the joy that crafting can bring. Tired of messy craft rooms and cleaning up glitter and paint spills? A seamless mobile craft party by Cra-Cra Crafts could be the perfect gift for you and the kiddos.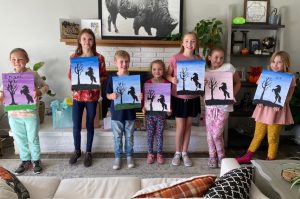 Fair Trade Toys and Décor
At Kizuri, they find joy in providing quality items and cultural richness from over 40 countries. They have a deep commitment to the artisans who have handcrafted all their toys and items. Sales "provide the artisans with opportunities to educate, care for their families and grow their businesses with dignity." As a consumer, your purchases matter. You can make simple choices each day that make a profound impact on our planet and the people of this world. Purchasing fair-trade items make your "impact positive and socially just for all." Kiddos love all the cute garlands, funky mobiles, worldly toys, stuffed animals, books, and baby items sure to be favorites for years to come.
A Trip to Discovery Center
The Mobius Discovery Center sparks curiosity and ignites the imagination in young ones. They create innovative experiences that inspire problem-solving in kids of all ages. Kids can paint, draw, craft, create, and unleash their inner artist with a full-service art studio. Here, your kids can meet and pet a variety of live reptiles and animals while exploring these creatures' amazing characteristics and lifecycles. Kids love building long bridges and impressive tall structures with wooden blocks in their structural experimentation room. For the kids learning about shopping and the marketplace, they have a "Kids Market" where children can sort fruits, count change for customers, and buy goods using giant coins. At the discovery center, kids can learn math, science and art that's both practical and fun.
Don't let holiday shopping add stress to your already busy lifestyle. Gifting can be fun, easy and pain-free by purchasing from local businesses, artists and makers. Owners of local businesses all do a happy dance when you decide to vote with your dollar and purchase from them.
Now, more than ever, it's important to shop local. You can rest assured that quality and ethics are of paramount importance. Try to be mindful of giving by supporting businesses with values and missions that you can stand behind. Encourage unique and budding ideas with your dollar, and help create a more positive, healthy, and happy future for the Spokane community.