Spokane County was the site of WSECU's first branch in eastern Washington, opening back in 1973. Located in the basement of Eastern State Hospital in Medical Lake, the office had a Dutch door that swung open at the top for a few hours each week to serve hospital and other area public employees with simple banking transactions.
Since then, WSECU has only grown and expanded its footprint and impact in the region. On November 1, WSECU opened its fourth area branch at one of Spokane's busiest intersections on Francis and Division to better serve current and future members in North Spokane. It joins branches in Medical Lake, on Northwest Boulevard and in Spokane Valley to create a network of four locations for members to use.
The newest branch sits on a corner with WSECU's trademark teal accent wall. The interior was designed by Spokane architects Bernardo|Wills. Convenient features include drive-thru banking lanes, walk-up and drive-up ATMs and safe deposit boxes. For an added customized touch, the interior features a wall-length mural of a photo taken by WSECU member Trent Amonett depicting a vivid canola field.
They'll launch with four employees, led by new branch manager Daniel Thorpe, who has worked for WSECU for nearly a decade at the Medical Lake branch prior to his promotion.
"I grew up in Spokane, and so it's extra meaningful to lead this new branch in my hometown," Thorpe said. "We've put together a great team of employees to serve members here."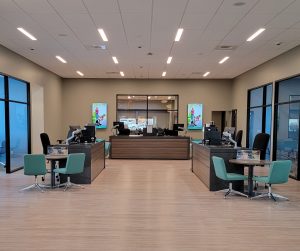 WSECU's deep history within the community – and deep commitment to the community – is part of its identity. Each year the credit union sets aside 4% of its net income to invest in the work of nonprofits and programs with a focus on education, self-sufficiency, and public employees and assets.
Longtime partners include 2nd Harvest Inland Northwest, Kitchen Spokane, Communities in Schools, Women and Children's Free Restaurant, SNAP, Boys & Girls Clubs of Spokane, Eastern Washington University, and the Washington State Parks Foundation, to name just a few.
"Dan and his staff will do an incredible job taking care of members and supporting their financial well-being," said Vice President of Public Relations, Ann Flannigan. "They are equally dedicated to helping our neighbors to ensure Spokane stays a fantastic place to live and work for everyone. We think every business needs to do its part to contribute to the common good."
The sophistication of products and services WSECU offers has come a long way since the deposits and withdrawals flowed through the hospital basement split door. Incredible in-person service available at locations like the new North Spokane branch is complemented by a full suite of financial products and digital services.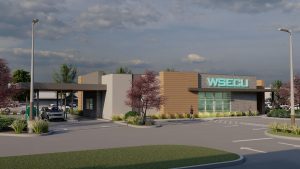 Members can truly bank where they want when they want with WSECU. Offering multiple types of checking accounts and credit cards to meet unique member needs is an example of the customized and personalized approach WSECU takes to assure members have access to the money management tools that work best for them.
As he reflected on the growth milestone the new branch represents, Thorpe noted that in many ways, WSECU is a lot like the city of Spokane. "Both the credit union and the city have all the 'big' amenities and features people want today, yet still have that friendly, caring and approachable feel of a smaller place, too. I think it's part of our secret sauce."
WSECU employs 30 people in the region out of a total of 700-person staff and serves approximately 20,000 members in greater Spokane. While it began as a public employee-focused institution, WSECU is now open to anyone who lives, works or attends school in Washington State. Learn more at wsecu.org.