Brick West Brewing Co. set out to remind Spokane where we came from, giving rise to where we're going as a city. Their enthusiasm for strengthening the community matches their passion for quality craft beer. "We strive to bring people together, build lifelong friendships, and inspire adventure."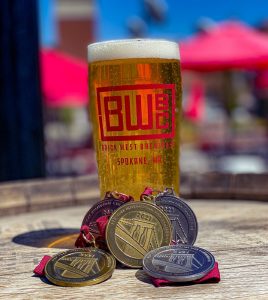 Rooted in Spokane's up-and-coming West end, they are revitalizing a neighborhood "whose renaissance we're proud to be a part of."
Brick West Brewing's "big plans" aim to include concerts, beer gardens, festivals and fundraisers — Anything they can brew up to "gather the community together in meaningful ways."
History and Building Preservation
The building housing Brick West was historically an auto-body shop. With its grand bay doors already in existence, the team saw an opportunity for the ample open space to easily house tanks and fermenters.
"Seventy years ago, the neighborhood was an auto-block," says Brick West's Bill Powers. "With car parts and auto shops, it's been an industrial, blue-collar neighborhood for a long time. That's the fun thing — we want to recreate the original ethos and aesthetics of the building." The team always wants Brick West to be an "every man's craft brewery." Craft beer is for everyone, not just hipsters with long beards. It's a working-class kind of brewery where people of all ages can come to enjoy.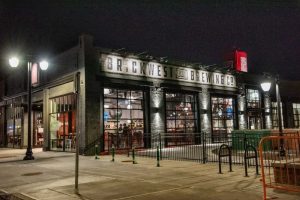 Craft Beer
Their fifteen-barrel brewery, taproom, and beer garden are responsible for two branches of the brewery. One branch specializes in German-style beers — pilsners, lagers, hefeweizens — beers you'd see attending Oktoberfest. Recipes that are hundreds of years old are still being used today. "These beers have a fun history, and they've lasted through history for a reason," says Powers. "The flavor profiles are bready and nutty, and they are easy to drink."
American-style craft beer accounts for the brewery's second branch, though IPAs are now considered traditional. "Their hoppiness is mid-ranged with Cascade and hops giving a flavor profile that's been around for 15-20 years," says Powers. "Then we have Hazy and Juicy IPAs that are more contemporary." The brewery is also experimenting with newer hybrid recipes. "The essence of an IPA that's brewed as a lager. Our hybrid beer connects the two branches with lighter German flavors combined with the hoppiness of an IPA."
"We're always staying on-trend, giving people what they want through experimentation and staying at the forefront of beer making," says Powers.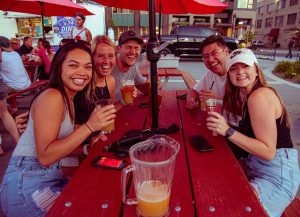 Brick West Culture 
Brick West's work culture and ethic encourage "every person's brewery." Get off work, grab a beer and head home. "City-workers getting off from painting the streets come down and have a beer with the buddies," says Powers. "The neighborhood is a metaphor for Brick West — it's up-and-coming with lots of new businesses and breweries coming in. The West end of Spokane is having its own mini-renaissance, getting more fun and diverse."
Patio 
Opening up shop in January 2020, with only a month pre-COVID, this is the first year they're doing outdoor. "We opened up our plaza to put on safe events where the community can still come together," says Powers.
Their plaza is basically an extensive patio space able to be used for almost any event imaginable. "It's a community-centric area where people feel welcome. 95% of our events are free and open to the public, and we have lots of entertaining events in mind for the future," says Powers.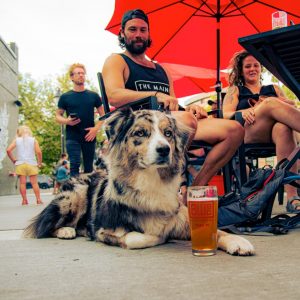 Markets
Monday Night Markets happen at Brick West from mid-May through October. Find food vendors, arts and crafts, artisanal wear, a photo-booth bus and local entertainment all while walking around with a crisp cold beer.
2021 is the first year they've done the market, and they're really excited about it. "We had lots of ambitions when we opened in the first few months of 2020," says Powers. "Things stalled out with shutdowns, but it's been a fun ride going from 0-60 in terms of building a beer culture and a community. We're finally able to do most of the things we've wanted to do with the space."
Yoga
The Union and Shala Living Yoga host free yoga classes in the plaza. "They set up classes, and people stick around for a beer or mimosa afterward," says Powers. "It's great for community-building and promoting exercise."
Join 30 to 50 other like-minded people and show up to a yoga class. "The purpose of having classes is two-fold," says Powers. "Of course, we want to sell beer, but it's really important to us that we build a sense of community and interact with the Spokane community."
Winter
As a Christmas charity event, Brick West is hoping to have a tree farm in their plaza. "Buy a Christmas tree, make wreaths and decorate ornaments," all to support charity. They also hope to have a big Christmas tree and a lighting celebration.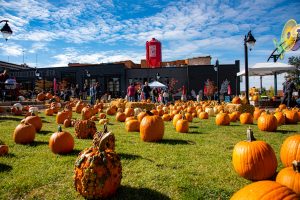 Brick West Owners 
Owners Jordan Tantien and Matt Goodwin of the Goodwin Group are local Spokanites opening up many restaurants around the city. They work a lot with the community and entrepreneurship. Backyard, Press Public House, Hang 10 BBQ, Barnwood, and Haymaker are also under their ownership. "Brick West is our investment back into the city we call home." The owners wish to better the community that gave them their start.
Business is "all about pivoting to match the times, having fun, being a good brewery and a community partner," says Powers. "The future of Brick West is really exciting! Even with an opening during the difficulties of 2020, we hit a home-run and are excited to continue."
Brick West Brewing Co.
1318 W 1st Avenue
Spokane