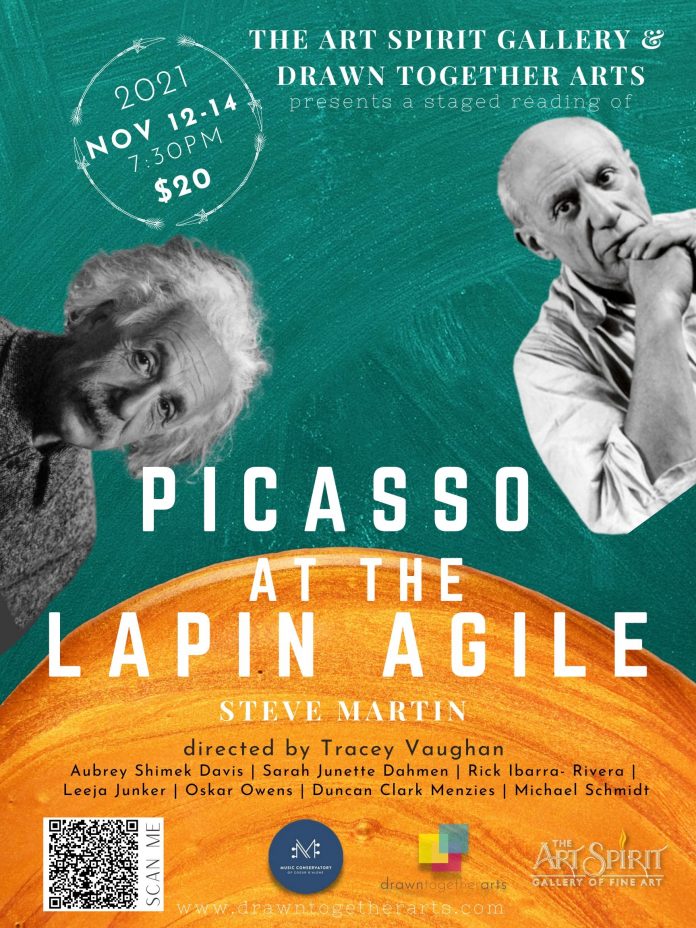 Submitted by The Art Spirit Gallery
Drawn Together Arts in Collaboration with The Art Spirit Gallery presents Steve Martin's absurdist comedy, "Picasso At The Lapin Agile" directed by Tracey Vaughan and seven professional actors from around the region. 
Drawn Together Arts is a local nonprofit that exists to intersect the arts in a curated, intimate, and interactive theatrical experience. They work in collaboration with The Art Spirit Gallery to present theatrical works that intersect fine visual arts and offer community programming that inspires and gives a platform to ensure a thriving artistic community in Coeur D'Alene and the region. Duncan Clark Menzies, executive director expresses that, "drawn together arts is about creating experiences that unite us as a community and inspire us individually." 
Draw together with their production of this hilarious Steve Martin play about Picasso and Einstein meeting in a bar and the ensuing calamity. 
This show is sponsored in part by The Music Conservatory of Coeur d'Alene.
Picasso At The Lapin Agile
Show Dates: November 12, 13 and 14
Show Times: 7:30 p.m.
Tickets: $20
Buy Tickets: online