There's no secret the craft beer scene in Spokane is hopping. Especially when you factor in the fact that the Inland Northwest is home to more than 46 breweries, each crafting their own special style of beer. Many of those breweries are right here in our local community serving great crafts along the Spokane Ale Trail.
No-Li Brewhouse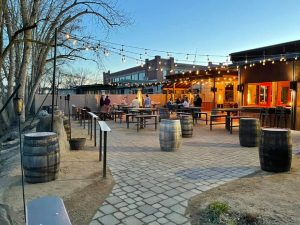 1003 E Trent Avenue
509.242.2739
Family-owned and fully independent, No-Li Brewhouse creates internationally award-winning Spokane-style beers with ingredients grown in our very own backyard. They made their name by crafting great beers from locally sourced ingredients in the hands-on, artisan tradition. Their goal is to bring more creativity and energy into the craft brewing scene. The brewhouse built a family of beers that continue to break new grounds and please the diverse palates of the city, with popular flavors like Born & Raised, Jet Juiced, and Threezy Does It. Stop in for fresh beers and locally-inspired food enjoyed in an outdoor river patio with fire pits. Bonus — there are also brewery tours.
Whistle Punk Brewing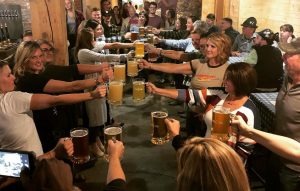 122 S Monroe Ste. 103
509.315.4465
In downtown, there's a cozy little taproom that specializes in traditional lagers and seasonal ales known as Whistle Punk Brewing. Their 14 taps frequently rotate because they are so passionate about creating new beers and perfecting their other recipes. They are open from 4 to 9 p.m. Tuesday through Thursday and from 3 to 11 on Friday and Saturday. For those who are hungry, Texas True BBQ is their tasty neighbor.
Iron Goat Brewing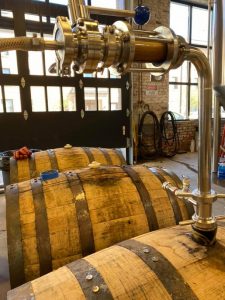 1302 W 2nd Avenue
509.474.0722
Open to all ages in a beautifully renovated historical building, Iron Goat Brewing has 20+ beer choices on tap plus a great selection of local wine and cider. There's an award-winning variety of beers on site, including NW IPAs, Stouts, Belgians, sours, barrel-aged, and mixed fermentation. They also have great food made entirely from scratch and with as much creativity and care as their beers. Favorites include Iron Goat's pizzas, sandwiches, house-made sausages, handmade pasta, and vegetarian bowls.
Mountain Lakes Brewing Company
201 W Riverside Avenue
509.596.0943
The Mountain Lakes Brewing Company has been taking the city by storm since it opened its doors. In 2018 it was crowned Inlander Best New Brewery, and in 2019 it was the Winner of the Inland NW Craft Beer Festival. They are famous for their seasonal creations, such as Maple Bar Cream Ale, Peanut Butter Jelly Sandwich Amber Ale, and the Jalapeno-Lime Cucumber Blonde. They also carry their award-winning, traditional ales and lagers all year round for all to enjoy.
Perry Street Brewing Company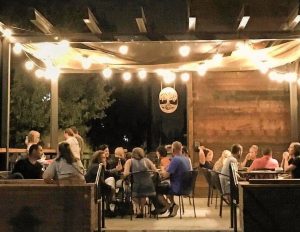 1025 S Perry Street
509.279.2820
In Spokane's lower South Hill in the vibrant and family-friendly South Perry neighborhood is Perry Street Brewing serving patrons since March of 2014. Their 2016 Great American Beer Festival gold-medal-winning India Pale Lager is always on tap, along with many other Northwest-style craft beer favorites and Belgian offerings. They also offer non-alcoholic options along with their variety of local wines and ciders and rotating beers on tap. Their food menu is just as approachable, with kid-friendly options, as well as locally-focused fare and rotating Market Sheet specials. There's even a dog-friendly patio on-site for those who want to enjoy the fresh air.
Black Label Brewing Company
19 W Main Avenue
509.822.7436
Black Label Brewing Company strives to use as many organic and naturally grown ingredients as possible in their ales and lagers. Many of those come from nearby farm Garden Springs and go so far as to even harvest their own honey for their honey blonde ale. While sampling their beers, patrons can also order food at the bar top from one of the Commons' many eateries. The community spirit is also alive and well at Black Label with their rotating guest taps that highlight other area breweries' creations, as well as locally made cider and even kombucha.
Genus Brewing & Supply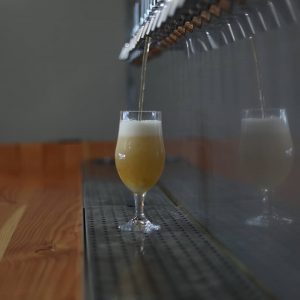 17018 E Sprague Avenue
509.808.2395
Selling both great beer and the equipment and ingredients to make beer, wine, hard cider, kombucha, and much more is Genus Brewing & Supply. They even have an extensive draft equipment selection for anyone in the area looking to build or buy kegerators or tap systems. For beer, they have a constantly rotating selection of small-batch beer and what makes them truly unique is that they never repeat the same flavor beer twice.
The fun along the Spokane ale trail doesn't just stop at these breweries. There's still plenty more in town, such as The Street Barrel Taproom, Lumberhead Brewing, and Humble Abode Brewing, just to name a few. There are plenty of breweries to explore and flavors of ales in Spokane, and it's a never-ending adventure thanks to many of those breweries with an ever-revolving tap.