Criminals are continually attempting to access peoples' personal data using various techniques with emails, websites, and by phone and text messages. Scams targeting consumers come in many forms, from calls to emails that often appear legitimate. The methods might change, but the outcome is never good, particularly when people lose money in these scams. Fortunately, Spokane residents can stay a step ahead of these cons with AARP's "Tip-Offs to Rip-Offs" education event.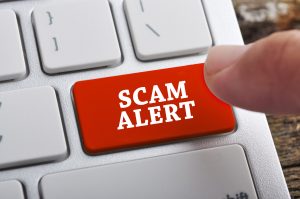 The free online class is on Wednesday, October 27, from 10 until 11:30 a.m. This interactive event from AARP, the Washington State Attorney General's Office, BECU and Nomorobo will provide real-time access to the types of robocall scams inundating the region, including in and around Spokane. These cheats can play on people's emotions, or crooks can even pretend to be someone you know.
"We'll include a deep dive presentation during the event on robodial and imposter scams which are fast becoming some of the most effective and dangerous tactics in the con-artists' playbook," says AARP's Jason Erskine. "The barrage of automated telephone solicitations or 'robocalls' we get on our home and mobile phones seems to be never-ending. In fact, robocalls coming into the U.S. have more than doubled in recent years to nearly 50 billion calls a year."
The isolation during the pandemic has made the issue even worse. The same technology helping to keep people connected with loved ones can offer more opportunities for scammers to target consumers. Criminals can "spoof" the numbers they are calling from to make it look like the call is coming from a known or trusted source.  They may also mask their calls with urgency or fear, hoping to catch consumers off guard. While some attempts are easier to spot, others, are more subtle and trick even the most cautious consumer.
"There was a slight decrease in the volume of scam calls during the early months of the pandemic, as even fraudulent boiler rooms had to shut down," says Erskine. "Unfortunately, though, calls have been steadily increasing this year in Washington and around the country, and we are back up to pre-pandemic levels."
Fortunately, there are now tools to help protect consumers. AARP has formed a unique new partnership with the call-blocking service Nomorobo. Participants in the free event will hear from Nomorobo CEO Aaron Foss about robocall trends, and new efforts underway to provide consumers with information about emerging scams and sophisticated tactics used to steal from consumers.
"Event attendees will hear about the top-five robocall scams currently flooding Spokane area phone lines," says Erskine. "We'll also provide ongoing access to that top-five list which we'll keep updated, so consumers can keep on top of new scams as they emerge. The list will include access to the actual audio of each call so that consumers can hear firsthand what the calls sound like. Our aim is to provide these and other early warning tools, since the better we're all able to recognize a scam pitch before we're in the con-artist's sights, the better we'll be able to protect ourselves and our money."
Learn from the experts like Washington State Attorney General Bob Ferguson on protecting yourself and your loved ones from scams designed to rip-off consumers.
Fight back and stay a step ahead of the scammers with tips on how to stay safe from AARP Washington State Director Doug Shadel.
Shadel serves as the lead fraud researcher for AARP's Fraud Watch Network and is a former fraud investigator who has co-authored numerous studies and books profiling victims and the tactics used by scammers. Bring your own questions for consumer fraud experts at this interactive, online event.
Though it's always good to be suspicious if someone contacts you unexpectedly with news too good to be true, asking for help or personal information, AARP knows all Washingtonians can fall victim regardless of backgrounds, ages and income levels. These scams succeed because they look like the real thing and catch targets off guard when they are not expecting it.
The list of types of scams and frauds is ever-growing, and it's crucial to keep informed on the latest tricks used to get personal information from consumers. Prevention is vital, so education around these problems is so important.
"It seems the scammers are gaining the upper hand in the fight for our hard-earned dollars," says Erskine. "Con-artists are becoming ever more sophisticated in their tactics, and new scams are emerging at an increasing pace.  Even the most informed consumer can find themselves struggling to keep up."
While it's best to always err on the side of caution, find out how consumers can avoid becoming prey to robocalls and deceitful dialers with AARP's upcoming "Tip-Offs to Rip-Offs" event. You do not need to be an AARP member to join in on this free event but pre-registration is required.
Sponsored