Spokane boasts a thriving and supportive arts scene and is home to wonderful, wild and weird street art in the form of murals. The wall paintings differ, but all are created from the heart. Many of Spokane's murals are inspired by the elements of nature in the region and their interaction with humanity.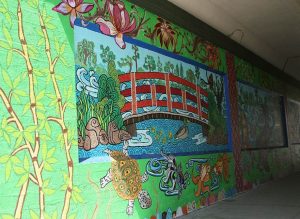 Melissa Cole
150 S. Lincoln Street
Animated works by Melissa Cole were commissioned by Spokane Arts, leading at-risk youth in creating five massive murals.
Her murals often involve community participation, instilling a sense of pride in those that have contributed. Art helps people "find the confidence to create and share their stories with others," said Cole. "Art allows everyone to come together and to create something beautiful and long-lasting."
With her background in zoology and marine ecology, her work is inspired by wildlife. "I bring environmental themes to urban locations," she says. "My themes revolve around protecting the Earth, Pacific Northwest ecosystems and the beauty of our area — pollination, the plight of bees, and local plants traditionally harvested by Native tribes."
She's traveling when not making art, deriving inspiration for her vividly patterned paintings from her astounding encounters.
"Unfortunately, in my travels, I've witnessed the rapid destruction of environments," says Cole. "Because of this, I feel it is important to bring the natural realm to urban settings. These serve as reminders to people within a glass and concrete landscape, and it helps them reconnect with nature."
Her artwork is an escape for both viewer and artist. "[They] are dreams filled with emotion, desire, energy and joy — a touch of what I wish for this earth," she says. Working as a Peace Corps volunteer in a village of artisans showed her what a powerful force art has on people. "It breaks down cross-cultural, linguistic, and socioeconomic barriers," she says. "I relish the moments when my artwork makes people stop their hurtle through life to pause, breathe and enjoy."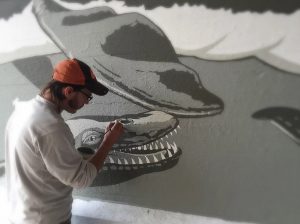 Justin Gibbens
150 S. Post Street
When Justin Gibbens first put pen to paper, he rendered the "boyhood standards — dinosaurs, creepy crawlers, freakish fauna. Not much has changed," he says. What has changed is that his work is now admired throughout the Northwest and beyond.
A master draftsman, Gibbens studied scientific illustration and traditional Chinese fine-line painting. He employs training in "subversive zoological drawings," lifting the conventions of classic natural-science illustration, reimagining the "curious wildlife of a forgotten natural history." Gibbens' work will surprise you unconventionally by "celebrating the beauty and strangeness of the world that surrounds us, blending hard science with mythical imagination."
Gibbens' paintings ode to "evolution, mutation and biodiversity. Perhaps they serve as cautionary tales for our anthropocentric selves?" In the eyes of Gibbens, "Our world is mysteriously fascinating and amazingly weird. Humankind's relationship to [nature] is layered, complex and ambiguous." He takes pleasure in the strangeness and serendipity of life.
"In a time when attention spans are fleeting, and our experience of nature is more and more mediated," Gibbens "finds solace in the representation of nature on paper" (or under viaducts). "We are living in a suspended state of urgency as 'new normals' present themselves."
Primarily a studio artist, Gibbens adapts images for large-scale mural projects. While Pacific Northwest Legends mural "has been the target of some graffiti and vandalism," his artistry "showcases historical and contemporary cryptids that inhabit the collective imagination."
Outside, Gibbens spends time bird-watching and chasing reptilian creatures. He is a founding member of PUNCH Projects, and if you made it to the MAC this summer, you might have seen his works on grand-display.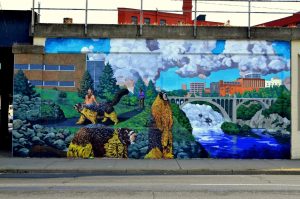 Tom Quinn
Division & Sprague
Tom Quinn grew up surrounded by artists — Remington, Michelangelo and Botticelli. After his art-history degree at Gonzaga University, he studied illustration in the mid-eighties, a style that was "semi-primitive with an ironic twist and well worth reviving. I like to work in vivid colors with finicky detail and surprising subject matter," he says.
In Spokane, Quinn has completed murals, illustrated books and teaches at Spokane Art School, Corbin Art Center and the Institute for Extended Learning. Working in acrylic with hard edges and intense colors, he demonstrates "what's absurd but not impossible," taking "the ordinary out of context" and "turning the familiar into the strange."
Public art is intended to enhance Spokane's image and tourism. Locals get used to public art quickly, while tourists enjoy finding artful neighborhoods to explore. At the request of the Spokane Arts Commission, the Spokane River was the inspiration behind the piece.
"The hardest part of mural work is consistency," he says. "You're working over several weeks, in different moods, over a huge surface. My usual practice is to do a small layout, draw a grid over it, then make the same number of squares on the wall using chalk lines and levels."
Often described as surreal, "I suppose some of it fits that category," Quinn added. "The outsized animals certainly do. I spent many years learning to draw and paint realistically, but I don't want to paint facsimiles of photographs. I believe the painter should always do what the camera cannot."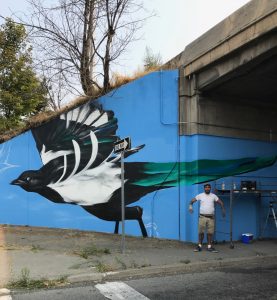 Daniel Lopez (Godffiti)
300 S Altamont Street
Daniel Lopez, Godffiti, is a full-time muralist that's lived in Spokane for over a decade. He's spent the last six years refining himself and his art. Large-scale public art and murals have always been his go-to in the art world, with inspiration hailing from his love for the area and his connection to wonderful community members of Spokane.
A Spokane Arts Commissioner, his experience has taken him through a broad range of contemporary visual art, including mural installations, portrait art and oil paintings. Recently picking up oil painting, he's found great interest in a different side of himself. Mediums he's worked in include graffiti spray paint and oil paint.
His work ranges from conceptual painting to modern realism, with original works for sale on his website. "Have paint, will travel" is a bold statement he makes, noting his interest in assisting clients with timelines, budgets, location and design ideas.
Matt Smith (Armadiller)
Stevens Underpass
Matt Smith, Armadiller, is a multidisciplinary visual artist. Graduating from Evergreen State College, he pursued an independent artist's career, "always experimenting with mediums, subject matter, style and scale" to constantly trill his audience. "The real fruit of creating art is based on invention (combining old elements in new ways) to make something completely unique," he says.
Washington native Smith has been "inspired by the lush ecology of the Pacific and Inland Northwest." His eclectic fish are inspired by the Spokane River and the myriad of life it supports. "Spokane River is our life-blood [to] be celebrated, cherished and preserved," noted Smith. His work illustrates liminality, "Each piece unplanned and reactionary. A finished piece will feel like a living organism."
Smith approaches murals from varying perspectives — turning art into an adventure. Fascinations with global cultures drive his love for artful travel, and Buddhist, Hindu and South-American cultures continue to impress his aesthetic. His long-term goal is to travel, "enlivening storm-torn islands through mural installation."
"Traveling, I've seen firsthand the impact humankind has had. The silver lining in [our] presence is nature's ability to adapt and mutate," said Smith. "I'm influenced by ecological shifts around the globe, around and within us. My multi-layered works are abstract in nature while evoking Universal Consciousness. The planet is changing, and I want my work to speak toward this controlled chaos."
"Muralism and working in the public space are of utmost importance to me," he adds. "Art serves to enhance togetherness, bridging cultural diversity and uniting people through beauty and visual rhetoric." Spokane's murals celebrate the culture and ecology of Eastern Washington. "They solidify the soul of the city and deepen the roots of place and time."
"People are intrinsically kinetic." Bringing contemporary art to Spokane, Smith aims to "stretch people's minds and stir the pot."
Murals build a sense of community and art often helps bring people closer together and connects us to each other and the natural world. Take a closer look at Spokane's murals and discover the wonderful, wild and weird street art decorating the city.