It's summertime, and you know what that means — it's time to throw those burgers on the grill! Of course, there's always the option to go out and pick up a burger from many of our local burger joint treasures in the Spokane area. In Spokane, there are many fantastic local burger spots to find a mouthwatering burger.
IncrediBurger and Eggs
First on the list is a local breakfast-and-burger joint, IncrediBurger and Eggs, with a menu made up mostly of breakfast sandwiches, gourmet burgers, and boozy milkshakes. Since 2018, they offer a casual atmosphere that's fun and serve high-quality food and drinks. Most of their ingredients are either locally sourced, like their ground beef, or made in-house, such as their sauces, relishes, and pickles. Their cheese is even made in-house with a four-year aged cheddar they promise to be the most velvety cheese you'll ever have. When it comes to dessert, it's always recommended to try their shake of the month as it never fails. Pay them a visit at 909 W 1st Ave Suite A from 11 a.m. to 7 p.m. Monday through Friday or as early as 9 a.m. on Saturday and Sunday. To place an order for pick-up, just call 509.443.4215.
Wisconsinburger
Wisconsinburger is another excellent-tasting local hamburger restaurant located at 916 S Hatch St. Founded in 2014, Wisconsinburger was inspired by the mom-and-pop burger shops in Wisconsin with ingredients, like their beef, coming from locally sourced places. Even their artisan buns are made from scratch by Alpine Bakery in Spokane. If you're into bacon, they're famous for their bacon jam made in-house from scratch. For cheese enthusiasts, Wisconsinburger is perfect just for their all-natural butter and cheese that comes straight from Wisconsin. To try them out, they are open from 11:30 a.m. to 9 p.m. Sunday through Thursday. On Friday and Saturday, they stay open until 10 p.m. To place an order to go, just call 509.241.3083.
D. Lish's Hamburgers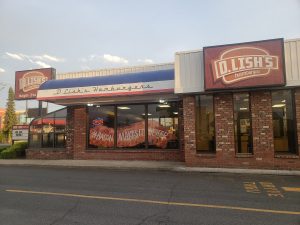 Another popular burger spot in our community is D. Lish's Hamburgers, located at 1625 N Division Street. D Lish's was brought to life in 1998 with the goal of being "half-fast" food. Founders Dave Lish and Curt Goller sought out local supplies to bring their dream to life so that the food is always fresh, never frozen. They then came up with their own house-made seasoning as well as a special sauce to give the burgers more "oomph." They've continued to use these same recipes since their grand opening, and they've been a huge hit, making them a local favorite in town. If you're interested in tasting their amazing burgers, visit them from 11 a.m. until 7 p.m. on Sunday or from 10:30 a.m. until 8 p.m. Monday through Saturday. They can also be reached at 509.323.7130 for curbside pick-up orders.
Thrifty Scotsman
For a burger spot in town rich in its family roots, find the Thrifty Scotsman located at 12024 E Sprague Avenue. Floyd and Carla Brown have been serving the community fantastic burgers with fresh meat and potatoes for their fries since 1980. They have a strong emphasis on the family aspect of their restaurant, with the business now being run by its fourth generation of Browns. The theme is that your family will be served by their family when you visit them at any time of day. They are open from 10:30 a.m. until 8:30 p.m. Monday through Thursday, with extended hours on the weekends. They can be reached at 509.928.2214.
Ron's Drive-In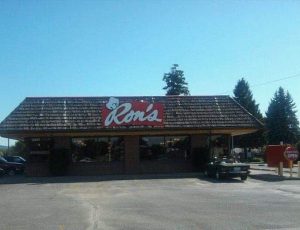 Ron's Drive-In is a local classic burger joint in town that features burgers, shakes, and other treats served at an old-school counter in style since 1958. Just pulling into the parking lot is bound to bring forth a bit of a nostalgic feeling thanks to its trademark '50s-style yellow-and-red sign out front. Since Ron's is right on the way to the lake for many and close to home for valley residents at 12502 E Sprague Ave, the little restaurant quickly caught on, and its popularity has grown ever since. However, burgers aren't the only thing Ron's is famous for. Ron's Drive-In frequently holds classic car drive-ins during the summer. To ask them when their next car show is, reach out at 509.924.6853. To try the tasty burgers, visit them anytime from 10:30 a.m. until 8 p.m. Sunday through Wednesday or until 9 p.m. Thursday through Saturday.
Dick's Hamburgers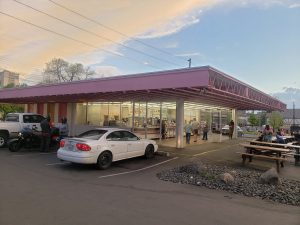 The list wouldn't be complete without Dick's Hamburgers, a Spokane favorite that's been serving the community hamburgers "buy the bagfull" since 1965. They even have a few awards under their belt and were voted as Spokane's Best Cheap Eats in 2009 and #1 for Best Fish N Chips in 2011. Dick's is famous not only for its burgers but for its architectural style that is a definite throwback to the 1960s with its drive-up parking and open-air counter. Check them out at 10 E 3rd Ave Sunday through Thursday from 9 a.m. until 10 p.m. or until 12 a.m. on Saturday and Sunday. Give them a call at 509.747.2481.
Of course, these aren't the only burger spots in town worthy of a visit this summer. Other places like Hops n Drops, The Viking, Burger Royal, and Hangry's offer various burger options to choose from and are sure to satisfy your taste buds. Go out and support our local burger joints, and you might just find your new favorite restaurant.