Hunting for food is one of humanity's oldest traditions, dating back tens of thousands, if not millions, of years. As our distant ancestors tracked, killed, and butchered their quarry, they developed a deep knowledge of and appreciation for their surroundings. These early humans were active participants in their environments, contributing to the overall well-being of the ecosystem. As society progressed technologically, this link to nature was lost. Based in Kettle Falls, Washington, Bruce McGlenn and the team at Human Nature Hunting are helping people redevelop this connection through a variety of courses covering the various aspects of hunting, as well as gathering.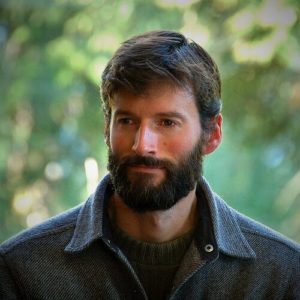 McGlenn is a fourth-generation Pacific Northwest hunter and gatherer. McGlenn's father was born in Montana, where he learned to hunt from his dad but relocated to the Seattle area when he was a teenager. He served two terms on the Fish and Wildlife Commission and has volunteered with numerous wildlife conservation organizations and initiatives. His mother was born in Seattle and founded the non-profit Washington Outdoor Women in the late 1980s. Bruce continues this tradition and left his job as a civil/structural engineer to pursue this full-time.
McGlenn wishes to help foster a love and appreciation for our natural ecosystem and to help "people reconnect to nature on a fundamental level." Human Nature Hunting is his way of doing that. Hunting allows a person to participate more actively in their ecosystem as they transition from an observer to a participant and become closer to their food. This helps develop a deeper appreciation for their environment and encourages stewardship of the land.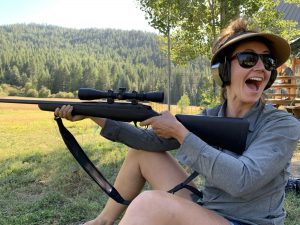 Human Nature Hunting does this through a variety of courses aimed at not only hunting but also fishing and foraging for edible plants as well. Their most popular course offering is Awaken the Hunter, an intensive four-day primer in every aspect of hunting, ranging from tracking an animal to butchering it. The course covers both rifles and archery and is offered from May through September.
Started in 2016, Awaken the Hunter courses are capped at six people, and a dedicated parent-child version of the course is offered as well. Some who enroll in the course are not necessarily looking at getting into hunting, McGlenn explains, but merely want to explore the field. Along these lines, McGlenn said one of the course's aims is to "address the main barriers to entry new hunters face and give them the skills and confidence to get out in the field on their own." He feels that even if a person does not take up hunting after the course, there are still important life skills one can learn in the process.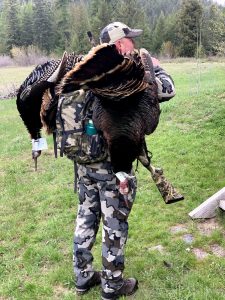 Human Nature Hunting also offers a specific course on wild turkey hunting in Kettle Falls. Novices and experienced hunters alike can choose their level of guidance and optional coursework or just enjoy home-cooked meals in a basecamp setting. While the Awaken the Hunter program takes place in the off-season, the turkey program is geared toward getting hunters out in the field to hunt during the spring turkey season (April 15 – May 31), where they have a chance to shoot a wild turkey.
In addition, to Awaken the Hunter and Wild Turkey Hunting, Human Nature Hunting also offers instruction on shellfish foraging as a one-day course conducted at a Hood Canal field site. This is an excellent opportunity for curious foragers to get their feet wet and experience an authentic tide-to-table meal. These courses, offered in March and April, are popular as well and fill up quickly. There is also a four-day course on foraging for edible wild plants in July at the Kettle Falls field site.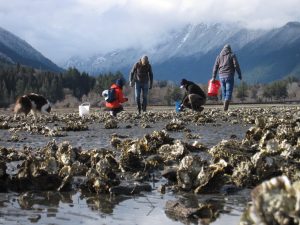 A unique offering of Human Nature Hunting is the food. Professional chefs and cooks prepare meals from shellfish and plants foraged as well as lamb processed and butchered by the participants in the various courses. Group meals are a part of every course and foster a sense of community. McGlenn feels these post-hunt meals encourage participants to reflect on the hunt and what it means to be human, to be a carnivore (or not).
When asked what the future holds for Human Nature Hunting, McGlenn expressed a desire to keep the experiences intimate and personal, as well as a desire to continue the company's mission of "healing the connection between humans and nature." Another area he is excited about is expanding a scholarship program, which allows people who could not otherwise take a course to do so, and the company is exploring a non-profit arm to help further this goal.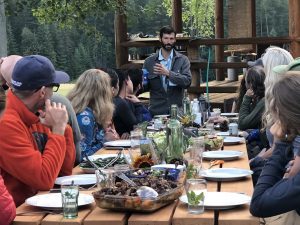 The hunter/gatherer lifestyle stretches back well beyond the advent of agriculture. We are all here today because our ancestors were successful hunters and/or gatherers. Archaeologists suggest the hunter/gatherers had a much deeper and more satisfying connection to their environments. This awareness led to a greater understanding of how to care for the land, but this connection has been lost over time. Bruce McGlenn and the Human Nature Hunting team seek to rekindle this connection through a variety of hunting and gathering courses.
Human Nature Hunting
humannaturehunting@gmail.com
206.849.8799