There are many amazing women in Spokane's history. If you live, work, or play in Hillyard, you are sure to see something with the Kehoe name, whether it be a park, apartment community, or the Kehoe Building block. A servant leader from the Spokane's Hillyard neighborhood's past is Agnes Kehoe. Her lasting contributions to the area include remarkable work in social services and a long list of statewide initiatives.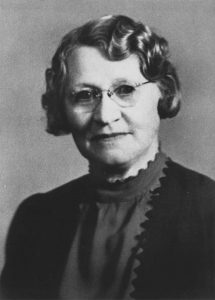 Born in 1874, Agnes was raised in Iowa. There is little known of her pre-Hillyard life, other than she married Thomas Kehoe in 1894 and moved to the area in 1903 with their daughter, Ethel. Their life there started to grow with the success of the Hillyard Bar. When prohibition hit Spokane in 1916, they pivoted their business into Kehoe Hardware, which their daughter ran until the 1960s.
As Agnes's first efforts in community activism and philanthropy, she spent a multitude of time at Hillyard's Social Service Bureau. She also served in many social organizations, including The Girl Scouts, Spokane Woman's Club, the state's Tuberculosis League, Catholic Daughters of America, and helping to start the Visiting Nurses Association in 1942.
During the next two decades, she continued her service activities and saved the old Hillyard High School from destruction, not once but twice. In 1932, the last senior class of Hillyard High School graduated, and the next fall, students started at the new Roger's High School. Agnes stepped in and convinced those in charge the building could be repurposed as Hillyard's first community center. Then during World War II, the center was converted into affordable housing for returning soldiers.
After several years of bipartisan encouragement to run for the legislature and her husband's chagrin, Agnes ran and won the 1938 election for the legislative seat in Spokane County's third district. Of course, Mr. Kehoe gave in and supported her newfound political standing. As one of eight women in the 145-member legislature, she was not shy about speaking for the betterment of Spokanites. In 1939 it was said a newspaper article noted Agnes as "not merely a legislator, but a one-woman institution."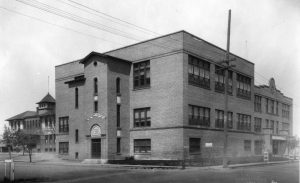 Her efforts remained focused on helping the needy, including sponsoring legislation for appropriations to social services in the state. Agnes also fought for health care and the education of youth in poverty. Though she never actively campaigned, she promised never to get drunk and never to sell her vote. Agnes was active in several committees, including Public Buildings and Grounds (chair), Cities of the First Class, Education, Liquor Control, Unemployment Relief and Public Welfare State Library (chair), Appropriations, and Pure Foods and Drugs.
Some of her specific accomplishments resulting in law or approval include the display of the flag at state institutions (1939 session), the creation of a state library commission (1939 session), and items related to public library facilities (1945 session). Agnes served four terms in the Washington State House of Representatives and resigned following her husband's death in 1947.
Holy Names College recognized her contributions to Hillyard in 1951 with the Marian Award. While most newspaper articles during this time list Agnes's name as an attendee, or for legislative activities, in 1956, it was noted she attended a ribbon-cutting. She was convinced to do the honor of cutting the ribbon, but it snagged on the scissors, and it shredded instead. Perhaps one of her rare 'human' moments, it provided a slight chuckle.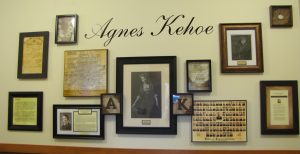 Before she passed away in 1959, Agnes remained active in the neighborhood and received other recognitions of her service to Hillyard and Washington State.
Posthumously, Agnes and Thomas Kehoe were recognized in 2002 with a nearly two-acre park named after them. Today, you can visit Kehoe Park between Nelson Street and Lacey Street on Wabash Avenue. It is a perfect neighborhood park for springtime picnics. The old Hillyard High School turned community center still exists today. After several decades of disrepair and an absentee landlord, the building was purchased by Spokane Housing Authority in 2008 for historic rehabilitation. In 2010 during the rehab, the housing authority board renamed the building in honor of Agnes as Agnes Kehoe Place.
Agnes Kehoe certainly helped ingrain the fabric of the community with hope. It's the kind of hope still in the tapestry of the renewed Hillyard neighborhood, the small businesses there, and the agencies at the Northeast Community Center. So, the next time you're in the Hillyard neighborhood, take a moment to find something named Kehoe and remember Agnes for her giving spirit and servant leadership during the middle of the 20th century.