Have a holly, jolly Christmas, and in case you didn't hear — Spokane has some of the best activities to get you into the Christmas spirit. The holidays can be "the most wonderful time of the year," but they can also be hectic. Below, we've provided suggestions for activities to get you into the spirit of the season around Spokane. (May I also advise wine tasting, the Numerica Skate Ribbon, and photos on Santa's lap.)
Decorate Your Home from Holiday Décor Stores Around Spokane
Chic & Shab
2321 N Monroe Street, Spokane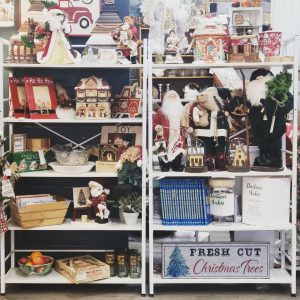 Chic & Shab is a collective of some of the most talented furniture and décor artists around Spokane. A trip through their store is light, bright, fresh, and airy — precisely what you need to get you excited for the holidays. They carry unique furniture, vintage pieces, wall hangings and holiday gifting items that will make your heart happy. Are you looking for Christmas decorations around Spokane? Look no further! Chic & Shab does a fantastic job of celebrating current and vintage elements.
You'll find gorgeous painted pieces, handmade candles, beautiful wall hangings, concrete planters, macrame, wreaths, Christmas ornaments and holiday table settings. Customers love the "finer things in life" they've found and continue to treasure in their homes.
Ritters Garden & Gift
10120 North Division Street, Spokane
Ritters Garden & Gift has been Spokane's most celebrated floral shop for 75 years. Family-owned and operated, they wish to welcome everyone that walks through their door as an extended family this holiday season and in the years to come. On top of their incredible selection of plants (perennials, seeds, trees, shrubs and houseplants), they also host local wine tastings and have a glorious gift shop.
Their gift shop is sure to get you in the mood for the holidays with unique Bonsais, ornate pottery, Christmas-themed cut-flowers, a wide variety of candles, yard art, high-end décor items, ornaments and table settings that your holiday guests will swoon over. Holiday gifts and stocking-stuffers of all kinds can also be found at Ritters Garden & Gift.
Take time to explore their winter wonderland of unique gifts and home decor. Here, you may just find the inspiration for that special gift you've been searching for. There's something special for everyone on your gifting list, including yourself.
Holiday Baking Made Easy with Bake Shops Around Spokane
Carolyn's Cake Supply
131 N Division Street #104, Spokane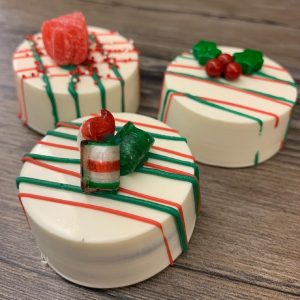 Carolyn's Cake Supply is a family favorite for finding your baking goodies locally. With new cake and candy-making supplies coming into stock every day, this store will bring your holiday baking to the next level.
They have a vast assortment of edible glitter and dust, fun holiday-themed cookie cutters, baking flavoring and oils, chocolates for baking and melting, cake-decorating classes to get you into the Christmas spirit, and so much more.
Join one of their cake decorating classes for a fun day learning and decorating cakes, cupcakes and cookies with fondant and gum paste. They teach all sorts of techniques that will make your holiday baked goods the best ones you've ever baked. Carolyn's is sure to bring Christmas cheer as they have just about anything a home-bakers or professional bakery could need.
Make Your Own Holiday Candles or Bath Products in Spokane
Essential Soap & Supply
2324 E. Euclid #208, Spokane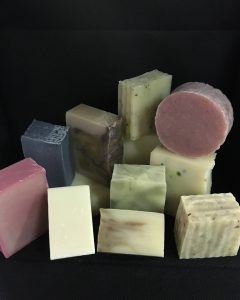 Essential Soap & Supply has years of experience in handcrafting soaps. Intricate knowledge of soap-making techniques and supplies is right around the corner in Spokane at Essential Soap & Supply. They are proud to provide the highest quality products and services to customers this holiday and always.
They listened to their customers' wants and needs from a soap-making and supply standpoint and are committed to teaching soap-making classes to those interested in learning.
All soap-making classes take two days. The first night you'll be taught soap-making, where you'll be involved in every step of the soap-making process from making a mold to a finished product. On the second day, you'll cut your soap into 12 bars of soap and take it home, ready for personalized holiday gifting.
The Candle Bar Co
817 W Garland, Spokane
At The Candle Bar Co, you can buy a new candle, refill a candle, or fashion your own fresh candle. They offer candle-making classes, parties for building your own candles and provide candle-making supplies for you to make candles yourself at home.
As of now, if people want to make their own candles, they will need to take a class. The classes cost $35 per person, and you'll create a 16 oz. double-wick candle. There's nothing like hand-dipped candles, melted wax, creamy scents and flickering flames to get you into the Christmas spirit. Oh, and they provide snacks and drinks to make your candle-making dreams come true.
U-Cut, Pre-Cut and Cut Your Own Christmas Trees Around Spokane
Hutton Settlement Children's Home
422 W. Riverside Ave, Ste. 931
November 26 to December 17
Hutton Settlement Children's Home is a safe home for children as an alternative to foster care. Founded in 1919 by an orphan himself, the Hutton Settlement is on Spokane's Register of National Historic Places. The home provides care for children five to eighteen, and children may remain through graduation from high school.
Annually, the Hutton Settlement hosts a "Christmas Tree Fundraiser" and local market where you can get into the spirit of Christmas by supporting the children of your community. All the proceeds from this fundraiser go straight toward funding Hutton's youth-led on-campus educational programs. This is a favorite place to get Christmas trees for Spokane locals. Choose your tree, cut it down, and feel good that the money goes to the children.
This year, they're offering U-cut trees, pre-cut wild or farmed trees, fresh handmade garlands, wreaths, and potted poinsettias. The event features a first-time market with Hutton-made goods, including roasted coffee, painted Christmas ornaments, homemade herbal teas and handcrafted body products.
Carver Farms
9105 N. Idaho Rd., Newman Lake
November 26 to 28 and December 4 to 5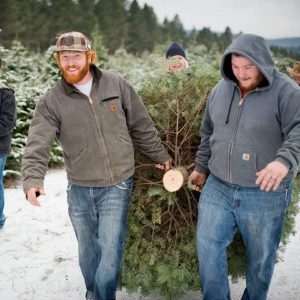 Carver Farms is a family-owned and operated farm featuring seasonal U-pick goodies throughout the year. Join them for strawberry-picking, a pumpkin patch, and cut your own tree at their Christmas tree farm.
They have a great selection of trees in all shapes and sizes, all for one simple and easy price. After selecting the perfect Christmas tree, sit back and relax with a free cup of coffee, cider or cocoa while they shake and bale your tree (included in price) for ease of transport.
Wreaths, crafts, soaps, lotions, treats, roasted coffee and famous soup mixes are also available in their gift shop. At this time, they require reservations.
Enjoy Seasonal Treats from Candy Shops in Spokane
Mrs. Cavanaugh's Chocolates
513 E Hastings RD. Ste. B, Spokane
Mrs. Cavanaugh's Chocolates & Ice Cream has been around since 1964, only using the highest quality ingredients from the get-go. Cute holiday-themed treats and goodies will surely add to your holiday aesthetic.
At Mrs. Cavanaugh's, you'll find "Holiday Cheer Combos," including Christmas-themed boxes with white-chocolate iced-snowmen, reindeer with pretzel-antler, red and green holiday mints, spiced caramels, shaved-candy-cane Christmas trees, dipped and peppermint-covered Oreos, peppermint bark, toffee almonds dusted with powdered sugar snow and holiday popcorn.
Bruttles Gourmet Candy
828 W Sprague Ave., Spokane
Bruttles Gourmet Candy's signature soft peanut brittle comes from a 68-year-old classic recipe, handed down and improved over the years. This brittle is soft and flaky with a rich and creamy flavor.
Their Soft Peanut Butter Brittle is a true-Spokane past-time as the recipe was invented right here in our lovely city. It's a great local Spokane gift to send to relatives and friends living far and wide. During the first remodel of the world-famous Davenport Hotel, the lobby was full of unwanted marble. A slab was purchased for making chocolates, and brittle and every candy sold is still hand-pulled on the same marble slab.
The original brittle led to a line of confections, still small-batch-made as they did throughout history, using only grade-A ingredients. Their candy is nothing like anything you've ever tasted. Stop in for their famous brittle, brandied cherries, dipped fruit and nut clusters.
Attend a Maker's Market for Holiday Shopping Around Spokane
Terrain Spokane
3 Floors of River Park Square
808 W Main Ave., Spokane
December 18, 10 a.m. – 8 p.m.
Terrain's Winter Brrrzaar is back this year. If you didn't get a chance to check it out last year, this is your chance to find all the best holiday gifts for the Christmas season in Spokane. The Brrrzaar is a one-stop shopping experience unique to Spokane, taking up all three floors of the River Park Square mall.
This holiday shopping event in downtown Spokane will surely bring on the Christmas cheer with thousands of swoon-worthy gifts made by local artists and businesses, live-themed Christmas music, family-friendly activities as well as activities to keep the kiddos busy and distracted while you shop.
A non-profit, Terrain is looking for helping hands to make Brrrzaar the best it can be. Volunteer shifts are between two to three hours and provide you with a chance to enhance Spokane's local arts and culture scene. What better way to spread Christmas cheer than volunteering within your community?
Also, make sure to check out the BeYOUtiful Local Market at the Northtown Mall to shop from over 35 local vendors every Friday, Saturday and Sunday through Christmas.
Christmas and holidays are spectacular around Spokane. With holiday décor, home-baked goodies, self-made soaps, cutting your own Christmas trees, snacking on local sweets, and attending local holiday markets, you're sure to find yourself in the Christmas spirit in no time (that is, if you haven't already with that first-dusting of snow recently).