Well, it's finally cold outside, and you know what that means — it's time to put some of our favorite outside activities away and get cozy inside since we're all going to be there for a while. It's not all bad, though. After all, there's plenty of Netflix to binge on and books to read. But what about when the boredom is too much and takes over?
Thankfully, winter is the perfect season to enjoy an American family favorite pastime that's sure to bring fun and laughter into the home — board games. And luckily for the Spokane community, there's plenty of local board game places to shop at this snowy season and bring home that perfect game for an adventure indoors with your family.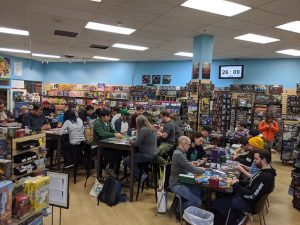 Uncle's Games
404 W. Main Avenue
509.624.4633
Uncle's Games has been supplying the Spokane community with fantastic games, puzzles, and toys since 1978. They have two locations serving the area — one in the heart of downtown Spokane in the historic Liberty Building and another in the Spokane Valley Mall. Both sites have a calendar of events on the main website that lists dates and times for various campaigns for those interested in participating. The popular event at the downtown spot is Star Wars Miniature Nights, while the Valley location is famous for its Dungeons and Dragons campaigns.
The downtown location of Uncle's Games also offers an expansive demo library where those thinking of purchasing a game can have a chance to try it on for size before taking it home. They have one of the largest selections of jigsaws, board games, playing cards, party games, dominoes, chess, and more, so there's plenty to choose from at either location. Of course, they also offer curbside pickup for those who want to shop online using the inventory shown on their website that they work hard to keep accurate and up to date.
Gaming Grotto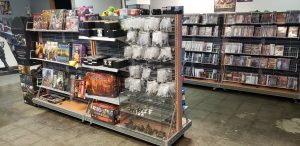 3808 N. Monroe Street
509.862.4650
Located in the Garland District since September of 2018 is Gaming Grotto owned by husband and wife team Adam Crahen and Rochelle Marshall. The duo had always dreamed of opening their own business. When it came time to choose what type of business to open, a game store was the obvious choice for these two and was a solid avenue to take considering that combined, they had nearly 40 years of gaming experience.
At Gaming Grotto, players can buy, sell, and trade new and used video games, consoles, trading cards, and gaming accessories. They also have a very welcoming open play space where people can play a video game on their projector or spread out their favorite tabletop or trading card game and enjoy a friendly campaign with their friends. Bonus — there are also snacks available for purchase for those who want a bite while playing.
B Side Games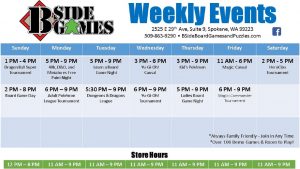 2525 E 29th Avenue, Suite 9
509.863.9290
B Side Games has come together to create the greatest board game store in the Spokane South Hill area since 2019. Founders Michael Rasmussen and Ryan Pybum have dedicated themselves to all things board games at their store, hosting daily events, such as kid's Pokémon night, adult Pokémon night, and even a Learn a Board Game Night. There is plenty of in-store gaming area for those who can't make the events, with tons of free demos to play.
Co-founder Michael is an Air Force Veteran who was told to "get a hobby" by his wife, which led to the board game business he opened with co-owner Ryan, who has been playing board games for over 20 years and has over 15 years in retail management experience.
The Gamer's Haven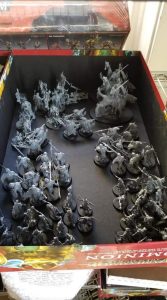 1430 W Broadway Avenue
509.443.5992
The Gamer's Haven was built for gamers by gamers 21 years ago by owner Bob Kelley. They are one of the largest tabletop gaming locations in the Northwest, with a monthly calendar that hosts a wide variety of events. In fact, most of their storeroom is dedicated to gaming space, with room for 15 6×4 tables for miniature games and a 40 player card tournament at the same time. Besides all the events, they also offer plenty of board games, Warhammer 40k, Magic: The Gathering, Warmachine, Yu Gi Oh, role-playing games, and other card and miniature games available for purchase to take home and enjoy.
No matter what gaming mood strikes you, whether it be an intense battle of Monopoly with friends at home or an epic campaign with a squad of gamers, there are plenty of board game stores in Spokane to adventure out to and find that perfect game. So, shop local, and hit up your local gaming store this holiday season.