Spokane is home to an eclectic array of wonderfully romantic spots to take a date during the winter. From dates in the cute and historic cafés in downtown to attending a cooking class or participating in ticketed theater events, the list of things to do on a date in Spokane is undoubtedly endless. There's plenty of cozy and cute winter date ideas around Spokane, so grab your love, bundle up and have some fun!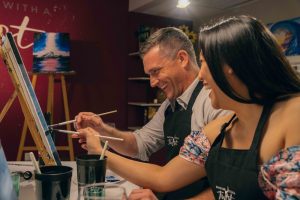 Paint & Sip Date Night
Painting with a Twist has themed trivia paint parties. On your date, you'll have a blast with fellow fans of popular trivia topics from TV series like Disney, F.R.I.E.N.D.S., Game of Thrones, etc. Not only can you test your knowledge while competing for prizes, but you can also wear themed costumes to enter their costume contest. At these events, you'll enjoy coordinated music while painting an image that goes with your night's theme.
Don't think you need to be a good artist to take your date to a paint & sip. No artistic ability is necessary, and it's fun to get creative together. They have fun artists that take song requests and keep everyone entertained, laughing, sipping, painting and enjoying each other's company.
Painting with a Twist is the only painting location where you don't have to be 21+. All ages are welcome here, so if you're younger and want to take someone on a painting date, this is the place!
Couple's Ice Skating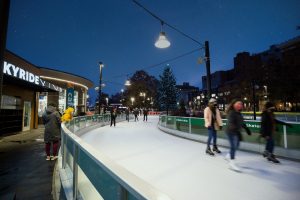 Riverfront Park's Numerica Skate Ribbon is a 16-foot-wide skate path that runs 650-feet in length. They've also got a 3,500 square foot pond for playing around on attached.
Skating can be an incredibly romantic date night as you make your way around the ice path surrounded by the beautiful sights of Spokane and Northwest landscape.
Surrounding the Skate Ribbon, you'll find large, cozy fire pits to sit and enjoy hot cocoa and date night cuddles. A trip on the SkyRide also makes for a dreamy evening.
Lunch in Historic Spokane Building
Boot's Bakery & Lounge has a full bakery for cute treats, pastries and muffins. They also offer a deli case of savory foods.
They make a mean drink as their owner was a bartender for over ten years in Spokane. Calling themselves "intuitive bartenders," the staff likes to surprise their guests. Not sure what you want? Tell them what you're in the mood for, and they'll craft you something special.
The space is housed in a quaint historic building, the Longbotham, in the east end of Spokane. Exposed brick walls, super-high ceilings, and art from tons of local Spokane artists make Boots a great place to take a date.
Learn to Cook Together
Wanderlust Delicato has rotating instructors from the Spokane community including, chefs, farmers, nutritionists, and cookbook authors. They are excited to do live cooking classes again and take all precautions to keep staff and visitors safe while providing the experience.
To book a cooking class or tasting, choose the event date you're looking for on the calendar and begin the booking process. They have many fun upcoming classes you and a date would enjoy together.
Here, you can cook traditional ramen from scratch — you'll learn to make broth, noodles and choose all the best ingredients. Guaranteed, this ramen will be nothing like you had in college. Take a French cooking class, crafting duck, niçoise salad, Coq au vin, tarts and macaroons. Join for a fun class focused on Thai cuisine, where you will cook curry, dumplings and sticky rice. Make fresh pasta in all shapes and sizes — tagliatelle, pappardelle, fettuccini, and orecchiette, plus multiple sauces to go with your yummy dish.
Attend a Theater Event
The Nutcracker at Martin Woldson Theater at the Fox is definitely a fan-favorite, especially for Spokane females in the dating scene. The Nutcracker is a special of the Spokane Symphony, and the State Street Ballet is welcomed to Spokane from Santa Barbara for the last ten years. More than seventy local young dancers join them to complete the cast. If you wait to buy tickets, you'll miss out — The Nutcracker is a Spokane event that always sells out.
Are you looking for something a bit different? Check out these lively Spokane Theaters for plays, show dates, times and tickets: Coeur d'Alene Summer Theatre, Lake City Play House, and Aspire Community Theatre.
Take Board Games Home
Maybe you and your date are more of a "homebody?" Uncle's Games Puzzles and More provide some of the best activities to take home with you. They are a locally-owned store packed with games, puzzles, brain teasers and more. This cute little shop downtown is a fun place to take a date, and you can pick out a game to take home together.
Their friendly staff is more than happy to teach you a game or two if you need some direction. They offer a great selection of games for pretty much any interest you may have.
Go Antiquing and Shopping Together
Showing that you care for your mamma, grandparents and siblings go a long way in the world of dating. Shopping for holiday gifts while on a date can help you bond as a couple, introducing each other to things you may not know about each other's families and interests. Check out the following fun vendor malls together:
Pine Street Market & Boutique is one of the most unique and exciting places to visit in the Valley. Antiques, vintage items, oddities, handmade tools, records, furniture, toys, collectibles are absolutely overflowing here with over one hundred local vendors.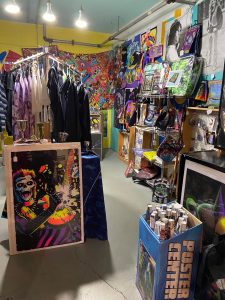 Green Acres Vendor Mall is notably "the place to flea." This vendor mall has it all — from furniture in a variety of styles (antique, farmhouse, mid-century), to clothing and funky accessories. Also find useful gear (camping, woodworking, metal-work, crafting goodies), toys and collectibles for children of all ages, and media including video games, vinyl, phonographs and tapes.
Famous Joe's Vendor Emporium is a locally owned and operated vendor mall. They host several entrepreneurs in their building that sell high-quality, one-of-a-kind, repurposed, recycled, collectible, heirloom and antique items.
Spokane is a great city for finding romance, especially in the winter. This time of year brings about bundling up, wine-tasting, cooking together, sledding, skating, shredding the slopes and cuddling around an open fire.
Spokane has so many creative spaces for all sorts of preferences. We recommend visiting a cute café, taking a date ice skating, attending a paint and wine night, cooking together, viewing a theater spectacle, bringing board games home and going holiday shopping together at local businesses. Dating ideas can be daunting, but we've done the work for you. Now, all you have to do is go out and enjoy each other.