With summer coming to an end, it's always sad to see it go. We'll miss the long days, summer sun, and vibrant colors from our front yard gardens that are about to go dormant for the winter. But we're not about to lose all our color to the white of snow just yet. Fall is swooping in to save the day with its bright hues of golds, oranges and reds. These fall colors are a sight to behold in Spokane, with brilliant bursts of hues of the leaves decorating our parks, neighborhoods, and trails. It's a spectacular showcase of nature at work that can be viewed during a pleasant walk in numerous spots within our fair city.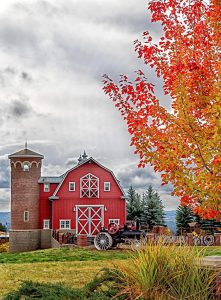 Green Bluff
15 minutes north of Spokane
Just a few minutes north of Spokane is a collection of 15 family-owned farms known collectively as Green Bluff Growers. Its farms are full of fresh air and fruit, and with harvest time upon us, the trees that produced the delicious bounty are now changing their leaves to autumn colors. A wide variety of cherry, peach, apple trees, and more are available for picking season and a chance to check out how the season change affects their leaves. It's a spectacular display of colors that can be viewed during leisurely walks or even during a hayride at select farms associated with Green Bluff Growers.
Riverfront Park
507 N. Howard Street
Riverfront Park is the jewel of downtown Spokane with its 100-acres of beauty that becomes immersed in the fall season's colors when autumn rolls around. It brings new vibes to the park when the trees start to display their bright yellows and rich reds, making it hard to believe that this urban oasis used to be an old railyard just 50 years ago. For those who decided to walk the path, besides being encompassed in its natural beauty, there is also a chance to learn about Spokane's rich history and its many attractions along the way. Being along the Spokane River, one also gets a chance to see how the autumn colors reflect against the water, with leaves gracefully falling in as the trees begin to shed them for winter. It's a breathtaking stroll and the perfect way to spend a fall day, with plenty of stops for pumpkin spiced coffee along the way.
John A. Finch Arboretum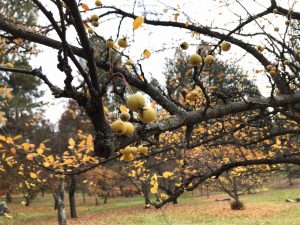 3404 W Woodland Blvd.
Spokane's John A. Finch Arboretum is a tree lover's paradise with more than 2,000 labeled ornamental trees portraying a rich array of autumn colors this time of year. It's 65 acres showcases a wide variety of trees and shrubs not only from the inland northwest but also plants from many other parts of the world as well. With all the assortment, it is a unique experience giving all those who go a chance to see plants and trees they wouldn't see on their everyday hike in the mountains. During fall, there is also the Fall Leaf Festival at the Arboretum, with the mountain ash, maple, and oak trees being the most well-known in the park for having the most vibrant leaf colors.
Manito Park and Boulevard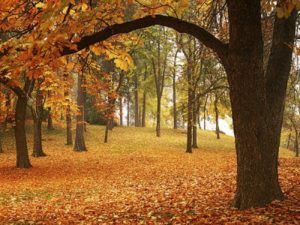 1702 S Grand Blvd.
Manito Park is home to five beautiful gardens, each with its own unique features making up picture-perfect backdrops for those epic fall photos. Scarlet maple leaves delicately frame serene koi ponds and footbridges in one of the five gardens, the Nishinomiya Tsutakawa Memorial Japanese Garden section. While south of the park, visitors can find a canopy of gold foliage covering Manito Boulevard, a perfect spot for a neighborhood stroll.
Centennial Trail
Fall colors also decorate the 37-mile Centennial Trail, with their leaves often reflecting off the neighboring Spokane River. Along with exciting foliage around every turn of the trail, there are also numerous historical landmarks. This gives those photographers a chance to take breathtaking photos of those landmarks decked out in the fall colors around them. It also links up to multiple city parks, state parks, and trailheads along the way, giving trail goers a chance to stop and see the autumn season changes in those areas as well.
All these areas of our region and more will soon be adorned in the season's hues as the nights start to get shorter. They're a welcomed sight as they elicit feelings of togetherness, thankfulness, and holiday cheer to come. Walks in the presence of such beauty are well worth the jacket one will have to grab on their way out the door while fighting off the knowledge that snow is on the horizon.