Halloween is just around the corner, and everyone knows that you can't have a great Halloween without a great pumpkin. Of course, you could just pick up any old pumpkin at the local grocery store, but if you're looking for some family fun, consider going to a local farm this Halloween season. And lucky for the Spokane community, there are plenty of farms ripe for visiting this fall season. Besides being given the chance to pick the perfect pumpkin during a visit to these farms, one can enjoy picking apples, playing in hay bales, or capturing fall memories that will last a lifetime.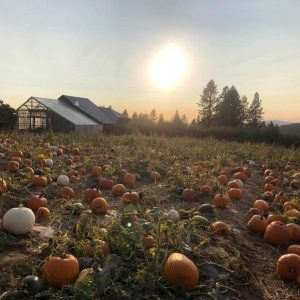 Walter's Fruit Ranch
9807 E. Day Road
Mead
509.238.4709
If you want to go "where fun grows," then Walter's Fruit Ranch in Mead is the place to go. Right now, they're in the middle of their apple festival, with their pumpkin festival right around the corner once we head into October. Those wanting to do some picking can take a ride out to the orchard on the Fruit Loop Express and pick delicious fruits. Kids can also enjoy the sweet pea play area to feed sheep, ride ponies, and explore the barnyard play area. While the kids are enjoying all the fun, the adults can take a moment to relax at the Orchard Café and grab a slice of homemade pie before they head over to the gift shop for some leisurely shopping. For those who want to get their pumpkins from Walter's Fruit Ranch, they can visit anytime Monday through Sunday from 9 a.m. until 5 p.m.
Hidden Acres Orchards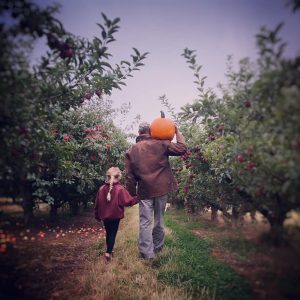 16802 N. Applewood Lane
Mead
509.238.2830
The U-pick Pumpkin Patch will start running on September 20 at Hidden Acres Orchards and will run until October 29 for those who want to get a pumpkin from this beautiful farm. The whole family can visit from 9 a.m. until 5 p.m. every day, with the ticket pricing being the same for both children and adults, just $7. Besides the pumpkin patch, they also have a tire maze and a frontier village to play in with farm animal viewing, plus a chance to take pictures with Penelope the Giant Talking Pumpkin. Hidden Acres also offers many educational tours, such as a narrated hayride with Farmer Zach and a bee talk with Farmer Muriel.
Doc & Char's Old Time Orchard
8814 E. Greenbluff Road
Colbert
509.238.6971
Doc & Char's Old Time Orchard is another beautiful place for pumpkin picking during the fall season. Besides the pumpkins, they also have apple, apricot, cherry, and raspberry picking. But wait, there's even more! Take the flavor of fall home their fresh-pressed cider, famous take-n-bake pies, jam, and apple butter.
Beck's Harvest House
9919 E. Greenbluff Road
Colbert
509.238.6970
Pumpkin Land is a magical place for pumpkin picking that can only be visited at Beck's Harvest House this harvest season. It's a place filled with all kinds of shapes, sizes, and colors to choose from in a pumpkin. Beck's Harvest House hosts a fall festival from September 25 until October 31 that promises to be a one-stop place to enjoy all your favorite fall activities. There's live music, world-famous pumpkin donuts, a giant corn maze, and more at this festival open every day from 10 a.m. until 6 p.m. with only one $5 ticket serving an entire reservation or whole carload.
High Country Orchard
8518 E. Greenbluff Road
Colbert
509.238.9545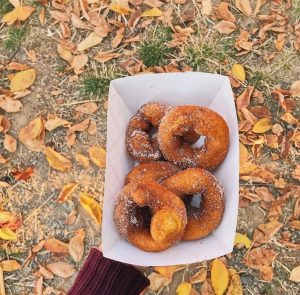 Another place with a U-Pick Pumpkin patch is the High Country Orchard. This fun farm's Harvest Festival starts September 16 and runs until October 31. It's a festival full of pumpkin donuts, caramel apples, and family fun in the barnyard. There will also be pony rides along with weekend craft and vendor fairs accompanied by live music. Besides all the festival fun, High Country Orchard is also a community farm that also hosts weddings for those lovely ladies who want to be fall brides.
Carver Farms
9105 N. Idaho Road
Newman Lake
509.226.3602
A place to go for not only plain old orange pumpkins but also PINK pumpkins is Carver Farms. This exciting farm opens starting on September 25 from 9 a.m. until 4 p.m. Along with the crazy pink pumpkins, they also have a corn maze, pumpkin donuts, kettle corn, and more! There are even mini pumpkins and gourds sold in a set as four for $1. For unique take-homes, they have honey in various size jars and Carver Farms Bean Soup Mix for $7 each.
Prairie Home Farm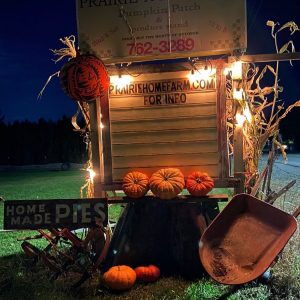 7790 Atlas Road
Couer d'Alene
208.762.3289
When it comes to Prairie Home Farm, there is something for everyone. Couer d'Alene has a 100-year-old, five-acre farm with its own pumpkin patch to be proud of. It's a perfect place for fall family photo ops with its antique tools and machinery, old milking barn, and fall produce, making an ideal backdrop. There are also 12 different types of farm animals on-site to spend time with and get to know. The pumpkin patch may only be available for October, but their delicious pies are available all year round at Prairie Home Farm.
No matter which farm you choose to visit this spooky season, one thing is for sure — nobody is going home without being given a chance to pick their perfect pumpkin this Halloween season in and around Spokane.