Once upon a time, in the fair city of Spokane, the streets were not paved. The year was 1898, and instead of the asphalt we see today, the roads around town were nothing but mud. The automobile was a decade away from being commonplace, so the need for roads was not yet adamant. Instead, the mayor focused on a network of bicycle paths for the area to accommodate Spokane's rapidly growing bicycle use. Everyone agreed that creating bicycle paths around the city would make Spokane more attractive and prevent them from falling behind with the times. They believed the bicycle as a mode of transportation would prevail.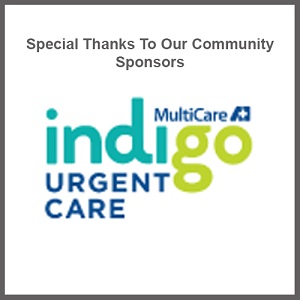 That was over 120 years ago, yet they were right — the bicycles were here to stay. Thanks to their wise decisions back then, Spokane and surrounding areas have an abundant number of beautiful biking trails to get out and enjoy the ride on.
Spokane River Centennial Trail
Much of the bicycle trail proposed for creation back in 1898 would make up a large portion of Spokane's Centennial State Park Trail. This 40-mile trail runs through eastern Washington from Nine Mile Recreation Area on Lake Spokane to the Idaho border into Post Falls. While traveling through this mix-use trail, there are numerous sights to behold. It passes through high desert Ponderosa pine forests, basalt canyons, hip urban centers, and up to 40 historically significant heritage sites. Several trailheads and access points allow trail goers to break the route into smaller sections if they wish, but this is a favorite spot for locals to tackle the entire length of the long bike ride when they have a free day. The Spokane River Centennial Trail is the backbone of the recreational trail system in our community as it welcomes over 2.5 million users annually.
Appleway Trail
Built on the former Milwaukee Railroad right-of-way and located in Spokane Valley's heart, the Appleway Trail is a paved, multi-use pathway parallel to and just south of Sprague Avenue. There is a section of the trail between University and Evergreen Road that is a popular location for not only bicyclists but also runners and walkers. This is all thanks to the lighted, safe, and easily accessible pathway away from busy traffic as well as the flashing yellow beacons located at various intersections. For those wanting to access the trail, there is dedicated parking for this bike trail located at University Road, Pines Road, Best Road, and Tschirley Road. Future amenities for Appleway Trail may include the development of exercise equipment, playgrounds, and community gardens, as well as food and drink vendors along the path.
Fish Lake Trail
Another rails-to-trails spot in the area that's perfect for bicycling is the Fish Lake Trail connecting West Spokane to Queen Lucas Lake. Currently, this trail is 7.6-miles long, but it is a project that is 20 years in the making. Eventually, the route will be 10.2-miles long and end at Fish Lake Regional Park. The goal is to have Fish Lake Trail serving as a connector to Columbia Plateau Trail, Centennial Trail, and Riverfront Park for recreationalists and commuters alike.
Sekani-Beacon Loop
A bike trail that's perfect for mountain biking within our community is the Sekani-Beacon Loop. The different trails along this loop are marked from easy to advanced for those more experienced riders, but the average difficulty of the course is considered easy. However, for those sections that may be too hard to tackle, there are paths around them as an alternative. This 6.3-mile track provides a great glimpse of what Camp Sekani and Beacon Hill have to offer as far as scenery with its high desert woodland, exposed rock, and areas with mild exposure. For those interested in venturing further out if they like the terrain, Beacon Hill itself offers a total of 60 different bike trails perfect for biking styles like XC, all-mountain, downhill, and freeride.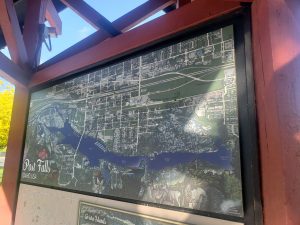 Post Falls Community Park
Riders who follow the Centennial Trail across the border will find themselves on the outskirts of the 500-acre Post Falls Community Forest. Here bicyclists can enjoy 10 miles of mountain bike trails that link into 20 miles of loop routes. Two miles of that encompasses Spokane River frontage that is home to several swimming holes for those who want to take a break from riding for a while and enjoy the water. It's sure to be an exciting ride through the forest as it runs through ravines, up and down hills, and along the river.
Q'emiln Park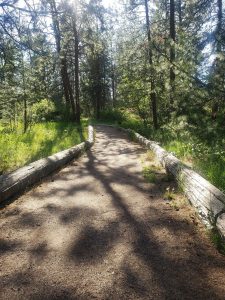 For any cyclist who makes it from Centennial Trail into the Post Falls Community Park and still can't get enough riding in for the day, Post Falls Community Park connects to a trailhead at Q'emlin Park. Another 40-acre trail system greets cyclists on a 78.5-acre park. This one is a local favorite thanks to its winding, weaving, climbing set of trails meandering in and around the park. The rich pines overhead keep the trail cool for those thinking of staying a while.
The bicycle has come a long way since the summer of 1898, but one thing that hasn't changed in the Spokane community is the love for the outdoors and a relaxing bike ride. Besides the trails mentioned here, there are plenty of other bike trails in our community to explore. Just get out and go!