Time is a precious gift, for which the volunteers at the Red Cross Greater Inland Northwest Chapter deserve much praise. Each year thousands of hours are devoted to the various programs, services, and events held and managed by Red Cross volunteers. Beyond responding to disaster situations, here in and around Spokane, the Red Cross focuses on prevention and preparation for life's challenges, including fire preparedness, blood drives, water safety and disaster readiness.
Serving Through the Pandemic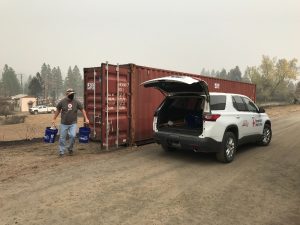 Like other agencies, the pandemic brought a new challenge for the Red Cross. "Volunteers at the Red Cross are accustomed to working in challenging environments, but when the pandemic hit, the Red Cross took swift and significant steps to keep its volunteers as safe as possible while still serving their neighbors in need," says Executive Director Ryan Rodin. "So many programs moved to virtual and phone formats." This included virtual support services for families displaced by fires in their homes or from nearby disaster fires. Unlike typical years, where gyms and churches are used for evacuation centers, households were provided a hotel room. Some efficiencies were realized in providing resource information virtually, saving hours, and offering more accessibility to people as they needed services.
Service to the Armed Forces
At any time during the year, Red Cross volunteers provide support to families of Armed Forces members. Using advanced technologies, workers help military families locate local services and resources to build resiliency and prepare families for healthy adjustments to military life. Some activities are focused on remembrance through beautification work at veteran's cemeteries. This past May, volunteers partnered with colleagues from Fairchild Airforce Base to work in the Scatter Garden at Washington State Veterans Cemetery in Medical Lake. After a full day of elbow grease, the volunteers helped prepare the cemetery for Memorial Day.
Life-Saving Blood Drives
In March of 2020, blood drives nearly came to a stop. Since the American Red Cross provides roughly 40% of blood nationally, this led to blood shortages early in the pandemic. Over time, a slight pivot occurred in providing opportunities for people to donate blood. Large businesses and churches helped fill the gap for blood drive needs. As summer looms, leading to more activities and accidents, blood will again be in need. Businesses, churches, community groups, and schools in or around Spokane interested in hosting a blood drive may contact the Red Cross at 509.326.3330 or through their website.
Sound the Alarm
Ending June 30, the Home Fire Safety program named 'Sound the Alarm' provides critical information for families about fire safety. Most years, volunteers provide home visits. However, this year's outreach is primarily limited to informational phone calls. These 20-minute calls offer life-saving information for adults to share with their families, including two simple steps to prepare for a home fire: Practice a 2-Minute Fire Drill and Test Your Smoke Alarm Monthly. It seems easy, right? Yet, unfortunately, seven lives are lost daily in our country from home fires. If you're interested in a 20-minute call to help save a life, call 1.833.918.2531 to sign up!
Wildfire Season is Near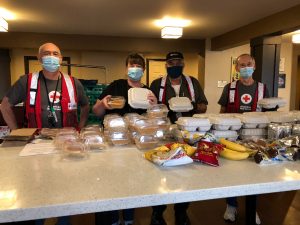 Last year's wildfire season was devastating. For many, it's still too soon to discuss. When flames devoured the majority of Malden last September, Red Cross volunteers played a significant role in helping provide information and resources. Rodin acknowledged having "Amazing volunteers to help during an incredibly heartbreaking time." A fully trained volunteer group for disaster response "will again be critical," Rodin noted, as we're all aware of the lack of rain this spring has put our region into a drought.
Calling All Volunteers

 
As a service agency providing critical support to military families and civilians for preparedness and during times of crisis, the Red Cross needs dedicated volunteers. From supporting in-person and virtual events to administrative tasks, meals and food distribution, distributing information, or donating blood, there is a volunteer role waiting for your skills and abilities.
The Future of Our Red Cross Chapter
As restrictions change, Rodin stated, "Discussions continue about what the new normal looks like for Red Cross staff and volunteers. Our decisions will be intentional." As discussions continue, the focus will remain on keeping volunteers and recipients of services safe and healthy. As we all move into a new normal, some services will return in person. There will be a need for disaster readiness volunteers to help prepare emergency shelters, prepare and serve meals, and assist families in finding appropriate services.
Red Cross Greater Inland Northwest Chapter
315 W Nora Ave.
Spokane
509.326.3330
Facebook
Sound the Alarm
1.833.918.2531