If you have a chance to tour the fantastic fashion exhibit at the Northwest Museum of Arts and Culture, (MAC) in Spokane, I highly suggest you do. Currently, they are hosting an exhibit from the popular television series Downton Abbey. "Dressing the Abbey" is on display at the Spokane MAC Museum from February 9 to May 2, 2021, so book your reservations quickly before the opportunity passes by!
I love fashion because it always reflects social values, societal changes, and the zeitgeist, "spirit of the age," it's born in. It's great to see exhibits like this that allow you to peer into how life persisted during a distant-seeming time. It's even more enjoyable to see the changes we've made in society and just how far we've come.
About Downtown Abbey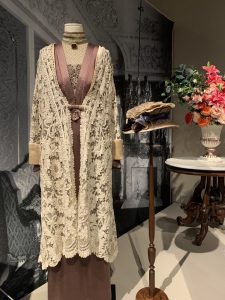 A British historical series, Downton Abbey, was set early in the 20th century. PBS supported the production of this series, adding it to their "Masterpiece Classic" collection.
The series takes place between 1912 and 1926 and illustrates the lives of aristocratic families and their servants during these times. Many massive and life-altering events occurred during these years, affecting civilians' lifestyle and the entire social-hierarchy of Britain that then trickled out to reach the rest of the Western world. Some of the significant events portrayed include the sinking of the Titanic, World War I, Spanish Influenza, the Irish War of Independence and the British election of 1923. Ultimately, with these events, humanity witnessed the rise of the working class and the British aristocracy's ensuing decline.
Northwest Museum of Arts and Culture Exhibit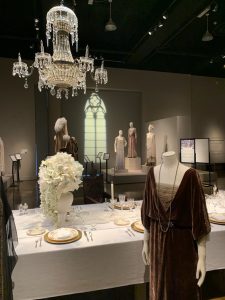 "Dressing the Abbey" presents thirty-five original costumes created for this world-famous series. The costumes range from servant's uniforms to riding outfits to lavish and luxurious party attire. At the Downton Abbey Exhibit, you'll observe a wide variety of costumes, expensive fabrics, intricate lace detailing, enchanting embroidery, unbelievable beading and hand-loomed threadwork.
The costumes were planned for the show using photographs from the time period, authentic patterns, vintage fabrics and remarkable handwork. Your time at the museum is enhanced by select accessories, set designs and dramatic lighting provided by Spokane Civic Theatre.
Downtown Abbey History of Fashion
The First World War's fashion blurred the lines of gender role. Women took jobs customarily held by their male counterparts while they were out fighting the war. Driving trains, working in factories and farming was now considered women's work for the first time. The war also broke down eminent barriers between classes. Social elitists now set aside lavish parties and glittering gowns to support the war effort as best they could. These age-old social structures have since lingered throughout history and were never truly reconstructed.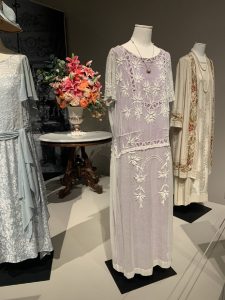 War and the soberness surrounding it brought about fewer luxuries with simple styles and muted colors. Women's dress changed drastically, getting rid of pre-war styling full of capacious layers of fabric and bright emboldened prints. Styles became slimmer, and dresses were cut shorter to save material for war. After the war, this "less is more" inclination continued, and hemlines ascended further to meet the lifestyle trends of the roaring 20s.
In England, still, women were presented at court once coming of age. Wealthy relatives presented their young female family members to the King or Queen, "coming-out in society" in search of an eligible and well-bred bachelor for marriage. When attending the Royal Court, women had to conform to the court's published and specific rules and regulations. Here, color, shape, length of dresses, headdresses and hand-held pieces like fans or bouquets were fully enforced. In 1958, to modernize society in moving forward, Queen Elizabeth II ended this customary tradition.
An anti-industrial movement, the Arts and Crafts Movement, brought about more respect and luster for handcrafted pieces of art, architecture and fashion. People were disenchanted with the mass-manufacturing brought about by the industrialization period. We see a similar trend today as people are searching for unique works of wearable art, one-of-a-kind pieces, and high-quality pre-loved vintage items. See my previous article on businesses offering Custom Fashion Design Around Spokane and Vintage Stores Around Spokane.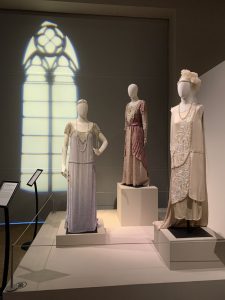 Slipping into the 1920s, women were remarkably more relaxed. They cut their hair in a never-before-seen bob fashion, wore shorter dresses and loved to get glitzy with glittering beaded embellishments and extravagant costume jewelry. Short skirts and sparkling beadwork signified more freedom in lifestyle and body-movement for the famous flapper girls notorious of the time. This new freedom was established due to passing the Women's Suffrage Movement in 1918 in England and 1920 for the United States. Women moved away from the tight corsets of their grandparent's era and wholly embraced a style of liberation.
Dressing the Abbey Exhibit Info
Dressing the Abbey is only at the Northwest Museum of Art and Culture until May 2, so please book reservations for this splendid display as soon as possible. This fashion exhibit is absolutely something that's not to be missed in Spokane. Currently, the Northwest Museum of Art and Culture has only a certain number of time-slots available for viewing the exhibit to align with state-regulated social-distancing policies.
Join Spokane's Art and Culture Community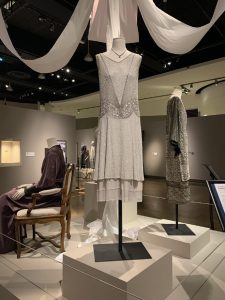 If you're unable to visit the Spokane MAC during this time, don't worry, they have a wide range of informational and exciting exhibits that are absolutely innovative and constantly changing. Spending a day at the museum in Spokane is an excellent indoor activity for all ages, no matter the time of year!
You can even become a member of the Northwest Museum of Art and Culture if you're interested in engaging and fully-immersing yourself in the local Spokane art and culture community.
With a membership, you'll receive many yearly benefits, discounts and be invited to members-only-events, so please see all the advantageous details and apply online.