Upcycled fashion and wearable art have become a huge trend and for a good reason. New garments are being mass-produced far too often. Did you know it takes around 700 gallons of clean water to make just one single cotton T-shirt?
Buying used reduces the impact on the environment and saves you money. Plus, with upcycled fashion, you'll never find the same piece twice. By shopping from upcycled fashion artists in and around Spokane, you can discover super-unique, one-of-a-kind, high-quality items often designed based on your specifications.
ESCNW
Online Retailer (See Physical Store Locations Below)
Evergreen State of Consciousness or ESCNW is a Pacific Northwest collective of creators. Through art, fashion, and various media outlets, they've made it their mission to "create, inspire, elevate and shift the collective consciousness."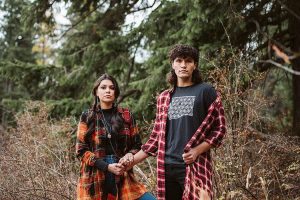 They have a couple of different clothing lines, including an up-cycled line created from finds at local thrift stores or stores going out of business. With unique and different pieces, you'll never find the same item twice. Once you've found the one you love, make sure you snag it before someone else does!
Each one of their creations is "made with love" right here in Spokane. They sell various upcycled sacred-geometry clothing, handmade crystal jewelry, eclectic artwork and virtually everything in between! Of course, their inspiration and love of their craft come directly from the beauty of their home state.
As a team of true Spokane locals, one of their main designs features the State of Washington filled with different patterns relating to sacred geometry. They call this special line of personalized pieces "Sacred Washington". The design is promoted to "Keep our state sacred!" You can take this to mean two different things: the sacredness found in one's personal state-of-being, as well as keeping the state of Washington's environment sacred.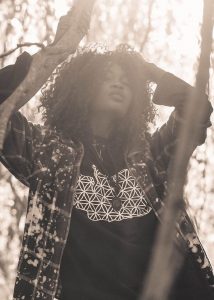 For every item sold with the Sacred Washington design, they give a portion of proceeds to their partner, Spokane Lands Council, a local non-profit that plants trees, helps preserve and revitalize the Inland Northwest's forests, water and wildlife. Their non-profit partner has an innovative set of programs to restore and revitalize the region's environment. The Sacred Washington design helps plant trees right here in the Inland Northwest.
ESCNW sells its interesting vintage creations, upcycled clothing and eclectic jewelry in many local shops. They even have their own super-creative set-up at a local vendor-collective, the Great Northwest Vendor Mall. Find their one-of-a-kind garments and crystal jewelry at BeYoutiful Bath Bombs & More, Blue Harmony Organic Salon, Decorum Gifts, Kingsley & Scout, Lavender Sun in Coeur d'Alene, Pistole Boardshop, Sams & Coffee, A Spiritual Touch Healing Boutique, and The Bohemian.
You'll love the unique array of men's and women's artifacts that ESCNW created by hand. Plus, the dynamic duo are some of the friendliest and most down-to-earth people you'll ever discover!
Gypsy Bay Customs
Online Retailer (through Instagram)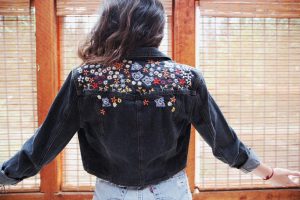 Aria Katriel Horowitz is a multidisciplinary creative and artist. She is the designer behind Gypsy Bay Customs, a small and local custom upcycled-clothing operation.
When COVID-19 disrupted her career in the festival operations industry early in 2020, Horowitz thought about how she could pivot to provide what people wanted through these strange times.
She turned to clothing design, custom embroidery, sewing and painting as a way to connect with her creativity and stay productive.
Horowitz pulls inspiration from vintage fashion and creates beautiful pieces of art based on her client's needs. Horowitz has come to love and experiment with it all, from hand embroidery to painted jackets to creative patchwork productions.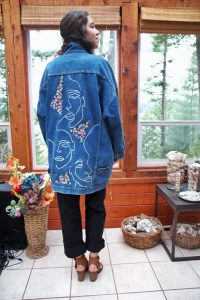 In just under a year, Horowitz has already produced over forty custom jackets of all varieties.
Some pieces take upwards of 15 hours to complete as everything has a homemade and contemporary touch only experienced with the purchase of a one-of-a-kind custom-designed garment. Whether you want your clothing designed with sacred symbology, tribal-tattoo-styled art, a favorite band's logo, or a portrait of your furry friend, it can be done.
As a designer, this fashion artist's goal is to create fun, funky, unique and beautiful art for all people and personalities. To see more of Horowitz's art and clothing or commission a custom piece of your own, visit Gypsy Bay Customs and send her a direct message to get started on a personalized piece.
THE WAVY BUNCH
Online Retailer (pop-up shops, events and festivals)
A little shameless self-promotion, as the author of this article, I'd love to share my personal project and main-hustle with our readers. Let me formally introduce you to THE WAVY BUNCH—a community of designers and dreamers that promote self-love, individuality, and positivity through artistic outlets. I share the world with people through fashion, wellness, culture, travel, stories and art!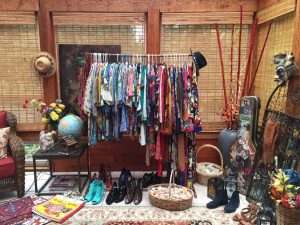 After years of foreign travel, teaching English abroad, and appreciating world cultures, styles, traditions, heritage, and beliefs, my business's all-encompassing idea came to the forefront of my mind. I decided to seek to harness this world's brilliance by sharing powerful pieces from communities and cultures far and wide. I bring back beautiful things from the world, along with traditional knowledge, tribal healing methods, cultural recipes and a glance into the lives of far-away people and places.
THE WAVY BUNCH has become a colorful lifestyle brand that harvests creations and contributions from ever-changing sources worldwide to provide one-of-a-kind clothing promoting freedom of expression, self-love and originality.
I wanted to offer clothing that emphasizes the wearer's individuality and creativity while reflecting worldly cultures, nature, and revolutions in art and music. I usually sell my eclectic array of men's, women's and children's garments at music festivals and other colorful events. Now, I have mostly moved my shop online during the event drought created by COVID-19.
I've started selling pre-loved clothing, and unique vintage finds from global cultures. Everything sold has its own unique story to tell. For instance, my patchwork kimonos are made from upcycled-silk from Indian Saris, the colorful wedding dresses that are India's trademark.
I also make a wide array of custom upcycled garments that are designed specifically for YOU. I work with clients on custom coloration, sizing, fabrication, embroidery and painted details. See some of the custom vintage and upcycled-pieces I've designed here: Olive Tribal Patchwork Jacket, Pink Patchwork Jacket, Pacha Mamma Painted Jacket, Tree of Life Patchwork Painted Jacket, and Punk Graffiti Military Jacket. You can order a custom-piece by messaging me through Instagram.
Through THE WAVY BUNCH, you can shop the world from the comfort of your home. It's like taking a vacation without going on vacation! Everything I sell is funky, retro/vintage, has a story to tell, is fair-trade, handmade, and ethically-produced. I support and give back to cultural creatives, tribal villages, and world artists that keep their traditional arts and culture alive.
When you purchase a piece of upcycled wearable art, you're not just buying a piece of clothing. You're buying a piece of someone's unique past and making it part of your future. You're also putting your almighty dollar into the hands of people with a passion for saving the environment while creating beautiful, eclectic and custom works of wearable art.