Garments and furniture are mass-produced too often. Did you know the fashion industry falls only second in line with the top-polluting industries? They're in there, right behind the oil industry.
Thrifting and shopping at vintage stores are some of the best ways for consumers to reduce their impact on the environment. Not to mention, thrifting is a great way to find really unique, one-of-a-kind, high-quality items that will keep your heart and your wallet happy.
Save the environment and your money by supporting local Spokane vintage and thrift stores. Go ahead and give these retailers a guilt-free shop!
Fringe & Fray
1325 W. 1st Ave, Suite 102
Spokane
509.720.7116
Fringe & Fray is a unique local resale boutique. They are locally owned and operated and are committed to offering quality vintage products to customers at affordable prices. If you're searching for a creative combination of vintage apparel, jewelry made by local artists, or an array of fun home décor, check out Fringe & Fray's cute corner store.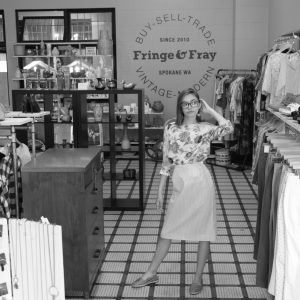 Evolving to provide for the times, shop online through their easy online ordering. They have all their current items to dress yourself from head to toe on their elegant and straightforward platform, including fun accessories, clothing, jackets, and exceptional footwear. They sell both men's and women's vintage and thrifted items in all sizes from extra small to extra-large.
Fringe & Fray specializes in vintage and thrifted clothing. They have a selection of comfy sweaters in cashmere and wool, flannels for both men and women, high-waisted, skinnies and distressed denim, patterned and neutral shirts, varying all-season jackets, leather boots and other fun shoes.
If you're looking to do a Spring cleaning, bring your soft-goods (clothing and accessories) to Fringe & Fray. They will then hand-select their favorite items for resale in exchange for cash or store credit. Store credit can be used immediately, so out with the old and in with the new you! However, please don't bring ripped or stained items, as they are selective regarding quality. Because of policies around COVID-19, they require an appointment to drop off items but have no fear — they've made it seamless to book an appointment through their website.
They actively seek out and sell the following upscale brands: Athleta, Lululemon, Patagonia, Alo, Spiritual Gangster, Anthropologie and Nordstrom brands, Banana Republic, Citizens of Humanity, Diesel, Free People, Frye, Halogen, Hazel, J.Crew, Joe's, Lux, Madewell, Penguin, and Vince Camuto.
This hip shop is open on Monday through Saturday from 12 p.m. to 6 p.m. You can get your beauty-sleep in on Sundays because they are closed.
Tossed and Found
2607 N Monroe St.
Spokane
509.325.2607
Tossed & Found has a unique origin story. Initially, the four owners were vendors in a giant collaborative antique mall. A hobby turned into a passion, and the four cohorts decided to join forces to open the unique vintage shop precisely as they envisioned. They were all close to retirement or retired when they founded the location over ten years ago.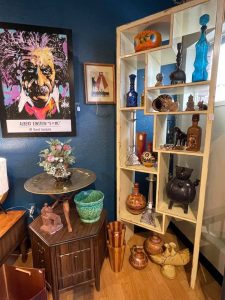 The group loves antiques but didn't want to be seen as a museum, so they keep things current and continuously change and add to their supply to fit trends and forecasts. They have always been an affordable place from the get-go to shop for antiques and modern items alike. Everything they sell is used and comes from Spokane and surrounding areas. With seven exceptional vendors, they all contribute to the variety and success of the shop.
When Tossed & Found first opened their doors, they were floored at their instant success, and that success continued for the next ten years. The shop was one of Spokane's first stores to offer mid-century modern, industrial styles and western country items.
Since two of the original partners retired, Nicki Krossen and Leslie Fleischmann brought Dary Gravelle in on this happening business partnership.
"I remember long-time antique dealers coming to our shop to try to figure out what was going on at this crazy-busy store," Krossen noted. "North Monroe Street was not always the destination spot it has become today. We think our success contributed to the area greatly in the years to come."
Their greatest joy is the treasure hunt and then seeing these treasures get found by their customers. They love seeing their priceless items getting new life in a new home.
"Spokane is an amazing city to own a small business," said Krossen. "We love our customers and thank them for their continued support. They got us through a year of road construction and COVID-19! We have been very blessed and humbled by the support."
Most years, they have an Annual Spring Barn Sale where they open their grandiose storage facility located behind their shop. They fill their entire parking lot with a fantastic blow-out-sale event attracting over 500 people every year. Unfortunately, this event will likely not be able to take place again until 2022.
With COVID-19, their usual hours are not the same. Tossed & Found is now open Tuesday through Thursday from 11 a.m. to 4 p.m. and Friday-Saturday from 11 a.m. to 5 p.m.
Rare and Retro Vintage
27 West Indiana Ave.
Spokane
509.863.5762
Rare and Retro Vintage shares a similar and equally romantic start-up story to the business above. Comprised of four local owners with two husband and wife teams, the store has been open for six years, and the coupled partners have been the owners for the past three years.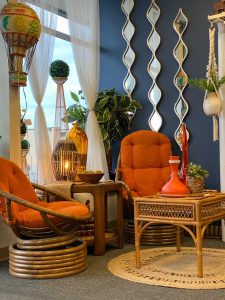 They originally considered themselves "Junkers," as they loved to go thrifting, picking and searching for cool and retro things. They collected items over the years and sold things privately for a while. They started selling from a small collaborative vintage store-front and started working in the store one day per week. "We loved that here we could bring our daughter into work with us." After finding some success in this antique collective, they began expanding and taking up more space within the vendor mall. When the longstanding owner decided to sell the business, they immediately jumped in. They have since brought in other owners because they have a big family and needed some extra help.
Why did they start selling vintage? "New stuff is cheaply made. It's made to break so that people will be forced to buy things again and again," said the owners. "Vintage craftsmanship can't be reproduced and will hold up longer. It stands the test of time. That's why it's still here!"
They have an assortment of other vendors they work with, though they have tape down on the floors to delineate where different vendor spaces start and end. They're always hosting a diverse group of vintage collectors and collaborators. Here, "No vendors are doing the same thing, have the same look or overall idea," the owner mentioned. "Each space you walk through has a totally different feel, yet it all goes together cohesively. One area has a boho vibe, one is rustic, one is the 70s. We even have a 'man hallway' with things that guys will like."
Rare and Retro Vintage is looking for new vendors. As an interested vendor, you would go into the store after open-hours, sit down with the owners, go over cost and space availabilities and learn how their system works. "We love the vintage community and want to support one another!"
Some of the friendly vendors even work in the store once a week. With vendors coming in every day to replace and change out their set-up, you'll never see the same space more than once. Things are constantly changing, and there will always be new and different things than found the day before.
Rare and Retro Vintage owners enjoy their customers, have frequent shop re-visitors, greet everyone with a hello, and try to say goodbye to everyone as they leave. "People feel comforted in our store. One gentleman who lost his family comes into the shop almost daily. It seems to bring him something to look forward to when he comes in. We're kind of like a second home and family."
In usual times, Rare and Retro Vintage hosts a couple of events each year. They usually have a vintage trailer show where people bring their trailers and set up a car-show-type event. They're also often doing sidewalk sales and other special-occasion events, so be sure to follow them on Facebook to stay updated.
Visit them on Tuesday through Friday from 11 a.m. to 3 p.m. and Saturdays from 10 a.m. to 4 p.m. They're closed Sundays and Mondays for some much-needed time spent with family.
Seemingly a new type of trending business, vintage and thrift stores are virtually popping up on every city block! When you purchase something vintage or thrifted, it's not just a piece of furniture or clothing — you're buying a unique slice of someone's past and creating a new future for your item.