If one were to ask around Spokane about famous entertainers from the area, many people would mention Bing Crosby without hesitation, and for good reason. He was an acclaimed singer, with multiple hit singles and platinum albums. He was also an actor, earning Golden Globe and Academy Award nominations, and a win for best actor in 1945 for "Going My Way." Crosby also headlined numerous radio shows, and moved to television in the 1950s, hosting regular special variety hours. He has a star on the Hollywood Walk of Fame and his music is still played today, ensuring a new generation of fans. Because of his success in music, radio, television and movies, Bing Crosby is considered by some to be one of the first true multimedia stars.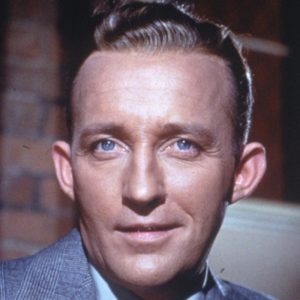 Yet, there is another reason Crosby is discussed so fondly in Spokane — he never forgot where he came from. While Crosby's success kept him on the road and away from Spokane, he nevertheless maintained ties to the region, particularly with Gonzaga, his alma mater.
Despite his status as Spokane's favorite son, Crosby was not born in the area, nor is his name really Bing Crosby. Born Harry Lillis Crosby Junior in Tacoma on May 3, 1903, to Harry and Catherine Crosby, his father was a bookkeeper who relocated the family to the Spokane area when Harry Junior was three. When he was ten, Harry's father built a house on 508 East Sharp Avenue, near Gonzaga.
The tale of how he got the name Bing is the stuff of legends. When asked in 1937 how he obtained the name, Crosby spun a story of how as a child, he would play "Cops and Robbers" with his friends. He said that while they played, he would run around, yelling "bing" repeatedly as he fired his toy guns, and the name originated there.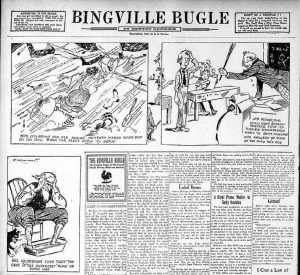 In reality, it was Spokane's local newspaper The Spokesman-Review, that gave young Harry the name he would carry for the rest of his life. Just as today, newspapers then published syndicated comic strips. One of these was a feature called The Bingville Bugle, which the newspaper ran on Sundays. A full-page feature, The Bingville Bugle was set up like a newspaper itself, reporting on fake news items from the fictional town of Bingville. Allegedly, Crosby was so enthralled by the strip, a childhood friend, Valentine Hobart, hung the name "Bingo" on him, as in "Bingo from Bingville." The name was later shortened to "Bing" and the rest was history.
After graduating from Gonzaga High (now Gonzaga Prep) he attended Gonzaga University starting in 1920. Crosby was a well-rounded student, studying for law school while also playing football and baseball. Crosby also found time to participate in debate and not surprisingly, music and drama clubs as well.
It was at Gonzaga that Crosby's musical career began to take off. On a whim, he bought a bass drum from a catalog. He then started playing in a band with local area high-school students, who were his juniors. While the band did not last, Crosby would go on to play with other bands and performers at venues around Spokane, including the Doc Clemmer Theatre downtown. Crosby was so sure of his success in music he left Gonzaga in 1924 without earning a degree, although the school would confer an honorary degree on him in 1937.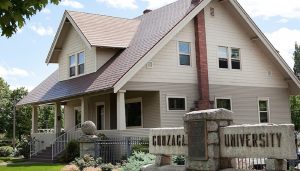 Crosby relocated to California in 1925 and found success playing various radio shows. Later, he would move to New York City to continue his career. He helped found The Rhythm Boys, which consisted of Crosby and other notable musicians, including Tommy Dorsey. Crosby stole the show, however, and was signed to a contract and made his solo debut in 1931.
Crosby was an instant success as a solo act, racking up radio hit after radio hit. His singing style was so different from others at the time, the term "crooner" was invented to describe it. In 1941, on Christmas Day, Crosby unveiled what would become his biggest hit "White Christmas." When a recorded version was released, it topped the charts for 11 weeks and has since become a holiday standard.
Throughout the 1930s, Crosby starred in several musical comedies. He also teamed up with Bob Hope for a series of "Road To" movies. In 1944 he received his first Oscar nomination (and only win) for "Going My Way." He was nominated two more times in his career. When television began its rise in the 1950s, Crosby successfully transitioned to the medium, either guest-starring on his friends' specials or hosting his own.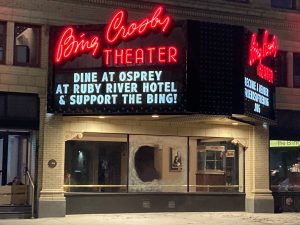 Although Crosby died of a heart attack in Spain in 1977, his legacy in Spokane lives on. The Doc Clemmer Theatre, where Crosby began his career, was renamed The Bing Crosby Theater, in his honor in 2006. He also maintained close ties to Gonzaga and helped to raise money to fund their library by hosting a star-studded television event. His childhood house, which was near Gonzaga already, was purchased by the University and converted to the Bing Crosby House Museum.
The common myth is that once an entertainer breaks big, they leave their hometown and downplay their upbringing, but that was not the case with Bing Crosby. Despite the successes he found across multiple mediums, Spokane remained near and dear in his heart. He gave generously to his city and his school, and the city embraced him in turn.