In the spirit of love and with Valentine's Day swiftly approaching, we'd love to provide a fun list of activities for couples in the Spokane area. This itinerary can work whether you're looking for special places to go on a first date, searching for ideas on what to do with a valentine, taking out a friend or family member, or planning things to do with that special someone in your life.
Check out Auntie's Books and Uncle's Games
509.838.0206
W Main Ave., Spokane
First opening their doors in a restored flour mill in 1978, Auntie's Books and Uncle's Games have always thrived as independent businesses. These creative historically-renewed shops are the perfect places to start your date, and they're conveniently located in the same building in downtown Spokane. The moody lighting, old architectural details, and creaking wooden floorboards make this space a romantic place to take a date.
Inside Auntie's Books and Uncle's Games, there's something fun for everyone! Peruse an array of new and used books, decorative art cards, gifts, games and specialty items only seen in Spokane. This can be a playful and interesting way to learn about each other in a deeper way. What books did you both read as a child? What topics do you have in common? What subjects are interesting to you as individuals? These answers can be found at Auntie's Books and Uncle's Games!
Couples that read and play together, stay together. These unique shops are open every day from 9 a.m. to 7 p.m.
Sweeten the Mood by Stopping at a Local Candy Shop Spokandy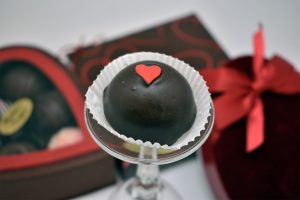 509.624.1969
1412 W 3rd Ave., Spokane
Looking to add some sweetness to your date? Spokane offers a selection of gourmet candy shops, including Spokandy near the Downtown Davenport District. They've been serving candies to the Spokane community for over 100 years!
Bringing a date by this cute candy shop is always a fun treat. The success of this store comes from their classic candy recipes that start back in 1913. Each batch of their chocolate is made in a tradition that began centuries ago and will be passed down for centuries to come.
Best known for their "Murphy," a fresh whipped mallow center, hand-dipped in pure milk chocolate and rolled individually in freshly toasted coconut shavings, they also have a diverse line of candies that are unique to anywhere else in the world. Their shelves and glass display cases host an array of pretty packaged chocolates, caramels, fine roasted nuts, famous huckleberry products and customized sampler packs!
Make sure to go here Monday through Friday from 9 a.m. to 5 p.m. On Saturdays, they are open 10 a.m. to 5 p.m. and open Sundays from 11 a.m. to 5 p.m. Stop by to purchase delicious chocolate products and to witness interesting candy-land experimentation in action.
Sip on the Finest Local Wines at Maryhill Winery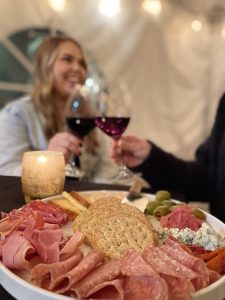 509.443.3832
1303 W. Summit Parkway, Ste 100, Spokane
If you're looking for the perfect night-cap to go along with the best date night out in Spokane, Maryhill Winery is the place for you. Their week-old addition of an outdoor patio tent allows you to sip fine local wine in a style similar to "dining in." Maryhill Winery has added this outdoor dining tent to aid in keeping customers safe and social-distanced during COVID-19.
Owners Craig and Vicki Leuthold set out to fulfill their dream of producing premier Washington wine in 1999. Since then, they have been honored with more than 3,000 awards. Maryhill Winery partners with seventeen Washington grape-growers and has twenty-eight unique vineyard locations, making it a true representation of Washington's finest wine.
They currently offer a full wine-tasting menu on Fridays, Saturdays and Sundays, but if you're looking for a spot to take a date during the other days of the week, you're in luck! Maryhill Winery is open the rest of the week offering wine by the bottle and glass, and a limited menu seven days a week. Their full-service kitchen is open from 12 p.m. to 6 p.m. every day.
Take a Stroll at Riverfront Park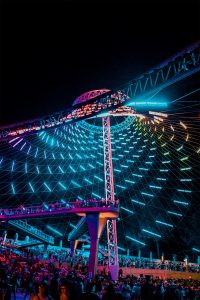 509.625.6600
507 N Howard St., Spokane
After a nice glass of wine, make your way over to Riverfront Park for a relaxing evening stroll. Riverfront Park is one of the world's most magical urban parks and is especially recommended in the hours around sunset. The park was originally built to show the glory of Spokane culture and economy for the World Expo of 1974. Not many cities can say they've hosted a World Expo!
On the many roadways through this park, you'll be taken by beautiful works of art, public art pieces where you can leave your name and make your own mark, foot-bridges, amazing aquatic views and glimpses of Spokane's wildlife and scenery.
If visiting the park during the evening hours, make sure to find your way over to the U.S. Pavilion. The Pavilion was a gift to the city of Spokane from the U.S. Government. While usually hosting events, festivals and concerts, during COVID, they're showing off this brilliant sculptural feature with a light show every Friday through Sunday from sunset to 10:00 p.m. year-round.
While it may be cliché, up on the skywalk, while gazing out at the sweeping views across the Spokane skyline, it may be the perfect spot for that special (first?) kiss.
They have a "Sweetheart Special" on Sunday, February 14. The Sweetheart Special includes:
BOGO Admission 11 a.m. – 5 p.m. Buy One, Get One Free Numerica SkyRide Admission. *You must mention "Sweetheart Special" at the cashier counter when paying.
Sweetheart Photos 4 – 6 p.m. Free Couples Photo Session at the Pavilion Elevated Experience.
Pavilion Light Show 4 – 10 p.m. Free Valentine's Day Pavilion light show with romantic music.
Dating and Ice Skating in Spokane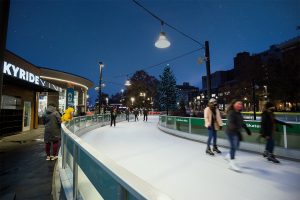 509.625.6602
720 W Spokane Falls Blvd., Spokane
Take your date for a dreamy ice-skate! The Numerica Skate Ribbon is a 16′ wide and 650′ long skating track that winds around Riverfront Park. If you need some practice, there's a 3,500 square-foot skating pond attached to the track.
Grab your date by the hand and make your way around this fun ice-path while taking in the views of Spokane's city lights and north-western landscapes around you. Cozy fire pits where you can sit to sip a cup of hot cocoa surround the skate ribbon.
Due to COVID-19, the Skate Ribbon requires reservations, masks and gloves to be worn at all times and they enforce social-distancing practices. Your reservation is good for an hour of playtime, so lace up your skates and get skating.
The Numerica Skate Ribbon is closed on Monday. Make sure to take your date skating on Tuesday through Thursday (and Sunday) from 11 a.m. to 8 p.m. For Friday and Saturday-night outings, they're open an hour later, until 9 p.m.
Fantastic Date Night Bites
If you and your date are hungry and looking for a place to purchase food for pick-up or take-out, find awesome Spokane restaurants that offer these services.
Whether you're planning a first date or keeping romance alive with your spouse, Spokane is packed with romantic hideaways that will charm your sweetheart and give you both a date night to remember.