Spokane County gets more than its share of snow in winter and offers hikers many options for an adventure. The Inland Northwest is a hiker's dream and colder months are no exception. Whether you don your hiking boots, snowshoes or cross country skis, this is the place to be. Prepare ahead and explore the following scenic trail systems the whole family can enjoy.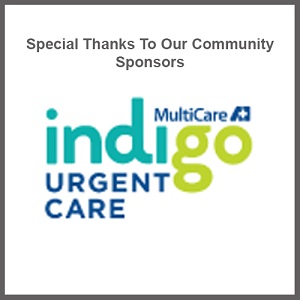 Mount Spokane State Park
One of the best places to go cross country skiing is Mount Spokane State Park. They groom the trails and put in tracks, drawing many local and out-of-state adventurers. Snowshoeing is also permitted apart from those trails groomed for Alpine or Nordic skiing. It is best to avoid the trails groomed for snowmobiling as well.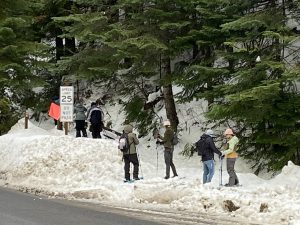 You will have several trails to choose from, beginning with the Entrance Loop across from the Park office. This trail is 1.5 miles. There is also the Burping Brook Loop, which is six miles and starts near a sharp turn at the Lower Kit Carson Loop Road lot. Smith Gap Loop is another recommended trail on the same road, starting at the Sno-Park lot. Bald Knob Picnic Area is a more difficult two-mile trail at the Lower Selkirk Sno-Park. CCC Cabin is rated more difficult. There are several other trails to choose from, and for each, you will need a Sno-Park permit, which can be purchased online or in person at the signs which are posted seasonally. Click the following link to purchase your non-motorized Sno-Park Permit.
Riverside State Park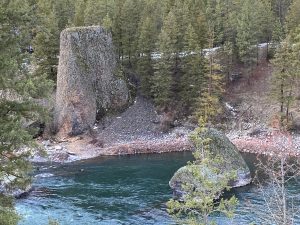 One of the most unique hikes in the area is the Bowl and Pitcher Loop Trail at Riverside State Park. This two-mile trail flanks the Spokane River and the views are incredible. Geologically it is unlike anything else in the county. Huge basalt rocks are seen along the river and within its waters. Two renowned rocks, dubbed the bowl and pitcher, are viewable near the trailhead area.
The Civilian Conservation Corps built a long, swinging bridge that kicks off the hike from which you can view the river below. After you cross the bridge you can either take a right or a left. If you want the easier hike take a right. The trail to the left is not very difficult, but you may need to watch your footing in places, especially during winter.
Hiking here is very picturesque with Ponderosa pines, rocky outcroppings and scenic overlooks. The water-green river with its foamy-white rapids is simply breathtaking. It is also conveniently located about nine miles from Spokane. The address for this loop trail is 4427 N Aubrey L White Parkway, Spokane. Riverside State Park Permits can be purchased online or at the park from at three different sites
Centennial Trail
 Highly recommended is the 60-mile-long Centennial Trail with its many points of entry. Depending on where you start, you can trek through both urban or rural landscapes as the trail snakes its way along the Spokane River. It starts at the Ten Mile Recreation Area and stretches all the way to the Idaho border. You will find many enjoyable trailheads with ample parking.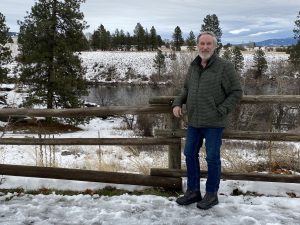 This wide, level trail is a relaxing place to get some winter exercise and to commune with nature. Whether you want to break the trail up into separate day hikes or take the whole thing head on, you will not be disappointed. Part of this trail snakes its way through Riverside National Park.
You will find kiosks at the various trailheads, providing safety information and maps. The trail's first mile starts at the Idaho/Washington state line. Choose from among nineteen different trailheads, each providing access to the Spokane River Centennial Trail.
Bear Lake
For a shorter hike with easy trails, head north of Spokane on Highway 2 to Bear Lake Regional Park. This 166-acre oasis has a lot to offer, including easy access, wildlife and minimal foot traffic. This is a good choice if you want to spend an hour or so enjoying the beauty of a frozen lake and easy, timbered trails. During winter, Canada geese swoop in low over the water in a cacophony of squawks and honks. It seems to be their preferred winter resting place. Other wildlife, such as woodpeckers, deer and squirrels can often be seen. Click the following link for a trail map and directions.
These are just a few of the many winter hiking options in Spokane County. Whatever trail you choose, always check the weather beforehand and pack the necessary gear. When you park at any trailhead, a good rule of thumb is to remove valuables from your vehicle. While out on the trail, watch for ice and wear waterproof footwear and layered clothing. No matter what winter hike you choose in Spokane County, you will be back for more.