These days, a dollar won't buy you much, but a kid with a dollar would have the whole day ahead of them back in the 1940s, especially at one local, long-lost attraction that has since come and gone.
Coeur d'Alene's former Playland Pier was once the place to be, a magical oasis and jumping hotspot complete with ten-cent ice cream cones, penny-to-play arcade games, and amusement rides galore. A true staple of a simpler time and place in American history. Though it may now be long gone, those who were there still remember it like it was yesterday.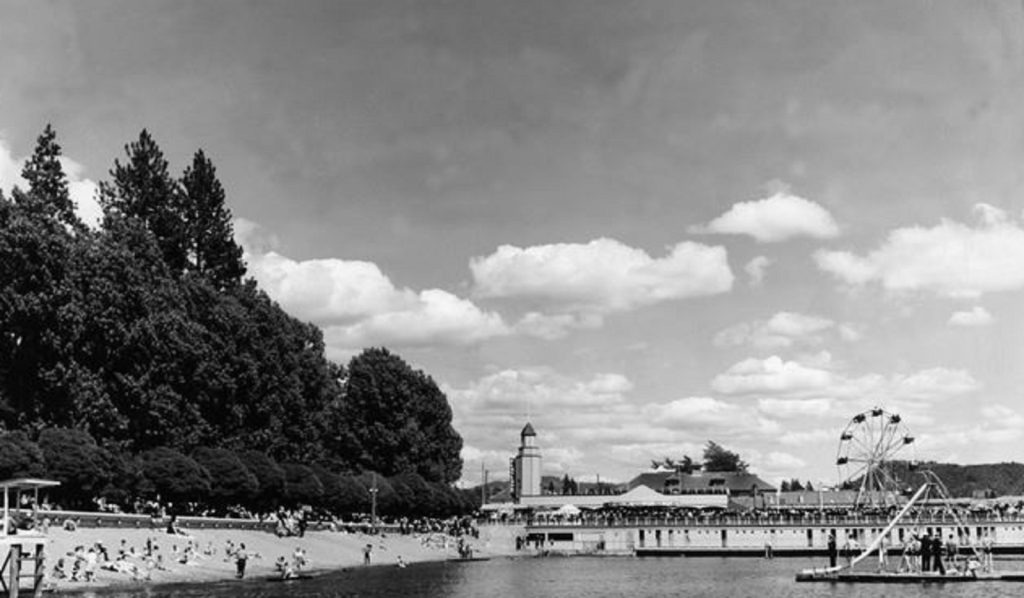 Earl Somers and his Wife Byrd Made Playland Pier a Reality in the 1940s
Born in 1894 in Spokane, businessman Earl Somers operated traveling carnivals around the Western United States before moving to Coeur d'Alene with his wife Byrd in the fall of 1940. Here, he noticed an opportunity that would set Playland Pier into motion. Thousands of young men and women were flocking to the region because of the war effort. While on leave, many went to Spokane, but just as many came to Coeur d'Alene to lie on the beach, eat a hamburger, or ride the tour boats. With so many young people looking up to occupy their time and minds from tumultuous times, Somers had the bright idea to open an amusement park.
He began by organizing the Coeur d'Alene Lakeside Development Company, and from there, he began meeting with city officials about leasing land for his amusement park near the new Civic Center in the city park. Over a year, he was finally able to convince the city administration that his project was a good thing for the city. Finally, with their approval, Somers was granted a 15-year lease for a 300-foot section of land for his park in the spring of 1941. It was finally time to make Playland Pier a reality.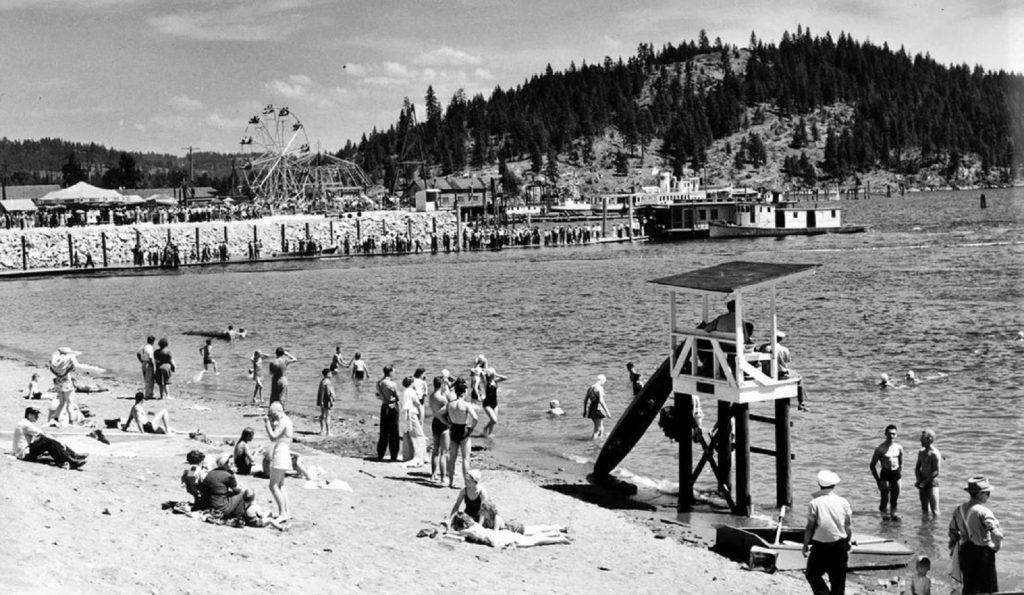 Playland Pier Comes to Life as a Fun-filled Getaway for All Ages
The City of Coeur d'Alene hired George Schneberger to build the pier. Work began in June of that year, with rocks and dirt being used to fill the waterfront. A sea wall was constructed, and over 20,000 cubic feet of soil was brought in to create the pier's foundation. Once complete, the first permanent structure of the pier was added: a 100 by 40-foot concession and arcade building with a 40-foot tower.
By late spring of 1942, several permanent rides were ready to go. This included a miniature roller coaster, a train for kids, a loop-o-plane, and a swing that went out over the water. The penny arcade was also ready, with several amusement machines, a shooting gallery, and balloon dart games. An array of souvenirs and novelties could be found at concessions, plus a soda foundation and a sandwich shop.
It was safe to say that Playland Pier had everything needed to become everyone's new favorite summer hangout and, thus, opened for the first time that summer. Its grand opening was on July 4, kicking off the Independence Day holiday, much to the community's delight.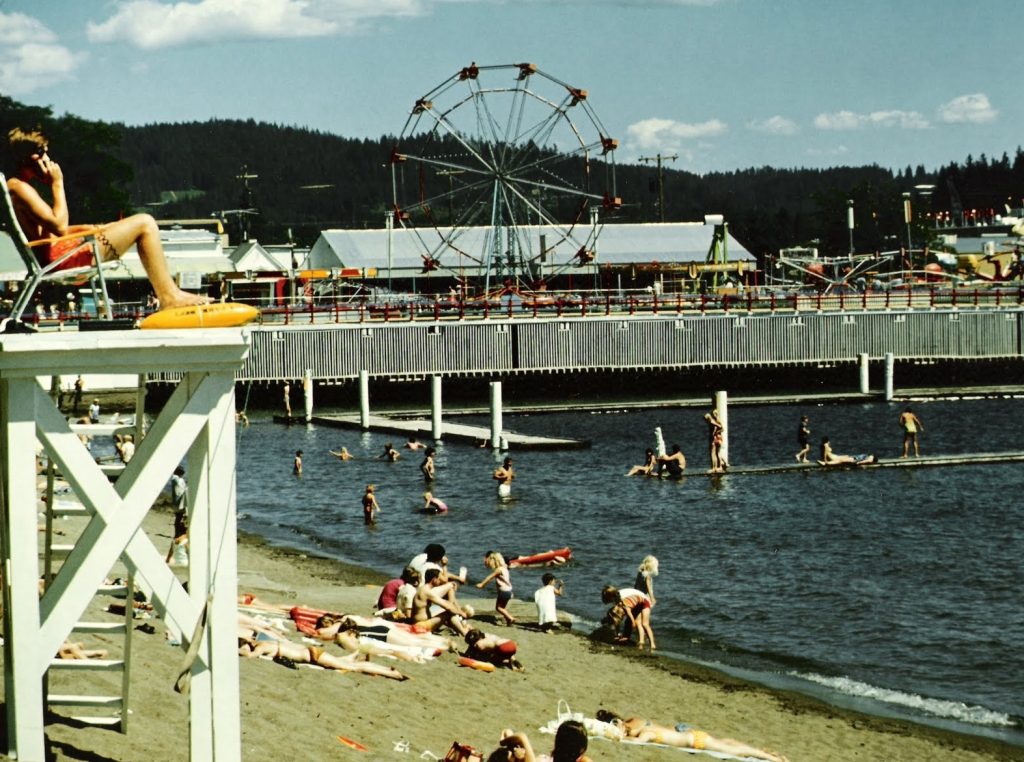 For 30 Years, Playland Pier is Fun and Games During the Summer
Somers added rotating swings, a Ferris wheel, bumper cars, and a carousel in 1944. Playland Pier continued to be a magnet for young people through the 1950s and 1960s, proving the amusement park to be good for the community just like Somers had predicted all those years ago. Though pretty tame by today's standards, these rides were the great thrill rides of their day.
Additional fun activities and events were added during that time. In the arcade were a couple of Mutoscopes, hand-cranked "motion" picture viewers, featuring things like a fan dancer and a snake eating a chicken. Parkgoers could get postcards of movie stars and custom cars at the two-cent vending machines. Shooting games became a popular favorite for their then state-of-the-art effects — when you made a hit, the bear would stand, growl, and turn around.
The pier even started to host dances on a concrete slab while local bands, like the Fabulous Shadows, provided the music. One of the Shadows members, Mike Bolan, compared the pier, along with all of Coeur d'Alene, to that of the movies, telling the Coeur d'Alene Press that in his high school days in the 1960s, "Coeur d'Alene was like 'American Graffiti' or 'Grease.'"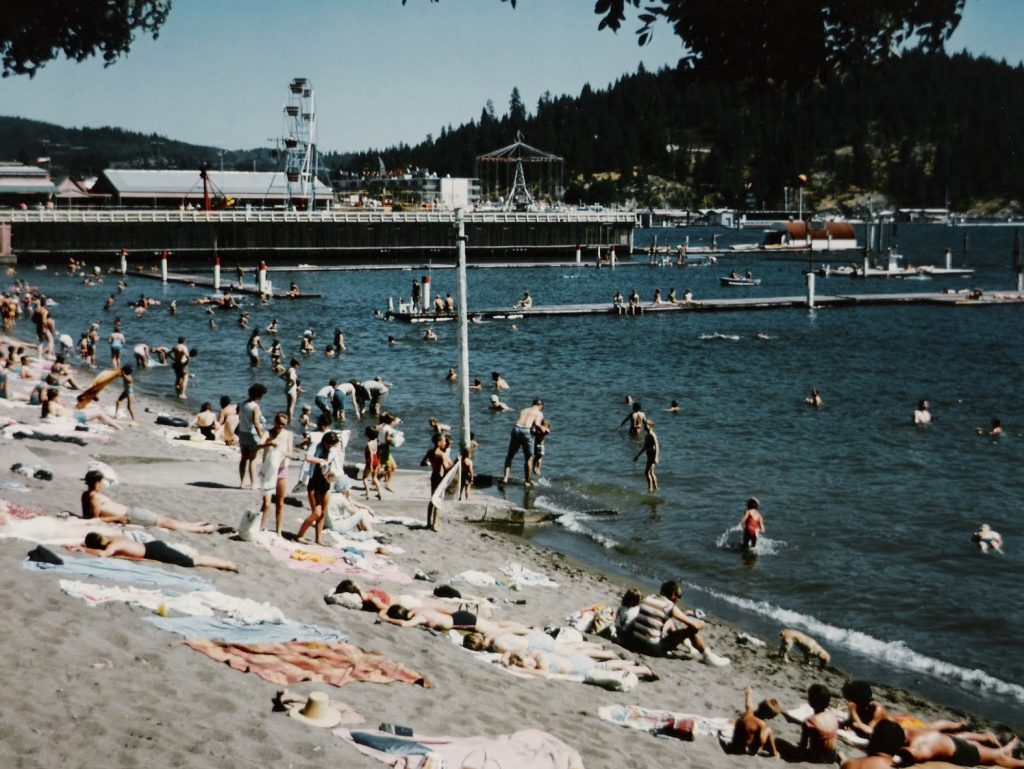 The Ride is Over for Playland Pier in 1974
Unfortunately for Playland Pier, the Bureau of Land Management, which had jurisdiction over the waterfront that had been filled in, started pressuring the city to remove any commercial activity and make the area public parkland in the 1960s. Previously, Somers had passed the business to Barbers Coast Amusements, based in Las Vegas, and the park had already started to run down by the mid-60s. Little was done in the way of upkeep, and the new owners slowly started to cherry-pick what they wanted, pulling rides out as they pleased.
The City of Coeur d'Alene had had enough by the time they began a park improvement plan in 1973. A deadline was set and given to Playland Pier to move out in 1974. Somners died that same year.
Once they vacated, the city slowly started dismantling what was left of Playland Pier, and after everything of value was removed, such as copper pipes, the buildings were left for the wrecking ball. Strangely enough, a small fire broke out on December 17, but as quickly as it emerged, it went out. The next night, the whole place went up in flames. The fire department sort of eyed it as a practice burn when they arrived, using the situation as a chance for training as there was virtually nothing to save of the pier. Though the fire was deemed an accident, they used the blaze to purposefully burn down the rest of Playland. Ultimately, this would save the city thousands of dollars just cleaning up after the fire rather than tearing everything apart and hauling it away.
The burning of Playland Pier ended an era as the land was buttressed with a seawall in the shape of large steps and renamed Independence Point as part of America's Bicentennial in 1976. The only surviving piece now of Playland Pier was the original Spillman carousel that had delighted both children and adults during its three decades of service. It was donated back to the city, where it remained in storage until a recent nonprofit group built a new home on Fort Grounds Drive near the waterfront it previously called home, renaming it the Coeur d'Alene Carousel.
The small amusement park on the banks of Lake Coeur d'Alene provided many fond memories for thousands of kids of all ages during its short-lived history. And though it is gone, the spot it once called home is still as popular as it ever was, now a prime location to soak up the sun, watch fireworks, and catch some waves. Its memories will live on in those who remember what once was, just as future generations will fondly look back and remember Independence Point that took its place.