Thanks to the recent pandemic, many people have been finding themselves turning their homes into offices. Instead of staring at the four walls around their cubicle, they're staring at their home's walls nowadays. As a result, this has caused many reflections for homeowners, leading more people to pursue a new place to call home.
It's no secret that there have been record mortgage volumes lately, and many have been no strangers to the struggle that comes with the hunt. Now, imagine you're not in the financial position to pursue market-rate housing but still seek the dream of homeownership.
Washington State Employees Credit Union (WSECU) decided to lend a helping hand by announcing this past April that they would contribute up to $100,000 to Habitat for Humanity of Washington State by donating $500 for every new first mortgage purchased that was closed by July 31 of 2021.
This January, WSECU and Habitat for Humanity got together to hand off the donation — all $100,000 — in a fun ceremony at WSECU's new branch in Spokane located on Division and Francis, now their fourth location in the county. Branch manager Dan Thorpe welcomed Michone Preston to present the check. Preston is CEO of Habitat Washington, an Affiliate Support Organization, where she works to provide state and federal advocacy to grow the 26 Washington-based Habitat Affiliates.
Preston explained her excitement in receiving the funds, meeting with the people who worked at the branch and continuing the partnership with WSECU. She hopes that this partnership is just the beginning between the two and grows into a solid relationship that is mutually beneficial for both parties while also producing more homeownership opportunities for future families on both sides.
Vice President of Public Relations, Ann Flannigan, who's been with the credit union for 18 years, shared equal excitement about the partnership. Each year WSECU sets aside 4% of their net income to give back to the communities they serve across Washington state.
"We invest in partnerships supporting education, self-sufficiency, and public employees and assets," explained Flannigan. She stated that they had smaller relationships with a few local chapters of Habitat for Humanity in the past but not to this magnitude.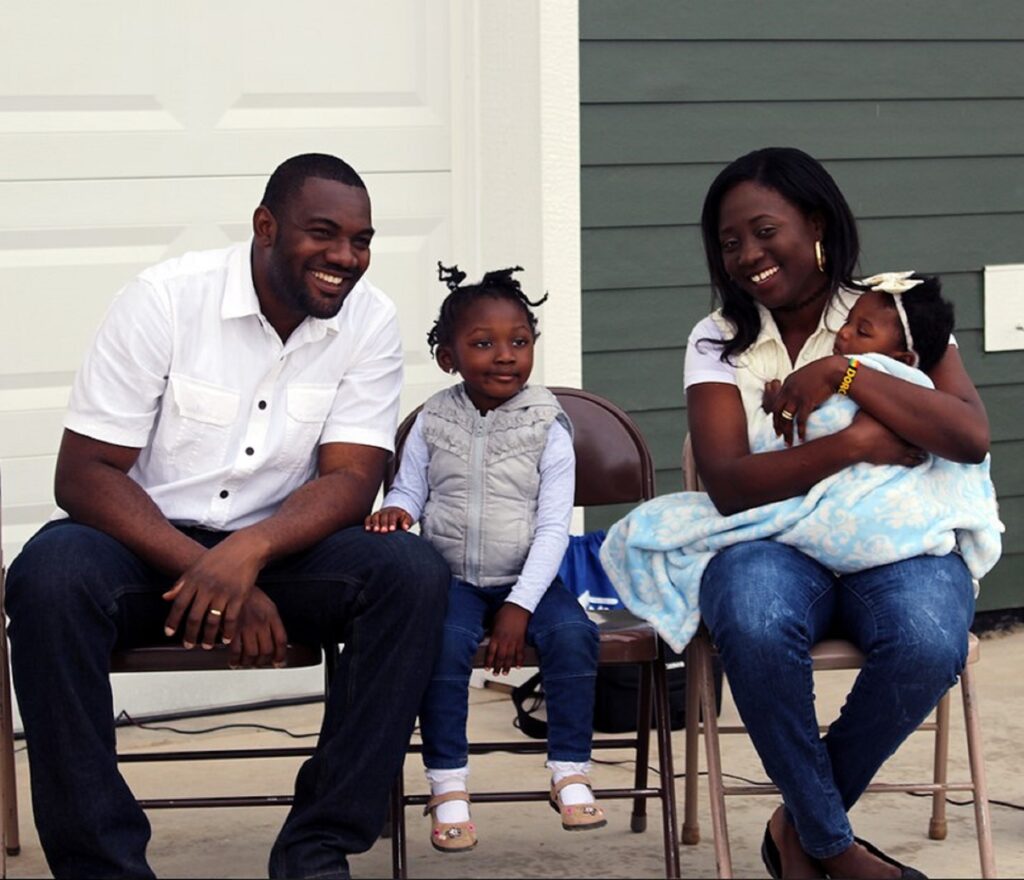 What sparked this initiative for this particular donation was while the team was developing a marketing campaign related to mortgage lending, they decided they wanted to do something special and build a donation component into it to express WSECU's values by not only helping their own members into new homes but also more community members into homes as well.
The generous funding will help all 26 Washington-based Habitat Affiliates. Preston explained how the system works — when a Habitat family pays their mortgage, it funds the next homes under construction, and this cycle continues in a repeated fashion.
"This revolving fund is what provides affordable homeownership for homeowners on an ongoing basis," said Preston. "The funding will directly impact at least 300 families, who will continue to pay the investment forward each month with their own mortgage payments."
The ongoing cycle helps so many, and WSECU is thrilled to make a meaningful contribution. "We know they will leverage it (the donation) to have as much impact as possible to put more roofs over people's heads," remarked Flannigan confidently about Habitat Washington. "Having an impact on the success of the broader community takes partnership…When we combine resources and expertise, we can do more than any one organization can do on its own."
The benefits of this partnership indeed are astounding, and the work Habitat Washington is doing is impressive. It brings together people of all backgrounds, beliefs, and socioeconomics to improve the community.
"Homeownership is the fastest way a family can build wealth, and Habitat focuses on serving families who would otherwise miss out," said Preston. "We aim to eliminate the wealth gap and strive to give families a hand up out of poverty."
WSECU's contribution furthers the mission of Habitat for Humanity to eliminate poverty housing and make adequate housing a matter of conscience and action. As WSECU and Habitat for Humanity continue in their partnership, both parties agree that they see a future where they continue to work together to benefit all families in Washington.