The ornaments and lights are gone, and now hearts of red and pink decorate the halls of many spots around town as we get ready for old Saint Valentine and move on from old Saint Nick. The stress for this holiday is quite different than that of Christmas. Not only do you have to find the perfect gift for that special someone, but you also must tirelessly plan that perfect night for February 14. Lucky for all the lovebirds in the Spokane community, plenty of events are happening this Valentine's Day for just that night.
Valentine's Day Floral Design Class
405 North William Street, Post Falls
The Jacklin Arts Center in Post Falls hosts a Valentine's Day Floral Design Class on February 12. The night takes off at 4 p.m., with appetizers and cosmos served to accompany the relaxing evening. The workshop will be led by Lily Garland, owner and lead designer of Flowers by Lily Garland, Coeur d'Alene's premier event florist. Lily will teach everyone step-by-step how to create beautiful pieces using Valentine's Day floral favorites for the holiday-inspired creation. Fun vases, foam, and all florals will be provided to help spark ideas for your fresh design. This class is perfect for beginners and perfect for your gal pals, little ones, or a fun date night for the love-struck holiday.
'80s Skate Date
9415 E 4th Avenue, Spokane Valley
Roller Valley is having an '80s Skate Date for Valentine's Day on February 13. The night starts at 5 p.m. and lasts until 9, giving all that attended a fun-filled night. Roller Valley encourages all attendees to come dressed up with your significant other, parent & child, friend, or whoever you want. Just remember to deck yourself out in that style only the '80s could pull off. $30 covers the cost of two admissions, two skate rentals, two small sodas, and one fry to share. There will even be photo backgrounds for fun photo ops and a vote on the best-dressed couple where prizes will be awarded.
Valentine Craft Fair
200 W Hanley Avenue, CDA
The Silver Lake Mall in CDA hosts a Valentine Craft Fair on Saturday, February 12, from 10 a.m. until 6 p.m. Find a wide variety of crafts and booths at the mall for this special event, all with adorable crafts that make perfect Valentine's Day gifts. This event is an excellent date idea for those who want to enjoy the day with some leisurely shopping. Plus, there are plenty of amazing restaurants nearby to top off the night.
Pride Cabaret Night: Crazy in Love
415 Sherman Avenue, CDA
North Idaho Pride Alliance welcomes all who want to attend their special Pride Cabaret Night in the spirit of "love is love" for Valentine's Day this year. NPA has bought out The Art Spirit Gallery for the night to host the event "Crazy in Love: A Cabaret from the Heart" by Drawn Together Arts to bring the Pride community and allies together for a festive celebration. There is a social hour that starts at 6:30 p.m. and comes with wine, Pride dessert, and a make-and-take Pride Valentine's print-making activity led by local artist Sarah Windisch. Showtime begins at 7:30, with tickets starting at $30 with only a limited number available. The show itself will be a devised cabaret full of top hits from rock musicals to folk in a crafted work of theater that they promise will "warm your heart, make you laugh, and fire your temper."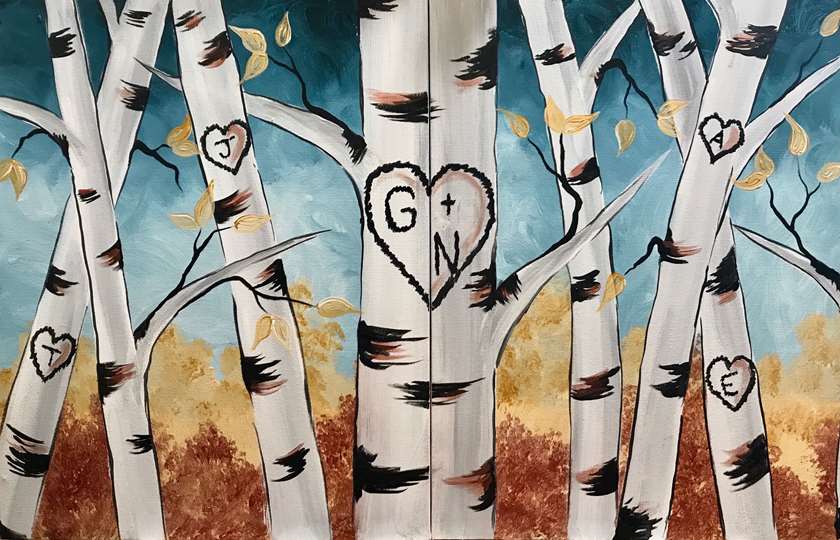 Carved in Love Date Night
319 W Sprague Avenue, Spokane
For $40 per guest, you and your special someone can enjoy a cozy night on Valentine's Day at Pinot's Palette in Spokane, filled with wine and painting. This Valentine's Day, the event is called Carved in Love Date Night, and the focus for the artwork will be a beautiful birth tree that can be customized for each couple. They encourage couples to make the painting special to them, including putting initials on the tree with dates to make it look like they've been carved into it. During this class, each partner will paint half of the picture on their own canvas then come together at the end to put the two canvases together to make one big painting that's special to them. Of course, couples are more than welcome to paint the picture on one entire canvas if they're not up to the challenge of two.
Van Gogh's Love Blossoms Date Night
728 N. 4th Street, CDA
If you are in the CDA area and don't want to travel to Spokane to do a date night at Pinot's Palette on Valentine's Day, try Pinot's Palette in CDA for their night of Van Gogh's Love Blossoms Date Night. For this class, you'll be painting a heart-shaped cherry blossom tree with your special someone inspired by the iconic cherry blossom color studies of Van Gogh himself. Like the date night in Spokane, each person will paint half of the canvas then come together in the end to create one beautiful masterpiece.
No matter your choice, whether you spend the night out on the town or cuddled up inside with your loved ones, there's plenty of ways for all to enjoy this Valentine's Day. Besides these events, plenty of local restaurants offer special dinner dates, clubs to dance at, and shows to see. It's you and your partner's special night, so do whatever best suits your love language because that's what it's really all about.