Deborah Jirasek was dragged by her daughters to a paint and sip in Texas ten years ago. She was stressed and believed she didn't have an artistic bone in her body. After never painting anything before in her life, she couldn't believe how well her painting turned out. "I really fell in love with the idea of being able to make art no matter your artistic ability. We give everyone the opportunity to make art."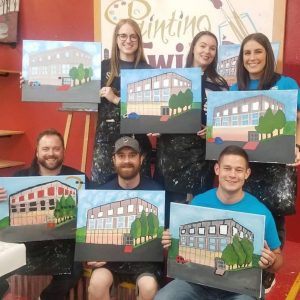 Many people state that they're terrible at art, however, Painting with a Twist begs to differ, making their paint and sip classes fun and enjoyable regardless of creative talent. Artistic instructors guide guests the entire time, and "attendees almost always hang their art on their walls after the course," says Jirasek. "Our classes give people access to art like never done before and open them up to worry-free painting." Classes are full of laughter as they dubbed it fun art, not fine art.
Art doesn't have to be perfect. It can allow you to relax, have fun with friends, laugh with family and bring out the creativity you never thought you had.
Kids and Teens Painting
Painting with a Twist is the only paint and sip destination in Spokane where kids are allowed. Ages six and up are invited for Family Day, happening two to three times per month and ages twelve and up are invited to join all other events.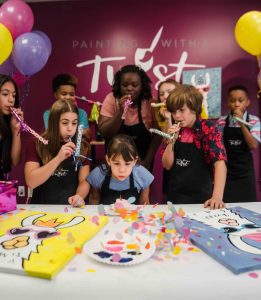 They also host many private birthday parties for kids and teens, which can be scheduled any time as Painting with a Twist has a very flexible schedule. Kids love these creative parties, and parents may love them even more, not having to do any of the work. Parties are two hours with 1.5 hours of painting, and time for a game or two (managed by instructors). Bring any food and cake you'd like and open presents after the painting is complete.
Costumes and props are even available for kids to wear during parties. Say goodbye to goody-bags. Kids love taking their handmade pieces home.
Private Paint Party
With a minimum of ten paid seats (14 seats in December), you can book a Painting with a Twist private party any day besides Fridays or Saturdays. Have a smaller party? Choose one of their pre-planned events and sign up with all your friends. Friends list the name of your party so you can all be seated together.
Painting with a Twist has hosted various parties, including retirement parties, anniversaries, baby gender reveals, marriage proposals, girl's night out, bachelorette parties, date night, team-building activities, birthday parties, family reunions and kid's events.
Holiday Parties
People are so ready to get together again and have fun. Why not try a holiday paint party? Have your holiday party during a regular open to the public event and have guests confirm which group they're with so they can seat you together, or you can book a private holiday party for painting and sipping.
Bring your own food or order a giant pretzel or charcuterie board off their menu. Local wine, beer, cider, and non-alcoholic beverages are available for purchase.
Manic Mondays
Mondays tend to be one of the slowest days at Painting with a Twist. They offer $5 off any Monday class with a free drink included in the price to get people painting and warding off the Monday blues.
Public Trivia Paint Parties
You'll have a blast with Painting with a Twist's themed trivia parties. Join fellow fans of popular trivia topics like TV series, Disney, F.R.I.E.N.D.S., Game of Thrones, The Office, Schitt's Creek, Gossip Girl and more. Here, you can test your knowledge while competing for prizes as you paint. Artists and instructors wear themed costumes and encourage you to as well so you can enter their costume contest. During trivia events, you'll listen to themed music while painting an image that directly relates to your night's theme. A new class, Painting with a Twist hopes to offer Trivia Tuesdays twice per month.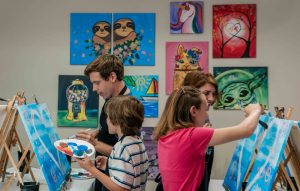 If you'd like to book a private party with trivia, there is a minimal upcharge due to the prep-work for finding trivia questions, costumes and painting supplies.
Coffee and Canvas
Saturday mornings are reserved for "me time" at Painting with a Twist. Saturdays, they welcome you to Morning and Mimosas, or if you don't drink alcohol, Coffee and Canvas. This class has become a growing niche, and they plan to add other similar painting events.
Off-Site Art Events
Have a cool location? Let them bring the party to you. They can bring everything necessary for a successful painting party (including instructor artists) to your office, shop, school, church, or home.
Off-site parties at the location of your choice require prepayment for a minimum of 16 patrons plus an extra $100 fee to cover off-site labor and expenses. They bring everything you'd need for a paint party, but you'll supply the tables and chairs.
Paint at Home Parties
More of a homebody? You can have a paint party at home by ordering their all-inclusive at-home kits. Your group can watch a pre-recorded video of an artist instructing on the painting of your choice. Twist at Home kits even includes two paintbrushes you get to keep per set. If your group has multiple people, you can select multiple different paintings, so each participant can choose what they want to paint, and access to instructional videos last for up to one month.
Virtual Zoom Parties
If your family or friends live far away or would prefer to paint and sip from the comfort of their homes, they offer live virtual parties on Zoom. To book a virtual Zoom party, you need to pay for at least 12 attendees and Painting with a Twist will ship paint at-home kits to the provided addresses. These sessions can be very personal, even through Zoom, with the artist answering questions and members sharing their work through the video feed and message board.
Pop In and Paint
With pop-in and paint, people can stop by during the daytime and "just come in, pick a surface, paint, take their time and be there as long as they want," says Jirasek. They can get a handout with a picture of the painting of their choice, and it's a self-paced painting party. Take your time with your piece, and if you don't finish, you can come back another day between 10 a.m. to 4 p.m. on weekdays.
Painting with a Twist in Spokane Valley is a great event destination, or they can bring the party to your home or office. They love basing themed events around your family or company's culture. Any theme, event, date, reunion, party you want to have, bring it to life — with a twist!
Don't miss Painting with a Twist events by checking out their calendar.
Painting with A Twist
11703 E Sprague Ave. Suite B3
Spokane Valley
studio196@paintingwithatwist.com