The year was 1998, and high school buddies from Spokane, Jerry Holkins and Mike Krahulik, decided to submit two cartoons to a contest run by a magazine. The pair had become friends since meeting at Mead High School and working on the school newspaper together. They worked well as a pair and realized that Jerry had a knack for writing while Mike had a craft for illustrating.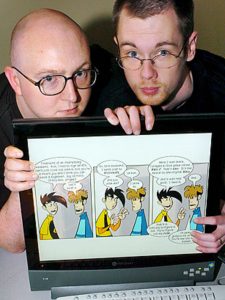 The magazine ultimately passed on their submissions, but despite the "no," that wasn't the end for their trying. The friends never quite anticipated what could come next for the world they were building. The team took their cartoon and sought out other publishers, eventually working with a site called looneygames.com to create what would become the famously popular "Penny Arcade."
On November 18, 1998, the now-famous webcomic "Penny Arcade" was published for the first time. The Spokane natives who created this comic had no idea of the success it would generate, but it's now over 20 years later, and "Penny Arcade" is not only the oldest, still regularly updated webcomics, it is one of the most popular webcomics on the internet.
By 2010 the comic was listed as having 3.5 million readers. With all the success, the duo entered the elite group of being among the first webcomic creators successful enough to make a living from their work.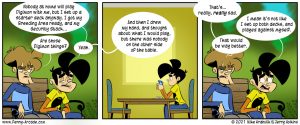 It may be hard to believe, but it was solely supported by donations when Penny Arcade first started. It wasn't until Holkins and Krahulik hired their business manager Robert Khoo that they could switch to a different income stream based solely on advertising and merchandise revenue. Initially, when their first website was created, the formatting of the new site left a lot of blank space, so Holkins used this space to write accompanying blog posts along with the weekly comic strip.
Today they still do these posts, with them often being a commentary on computer and video games as well as some personal reflections and rants. As far as the comic strips themselves go, they have gone from being once a week to three times a week, with a new comic strip being added every Monday, Wednesday, and Friday.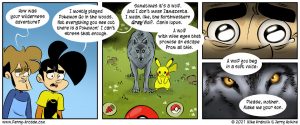 The main focus on these strips is Krahulik and Holkins' cartoon alter egos known as John "Gabe" Gabriel and Tycho Brahe. These characters tend to borrow from the authors' actual experiences, but they do not treat them as literal caricatures of themselves. Gabe and Tycho tend to spend much of their time playing and commenting on computer and video games, which forms the basis of the humor in the strips.
Often Gabe serves the purpose as the comic, with Tycho being the comic foil. Since the primary topic does tend to be video games, there is little plot or general continuity between each "Penny Arcade" strip.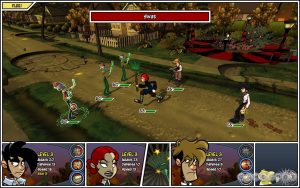 So, if Gabe or Tycho die in one strip, don't fret! Any character that perishes a violent death in one strip will come back perfectly whole in the next. "Penny Arcade" is most well-known for its surrealism, zombies and list of fun characters that frequently pop in and out of comic strips. Fan favorites are a talking alcoholic DIVX player known as Div, Anne Claire "Annarchy" Brahe, who is Tycho's niece, and even the occasional visit from Santa Claus himself.
The success "Penny Arcade" generated didn't just stop at comics. Krahulik and Holkins began to record and release audio content in March of 2020 in a podcast on their website. In 2008, an episodic video game was released based on the strip entitled "Penny Arcade Adventures: On the Rain-Slick Precipice of Darkness." A few years later, in 2011, Cryptozoic Entertainment released a deck-building card game called Penny Arcade the Game: Gamers Vs. Evil.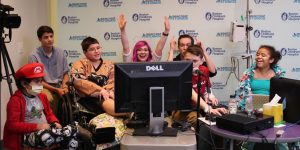 Of course, the creators of "Penny Arcade" went on to dabble in other works and mediums as well. In 2003, they, along with manager Robert Khoo, founded a children's charity based on the power of play. Child's Play is a charitable organization that donates toys and games to children's hospitals worldwide.
Today, "Penny Arcade" comics are still making our Spokane community proud while entertaining millions with comic strips and helping the world with their multimillion-dollar charity Child's Play, and they hope to continue both these things for years to come.