Marvin the Martian, Pepé Le Pew, Wile E. Coyote, and the famously elusive Road Runner are iconic characters we all know and love courtesy of television. In some cases, we can recognize them just by a silhouette, but can we identify those behind these characters? Interestingly, all these cartoons came from the same artist. Even more interesting is the masterful genius behind these characters happens to be a Spokane native, the cartoon legend known as Chuck Jones.
On September 21, 1912, Charles Martin Jones was born to Mabel McQuiddy and Charles Adams Jones here in Spokane. Later, his family moved to the Los Angeles area. In his autobiography, "Chuck Amuck," Jones credits his artistic abilities to the circumstances that surrounded his father after their move to California in the 1920s. While there, his father launched many unsuccessful business endeavors and every time he would start a new business, he would begin by purchasing all new stationery and pencils with the new company name on them. When the companies would fail, he would turn over the stationary to his children. So, armed with an endless supply of high-quality paper, they drew constantly. In fact, several of his siblings went on to have artistic careers as well.
After graduating from Chouinard Art Institute in Los Angeles, Jones began his artistic career by drawing pencil portraits on Olvera Street downtown for a dollar-a-piece. Then, in 1932, he got his first job in the fledgling animation industry as a cel washer for former Disney animator Ubbe Iwerks. Through Iwerks Production, he met Dorothy Webster, a cel painter who would later become his first wife.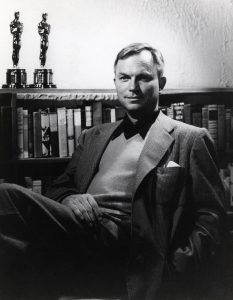 Jones began working himself in the industry at a fast pace. By 1933 he was hired by Friz Freleng as an animator for Leon Schlesinger Productions, the independent studio that produced Looney Tunes for Warner Bros. It was here that he directed his first short, "The Night Watchman," in 1938.
It was a good fit for Jones, and he found himself working during a period known as the "Golden Age of Animation." While working through this era, he was able to bring forth his own style and showcase it in the cartoons he created. Pared-down design, precision timing, and highly exaggerated poses and facial expressions became focal points of his work, all of which served to explore the psychological depths of the characters he created. During his time, Jones established personalities for Bugs Bunny, Daffy Duck, Elmer Fudd, and Porky Pig while also developing his own iconic characters.
In 1945, Warner Bros finally released the first cartoon to star one of Jones's new creations, e Pepé Le Pew. Pepé's first film, "Odor able Kitty," was followed in 1951 by another film centered around the character entitled "For Scenti-Mental Reasons." It was this piece that won Jones his first Academy Award. In all, he won 14 Oscar nominations, three actual Oscars, and the Academy's Lifetime Achievement Award in 1996.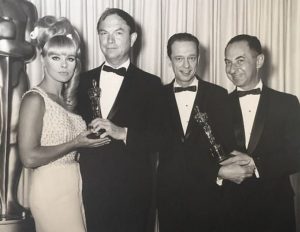 During World War II, Jones worked closely with Theodor Giesel, better known as Dr. Seuss, to create the "Private Snafu" series of Army educational cartoons. Jones later collaborated with Seuss on animated adaptions of Seuss's books, including "How the Grinch Stole Christmas," in 1966 when he helped transform it into an animated television special.
When Warner Bros closed their animation studio in the 1960s, Jones moved over to MGM, creating new episodes of the Tom and Jerry cartoon series. As this series began to wind down as the years progressed, Jones began to produce more for television. During this time, he made his animated short film, "The Dot and the Line," which went on to win the Academy Award for Best Animated Short Film in 1965. Jones remained with MGM until they closed their animation division in 1970 after which, he opened his studio called Chuck Jones Enterprises. With this newfound freedom, Jones began experimenting with more realistically designed characters, most of which had leaner bodies, larger eyes, and altered proportions.
Eventually, in 1976, Jones resumed working with Warner Bros on the animated TV adaption of "The Carnival of the Animals" with Bugs Bunny and Daffy Duck. Then from 1977 to 1978, he found himself drawing for the newspaper comic strip "Crawford." Throughout the 1980s and 1990s, he painted cartoon and parody art and sold it through animation galleries by his daughter's company, Linda Jones Enterprises. During this time, he was also active in other pursuits — he was a creative consultant and character designer for two Raggedy Ann animated specials and the first Alvin and the Chipmunks Christmas special and made a cameo appearance in the film "Gremlins." He also stayed active by serving on the advisory board of the National Student Film Institute.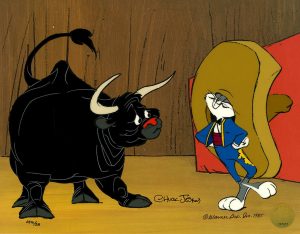 Chuck Jones died of heart failure on February 22, 2002, but before he died, he earned the Edward MacDowell Medal in 1997, an award given to those who have made an outstanding contribution to American culture and the arts. He also left behind the non-profit Chuck Jones Center for Creativity, which he had created in 1999. In his 60-year career, Jones made more than 300 animated films and left them all behind for us to still view and enjoy.