'Tis the season, but not quite for the jingle bells just yet. First comes creepy, crawly fun for that frightful holiday we all know and love, Halloween! It's a season full of gnarly pumpkins for the perfect jack-o-lanterns, candy galore, and scare-your-pants-off haunted locales. Lucky for those living in the area, Spokane is more than ready to set the mood for spooky entertainment, and there is plenty of frightful fun this Halloween.
Unit 55 Horror Games
9922 E Montgomery Avenue #33
Spokane Valley
509.869.3830
Open year-round, Unit 55 Horror Games takes a twist when it comes to traditional haunted houses. It has the feel of a haunted house mixed with riddles and escape rooms, making it a true adrenaline rush. It's a fun and intense experience as participants must attempt to successfully complete their way through scary challenges. It's a multi-room horror escape that focuses on set design, game writing, customer service, and above all else, entertainment!
Unit 55 loves to be creative with their haunts, so no two visits are exactly the same. For this October, they're going with Dr. Benning's Hour of Terror, which will be part haunted house, part escape room, and part variety show. Tickets are already on sale for various days during October, starting at $110 for a four-person group and up from there.
Trunk or Treat
12824 W 12th Avenue
Airway Heights
509.244.4845
The Airway Heights Parks and Recreation Center hosts a trunk or treat event this upcoming Halloween night from 6 until 8 p.m. The event promises to be a spot to trick or treat in a safe, family and community environment for the kiddos after Halloween candy.
Vehicles who want to participate in the giving of candy should check-in between 5 and 5:45 p.m. The recreation center also encourages those who wish to participate to join in on the fun by decorating their cars using pumpkins, spiders and webs, brooms, bats, cauldrons, and any other spooky piece of décor they can find.
Mica Moon's Haunted Zip Line Tour
23403 E Mission Avenue #111
Spokane
509.587.4020
Get ready to be scared like never before at Mica Moon this upcoming Halloween during their fright flights haunted zip tours. It's a fun activity that you'll pay to get into, then find yourself praying to get out and sadly, ticket prices do not include a change of underwear.
Mica Moon will haunt, scare, scream, and terrify guests through haunted woods as they zipline to safety in the dark during this zip tour. This is a unique tour that they only do in October, so sign up if you dare. Spots are limited, so hurry. There's a maximum of ten guests on each tour, with two tours on Fridays and three on Saturdays during October. Ticket prices start at $69.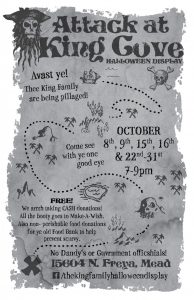 Attack at King Cove
15604 N. Freya
Mead
The King Family Haunted House creates their version of an eerie attraction each October in Mead for those looking for a fright. Admission is also always free, but they do accept cash donations, and for this year, the funds will be going to Make-A-Wish. They will also take non-perishable food donations for the local food bank as well.
This year the pirate dead have arisen on the grounds from their watery graves, and they're back for a good scare in the form of a walk-up display instead of their usual haunted house walkthrough during October.
Scarywood at Silverwood Theme Park
27843 US-95
Athol
208.683.3400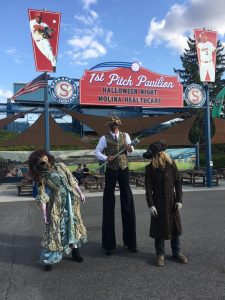 A place full of haunts, rides, scare zones, shows, and more is the ever-popular Scarywood held every year at Silverwood Theme Park. It's a month of screams as the theme park everyone thought they knew turns into a nightmare they'll never forget. Visitors will wander the park at night, but they're not the only ones out — monsters are also roaming the grounds, ready to pounce at any moment.
This year, the five haunts featured are Blood Bayou, Dr. Delirium's 3D Rockhouse, Pharaoh's Curse, Planet Zombie, and Total Darkness. Of course, park-goers can also ride the traditional Silverwood rides but with a scary twist. Careful who you sit next to — your ride partner might just be a ghost!
Fright Night on Grants Court
N. Grants Court
Post Falls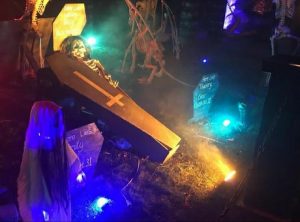 There will be Halloween fun on Grants Court in Post Falls from 5 to 9 p.m., thanks to Fright Night on Grants Ct. It's free to all, and everyone gets candy, even the adults!
This year their haunted house will have a new look and be full of animatronics. There will also be a hocus pocus grave alley and a scare candy tunnel, and those who make it to the end get the candy. Enter if you dare!
There's plenty of fun as well as plenty of fright going on in Spokane this upcoming Halloween. And now that you know what's going on, only one question remains. Will you choose fright or fun for your Halloween night? Why not both! After all, 'tis the season of scares.