The nostalgic smell of pumpkin spice that we all know and love is hitting the streets in the Spokane community, bringing with it memories of coziness, warm bellies, and visions of red and orange leaves. Just one whiff of this specialty blend of spices can awaken the senses with the essence of autumn and offer a taste of home once it touches the lips.
It started in 2003 when first introduced as the now-famous pumpkin spice latte on Starbucks menus everywhere. Since that time, pumpkin spice everything has exploded with its own cult following. It's now found in everything from coffee flavors, holiday cookies and candy, candles, air fresheners, and whatever they will think of next as new items are added to the list every year in a sea of endless pumpkin. It even has its own holiday now, with National Pumpkin Spice Day celebrated on October 1. And in Spokane, there are plenty of coffee shops offering drinks and sweets to get your pumpkin spice on to celebrate the season.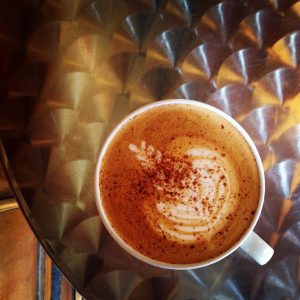 Atticus Coffee & Gifts
222 N Howard Street
Spokane
509.747.0336
The cozy red brick building downtown known as Atticus Coffee & Gifts is where the pumpkin spice latte never leaves because "sometimes it feels like fall in the middle of April." Besides the bonus of year-round pumpkin spice, Atticus Coffee is always famous for its gift section of the store. During this time of year, find several varieties and flavors of pumpkin spice. There are scented pumpkin spice candles available for purchase, bakery treats with pumpkin spice flavors, and coffee grounds and teas for some home brewing to take home and enjoy.
Shotzy's Coffee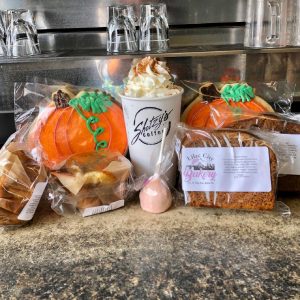 3515 N Sullivan Road
Spokane Valley
509.892.6160
Shotzy's Coffee in the valley is another local place for a delicious brew laced with the taste of the holiday season. Of course, Shotzy's is also joining in on the bandwagon of celebrating pumpkin spice all year long by offering pumpkin sauce for their drinks all 365 days of the year. Besides the pumpkin spice, now that it's getting cooler, they're also bringing back apple cider and eggnog to give customers more fall flavor options. Shotzy's Coffee also partners with other local businesses that provide pastries, breakfast sandwiches, raw oatmeal, cake pops, gluten-free items, and lots of other goodies. These businesses are also getting into the autumn spirit and providing Shotzy's with delicious treats like pumpkin cream cheese muffins, pumpkin bread, pumpkin cake pops, and many other fall-flavored items for customers to enjoy.
Begona Coffee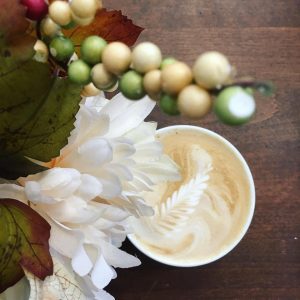 601 W Riverside Avenue
Spokane
509.710.9878
Downtown Spokane is also home to Begona Coffee, another local favorite in the city's coffee culture. The shop has rich roots in this culture, seeing as how owner Yelena was inspired to open her shop in 2018 after falling in love with it while exploring all the coffee shops Spokane has to offer. Yelena chose the name Begona because it means traveler in her native Uzbek language, and she wanted her shop to encompass a wide variety of people and bring the community together with something they all enjoy. And just like with the coffee culture, this shop also immerses itself in fall everything when the time comes. Stop by and enjoy pumpkin spice lattes or some of their other fall favorites, like their cookie butter latte or caramel apple butter chai.
Maple Street Bistro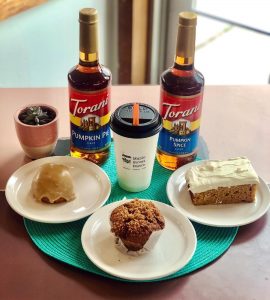 5520 N Maple Street
Spokane
509.328.0473
Pumpkin muffins wait for those who want to stop by Maple Street Bistro for all their pumpkin-flavored needs. They actually offer these delicious pumpkin treats year-round, like their pumpkin spice cookies with yummy maple frosting, along with their signature drinks. One such of these drinks is the ever-popular white pumpkin latte that combines pumpkin pie and white chocolate into one delicious drink. This season they're also happy to announce the introduction of pumpkin cold foam that can be added to any drink.
Hold Your Grounds Espresso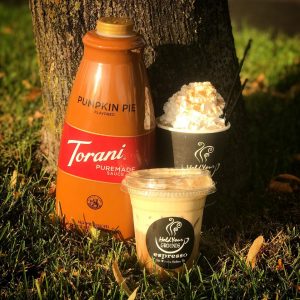 1701 W Boone Avenue
Spokane
509.325.2030
Another local favorite offering pumpkin foam in their delicious drinks, like their white chocolate mocha, is Hold Your Grounds Espresso. Other popular pumpkin-flavored drinks at this establishment include pumpkin cold brew, pumpkin spice lattes, and pumpkin espresso shakes. Of course, like other coffee shops on the list, they also offer pumpkin treats during this time of year, such as scones, muffins, and pumpkin spice cake pops.
Fall is definitely on the horizon, and Spokane's streets are already full of that all-too favorite holiday smell known as pumpkin spice. Lucky for members of our community, there are plenty of coffee shops to hit up during the upcoming season to warm up with every variety of pumpkin spice latte out there.