Coeur d'Alene is a beautiful and quaint small town in Idaho with iconic views, fresh water, ski mountains, wonderful restaurants and unmatched lake life. They've got it all when it comes to nature, but we've overheard many residents saying there's a gap in the arts and entertainment realm. As an entrepreneur always looking for ways to expand within myself and my community, I saw the budding opportunity to fill this gap through immersive art events full of culture, creators and music in downtown Coeur d'Alene.
The very first NIGHT MARKET in Coeur d'Alene was hosted by THE WAVY BUNCH and amusingly called "Superstitions NIGHT MARKET & Street Fair" to lean into the fact it was held on Friday the 13th of August. It was filled with energy and enthusiasm from hosts, sponsors, vendors, musicians, and participants congregating around the street before the event even started.
After finding such success and community support of our first night market, we plan on presenting monthly night markets aligning with ArtWalk (the second Friday of every month) during the summer in Coeur d'Alene. The next one, "Endless Summer NIGHT MARKET & Street Fair," will fall on September 10 and the following on October 8 if weather permits. Superstitions NIGHT MARKET was held on Lakeside between 1st and 2nd street. We're now expanding to use 2nd street directly in front of the Coeur d'Alene Resort, the Architects West parking lot, and "The Green Space" managed by the Blackwell Gallery.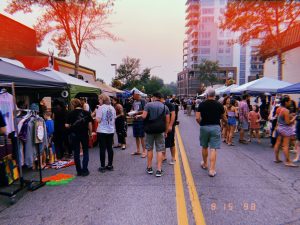 The Superstitions NIGHT MARKET's theme surrounded "worldwide superstitions" in a family-friendly fashion. Magic, mystery, tarot readings, energy healing, several fire-dancers, performance art, face painting, and even a little white-rabbit made an appearance. We were in awe of how many unique, amazing, and eclectic people came through and visited the market, purchased from our friendly local vendors, stopped to head-bang, photograph the event and give out compliments and positive feedback to THE WAVY BUNCH team. Several people noted, "I've never seen anything like this in Spokane or Coeur d'Alene! You guys turned a simple downtown street into a legit festival!"
As the event organizer, it felt like it was all a dream. Making my way around to all the vendors gave me full-body chills and made me teary-eyed from all the appreciation, gratitude and excitement I received from all around. I was so happy to go around to all the vendors and witness the absolute stoke and splendor on their faces as they thanked me for putting on events like this for our community. About an hour into the event, as eclectic people of all ages poured in, we looked at each other and said, "We need to make this a monthly event." Getting together with music, a marketplace, artisans, makers, family and friends is just the thing we all need.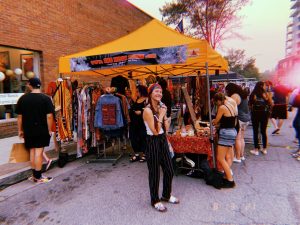 So much energy, time, love and concentration go into planning events from all angles. This event proved "where energy goes, energy flows." Everyone involved brought their best to the table and worked their hardest to create, promote, market and make the event a success. These NIGHT MARKET events are the perfect partnership of vendors selling all sorts of unique handcrafted goods, wonderful bands and musicians working for the love of their art, and the Coeur d'Alene and Spokane residents that strolled the streets and supported the entire thing!
Our Superstitions NIGHT MARKET & Street Fair partners included local bands and musicians running a totally unique and DIY-stage setup. Persian carpets were rolled out over the street, all the sound equipment was set up on the same level as the audience, and local tunes echoed down Lakeside Avenue. The Wow Wows and Snacks at Midnight performed musical sets while simultaneously managing each other's sound-booth and Secret Sounds under the name of Oiler shared a special Cello-centered DJ set. Emerge Art Gallery has also been a sponsor from the start, helping through feedback and mentorship in every area of event planning. THE WAVY BUNCH is so incredibly thankful for the support we received in hosting these events and can't wait to continue planning expressive and immersive art events in the future.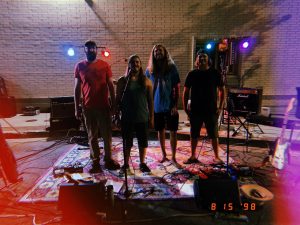 We have had absolutely zero outside funding sponsoring the event behind the scenes, so technically, each of our vendors was the "sponsors" that made organizing the first and second events possible. We are so grateful to everyone for trusting the creative process and jumping on board with so much spirit.
Everyone worked together to constantly share, tag and promote the event through their social network. Our NIGHT MARKET was seriously all I saw in people's "stories" or heard talk of for the entire week leading up to the street festival event. It takes a village to market an event, and everyone that got involved crushed it. This event's attendees were based entirely on word-of-mouth, and we're living proof that word is power because around 1,500 people came through during the launch night.
With the first NIGHT MARKET being such a success, THE WAVY BUNCH is doing it again on September 10 from 5-10 p.m. on 2nd street between Sherman and Lakeside in downtown Coeur d'Alene. If you missed the first event, don't worry, the Endless Summer NIGHT MARKET & Street Fair will be even bigger and better!
This time, we have several sponsors jumping on board including, Architects West allowing their parking lot space for a beer garden, Mad Bomber Brewing providing a safe and fun 21+ gated beverage area, Blackwell Gallery and the Coeur d'Alene Resort are providing "The Green Space" as our new electrified-stage and dance floor, and as always, Emerge Art Gallery is supporting the event through a wealth of knowledge and excitement for bringing futuristic artistic events to the community of Coeur d'Alene and Spokane.
Endless Summer NIGHT MARKET & Street Fair music lineup: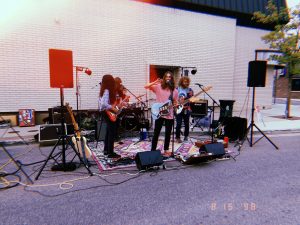 We send so much love to everyone who joined us at our first night market. Thank you for getting involved in the arts; for going out and supporting local artists, makers, shakers and musicians; and thanks for all the love, light, wisdom and gratitude that was expressed at our event. We're looking forward to seeing you there! We hope to see you on September 10 from 5-10 p.m.
"Endless Summer NIGHT MARKET & Street Fair" will feature twenty-two local artisans and street vendors selling custom clothing, crystals, vintage, apothecary, body products, tarot readings, energy healing, esoteric art, funky treasures and groovy things.
We are so excited to add these Friday NIGHT MARKETS to the list of activities and festivities that take place in our lovely town. With the generous donations from our sponsors, we will use the funding to book local bands and musicians, pay live-performance artists, rent stage and lighting equipment and market the event to the community across social media platforms. If you are interested in vending, playing music, performing or sponsoring our events in the future, please get in touch.
We're looking forward to our NIGHT MARKETS becoming a go-to-spot for community, music, makers, magic and talents. Obviously, Coeur d'Alene and Spokane citizens are ready for immersive-art events like this, and we hope to see you getting involved and bringing your friends, families, and pets to peruse the fun things we're creating. Mark your calendars for September 10, and keep an eye out for our next NIGHT MARKET event on October 8 (if the weather permits).
People need to play, relax, dance, shop local, get out, walk, create art, find community and talk! Community events like this are therapeutic, and I know everyone involved in events like this feels an immediate transformation in their hearts and minds. It's so important and exciting that we have community support and enthusiasm in undertaking events like this.  We're excited to plan monthly immersive art and cultural events for you in the future. Please share with friends, and support your local artists, makers, musicians, entrepreneurs and event stewards by showing up and bringing your good vibes. We appreciate you!