The word Instagram is an amalgam of "instant camera" and "telegram." And while our cell phones and digital cameras are a long way from instant cameras like Polaroids and old-timey telegrams, the social media platform is perfect for those who love beautiful images. Check out these fantastic Spokane photo spots, sure to help you get those Instagram likes!

Manito Park Japanese Gardens
1702 S Grand Blvd.
Spokane
Manito Park is a gorgeous destination located on the South Hill of Spokane. It hosts five unique gardens, a greenhouse, playgrounds and a duck pond. The park spans 90 acres of prime picturesque views for all your photoshoot needs. Wander through a number of natural flowers, well-kept grounds, romantic paths and areas for perfect picnics. In Manito Park, you'll be able to take some of the most stunning photos surrounded by Spokane's flora and fauna.
The Japanese Gardens in Manito Park are perhaps the most photogenic segment. This is "a place where nature, tranquility and beauty come together." Red maple leaves, weathering wooden teak structures, rock gardens, oriental-art sculptures, duck ponds, arched wooden bridges and roofs with flying eaves are lovely areas found in the garden.
Arbor Crest Wine Cellars
4705 N Fruit Hill Rd.
Spokane Valley
Arbor Crest Wine Cellars is a historical landmark, winery and event center and is a hidden treasure found nowhere else in the Inland Northwest. Here, perched 450 feet above the Spokane River Valley, you can take part in an array of clifftop celebrations and activities, all while capturing the perfect photos. Your pictures, wedding or event will be framed by the elegant property grounds, architecturally historical details and unbeatable views.
You will be welcomed to the estate through an arched gatehouse made entirely of basalt. The gatehouse leads you to a three-story mansion in Florentine style. The landscape of these imaginative grounds includes a larger-than-life checkerboard, terraced gardens, pools carved into the natural stone, a croquet court and a red-roofed gazebo with an exceptional view. Join them for a wine experience, gathering, art festival, concert, celebration or wedding for the best photo-op.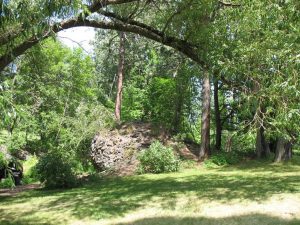 John A Finch Arboretum
3404 W Woodland Blvd.
Spokane
The John A. Finch Arboretum, in southwest Spokane, is located on 65 acres of beautifully wooded hills. It's an incredible botanical collection of trees and woody plants. The assemblage of foliage has been rooted along the Garden Springs Creek, containing a wide variety of native and cultivated plants.
If you're looking for a place to find varied landscapes for your photoshoots, the arboretum has wide-ranging landscapes fluctuating from native pine forests to shady rhododendron groves. John A. Finch Arboretum is open to the public all year-round from dawn until dusk.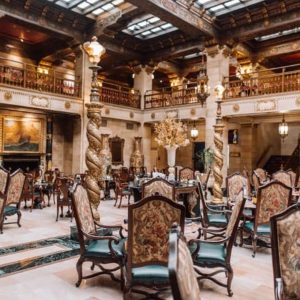 The Historic Davenport Hotel
10 S Post St.
Spokane
The Historic Davenport Hotel is the most classically lavish building in the heart of downtown Spokane. Perhaps, it's Spokane's most iconic destination for travelers and photographers alike. Upon arrival, you'll be magically taken back in history to a dignified time.
The lobby, shops, ballrooms and conference rooms are all incredibly unique and ornate, making for beautiful details in the backdrops of photos. The classic architecture is apparent in its opulent lobby and ballrooms. Immerse yourself and your pictures in over one hundred years of lustrous and glimmering history.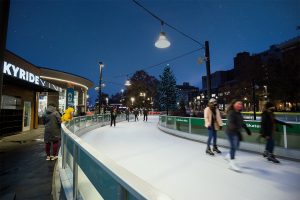 Riverfront Park
507 N Howard St.
Spokane
Home to the World Expo of 1974 is Spokane's unrivaled Riverfront Park. Start your photo-tour off with the clock tower, the giant red wagon slide, life-size alphabet blocks, the Pavilion and the garbage-eating goat.
These spectacular staples of Spokane are all conveniently located near each other for a quickly changing photo-op experience. Riverfront Park is home to the Numerica Skate Ribbon, which makes for dreamy winter-time photos.
Don't forget to climb around the Pavilion or take a ride on the Numerica SkyRide's floating cars for photos during sunset. Stick around the Pavilion for their nightly light show after dark.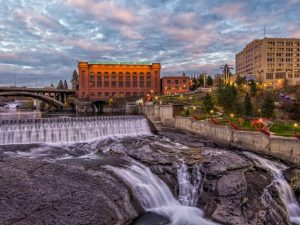 Spokane Falls
218 N Monroe St.
Spokane
Spokane Falls and Huntington Park are the waterfalls that are created by the dam on the Spokane River. It's a unique urban waterfall that's located in the downtown business district of Spokane. Spring may be the best time for a photo as the rapids are raging with run-off.
One of the best views is from the Monroe Street Bridge.  Here, you can view the falls up close on the east side or from a farther and more scenic distance from the west side. The falls, Monroe Bridge or sceneries on either side make for scenic backgrounds and photos.
Mary Lou's Milk Bottle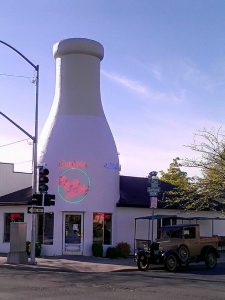 802 W Garland Ave.
Spokane
Mary Lou's Milk Bottle is an iconic diner located in Spokane's Garland District. It's a great greasy-spoon diner that's a fun find for all those that happen upon it. A giant 84-year-old milk bottle adorns their streetscape on the exterior. Obviously, the colossal milk bottle denotes that Mary Lou's specializes in dairy products (over twenty different milkshake flavors can be found on the menu).
Both the interior and the exterior make great photos essential to every Spokanite's list of places where they need a photograph.
Garland District Graffiti Walls
A "mural alley" has recently been added just south of Garland Avenue. Mural walls, graffiti, bright colors and urban decay are always great places to snap a trendy photo. See the greatest concentration of murals along the alley south of Garland between Post and Monroe Street. Here, over a dozen works of art can be found.
Two dozen colorful murals decorate the outdoor walls of this neighborhood, quickly turning the Garland District into Spokane's mural and art capital. The graffiti walls make for a fun and artistic selfie or photo-op.
Brick West Brewing Co. Plaza
1318 W 1st Ave.
Spokane
info@brickwestbrewingco.com
Brick West Brewing Co. has an incredible patio and plaza ready for all your urban photography needs. They have a fifteen-barrel brewery, taproom and beer garden in the west end of Spokane. Their project is revitalizing the downtown by bringing in concert series, beer garden events, festivals, fundraisers, markets and community events.
Bring your friends for a shoot at Brick West Brewing, and you're sure to make a day with fun activities and opportunities for inspiring images of friendship, good beer, live music and outdoor adventures. They host the West End Market on Mondays, offer great craft beers, support other amazing local vendors, usually have a live band, and occasionally you can find a free outdoor yoga class taking place.
Grab the camera and your friends and start snapping images for fun and creative Instagram posts. There are so many places in the Spokane area to offer beautiful backdrops perfect for photos.