Early on, Justin Frick was aimless. Then he made a decision that changed his life. Frick, who grew up in Richland, decided to forego his application to community college after his high school graduation about a decade ago. Instead, he took the little money he had and bought a video camera. From then, he's been growing, building a career filming some of the state's best musicians — from rapper Macntaj to rocker Vanna Oh! — and creating signature, eye-popping music videos, some of which have garnered hundreds of thousands of views. Frick, who got his first taste of filming with the family handheld camera as a young kid, has done the near-impossible. He's built a company from scratch that could afford him to live out his creative dreams.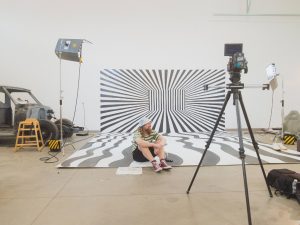 "At first, it wasn't like we were filmmakers," Frick says. "We were just filming us doing dumb stuff. Everything was improvised."
It began with childhood friends and SNL-like skits. Then Frick took his family's camera to the skate park, where he began to film his fellow skateboarders. He was middle school-aged. He taught himself how to match up music with certain tricks — that's where the "magic" lived. Later, a local rapper approached him about a video, and he undertook the new challenge. Inspired by the indie film "Napoleon Dynamite," Frick, with pals, made a 45-minute movie and sold duplicated copies. By graduation, he knew filming was his passion. Frick filled out an application for community college, but upon doing so, he knew immediately he didn't want to go.
"I threw away the application," Frick says. "And bought a nice DSLR camera. I began treating it more seriously because I'd made more of a decision. I kept failing but getting better, failing and getting better. I was frustrated but getting better."
Frick quit his job at a movie theater in 2015 and began making music videos full-time. Then he got a business license. Artists kept approaching him for work and the views stacked up on YouTube. He's since worked with Joseph, Jay Loud and dozens more. He partnered with Gage Sohler, who handles the money and administrative work, so that Frick can focus on the creative side. With each project, like his videos with Vanna Oh!, his art improves. Now, his baby, A Frick Take, is viable and vital.
"The first one we did was 'A Bear Named Sue,'" Frick says of his work with Vanna Oh! "She helped me zone in on the idea of a color palette — we used these blues, whites and yellows."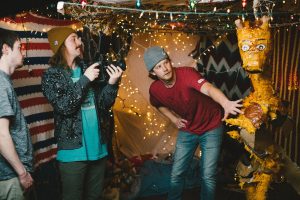 Most of his videos begin with the same intro — an eyeball in a fish tank. Out of nowhere, water submerges the eyeball, and it morphs into Frick's logo. It's a bright few seconds, highlighted by an orange, almost Nickelodeon-esque background. It's pleasant and prepares the viewer for work that's almost childlike. But while this has become Frick's signature, he's also a nimble thinker.
"The song itself asks for a certain thing," Frick says. "With Joseph, it was clear the song wasn't needing or asking for bubbly, colorful visuals. Some songs do, some don't. When I work with a new artist, I tell them what I usually lean on, but I can be very versatile."
For Frick, the notoriety — his latest Macntaj video just surpassed 500,000 views on YouTube — isn't necessarily a driving force. Rather, it's more of an indication that he can continue to make the work he loves. For someone who remembers having little vision or ambition as a kid, now that he has a clear direction, Frick isn't looking backward. He's not ready to give up this new playground. Instead, he wants to fortify it, continue to establish himself with good old-fashioned effort.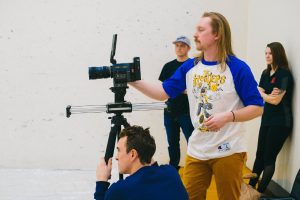 "All the views," he says. "That's definitely cool. But it's not why I do it. When the Macntaj video hit half a million, I didn't even know it until people started tagging me online. My head's in this new video I'm doing right now."
While Frick also does commercial work for clients, it's the more creative work where he's free to express himself that drives him. He travels now all around the state, and even to cities like Los Angeles and Portland, to fulfill jobs and collaborate with artists and creative folks. Frick recently bought a big van that he's outfitting to use as an editing room, and he will go mobile for much of 2021, handling gigs in Seattle, Spokane, the Tri-Cities and elsewhere along the west coast. For Frick, who moved from Richland to Spokane a handful of years ago to be closer to creative opportunities, the new freedom is a boon — and of many likely ahead of him.
"These little bases of friends and clients pop up everywhere," Frick says. "I have a bunch of different hubs just from me doing what I love to do. That's super cool."