Enduring 2020 taught us how truly magnificent delivery drivers are. Among all the great stories of drivers supporting various industries, foodservice drivers have been on a roller coaster over the past 18 months. From early 2019, while the service industry was still doing well, drivers were busy, hustling to support an ever-growing industry. When COVID restrictions constricted the vibrant foodservice industry, drivers were more than simply a means to an end: they ensured many restaurants were still being serviced at a high level. In the case of Harbor Foodservice, not only did they take care of their existing customer base, they also ventured to Eastern Washington to support another independent distributor and their customers. As we begin reopening, the hospitality industry is once again ramping up, and so are the drivers at Harbor Foodservice with a growing team and a determination to be the best local provider in the industry.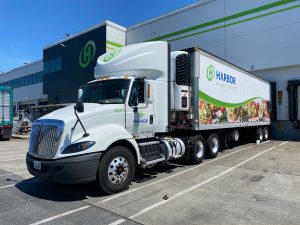 While the Harbor Foodservice brand might be new to the region, its founding history is not. Swedish immigrant Carl V. Erickson founded Harbor in 1923 as the West Coast Produce Company, located in Aberdeen, Washington. Carl delivered dairy, produce, and other sundries to customers in a well-worn Model T truck, getting to know his customers' needs and forming lasting relationships.
In the decades that followed, the company expanded to serve a growing list of customers, changing its name to Harbor Wholesale Grocery in 1954, eventually serving all of Western Washington by the end of the 20th century. In 2019, Harbor purchased the home base of Food Services of America and created Harbor Foodservice. Today, Carl's great-grandson, Justin, is CEO. The trucks are a bit sleeker, but the principles have not changed. Harbor still focuses on local customers, understanding their needs and helping them succeed.
Harbor Foodservice VP of Operations Alan Imhof is proud to boast about the experience and knowledge their delivery drivers and the warehouse team members that support them bring to the table every day. "We have great team members that truly care about each other and our customers, and it shows," he says. "When you pair that with Justin and the Erickson family history, everyone is all-in on making this a great place to work."
Nick Missler celebrated his 25th anniversary of driving for Harbor Foodservice this past April. He loves that, even with their recent transition, it's "small and family-owned, not a huge corporation. The culture is a really good one, and they care about me as an individual. In our industry, we might be smaller fish in the pond, but Harbor is small enough that everybody knows and cares about each other."
With so many years spent behind the wheel, Missler has learned what's truly important. He values Harbor's culture and the relationships he has built along the way. "The pay and benefits are often the same through the industry, but Harbor cares about their employees," he shares. "The company is a great place to be, and they're going places. They motivate us to want to do well for the company. I don't wake up on Monday saying, 'Oh no, I have to go back to that place.'"
Though he's eligible to retire in the next year or so, Missler admits that he feels like staying on a little longer. "Alan was happy to hear that," he laughs.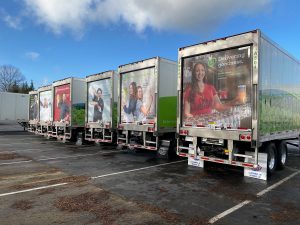 Driving for Harbor Foodservice is unique because there is more time delivering and taking care of customer needs vs. actual driving. Start times primarily begin at 4 a.m. and are done on the same day, no overnight routes promote returning home safely to family each night! While the work originates in Kent and the bulk of deliveries begin and end at that location, there are domiciles in outlying areas that allow for "resident" drivers to live and work in their communities. They have domiciles in Bremerton, Olympia, Port Angeles, Aberdeen, and Ellensburg with hopes to expand to Vancouver and the Everett/Mount Vernon area. Harbor offers competitive wages, excellent paid benefits and retirement.
While being a delivery driver for Harbor Foodservice requires having a Class A Commercial Driver's License, if you don't have one and are looking for an opportunity to learn and obtain your Class A license Harbor Foodservice can help. Their trainee program—which currently has five enrollees—will train and assist with the process because, as Imhof acknowledges, "not everyone has the resources to obtain the training and certification, that's where our program can benefit those ready to join a winning team."
You can find a list of available positions with Harbor Foodservice through their website, which is the preferred way to apply, says Imhof. They currently offer hiring bonuses up to $7,500 depending on experience.
The American trucking industry is predicted to grow 36% over the next decade. And as the restaurant industry finds its feet again, companies like Harbor Foodservice and Harbor Wholesale will work around the clock to keep them supplied with all they need to thrive. If you or someone you love is looking for a career behind the wheel, now is the perfect time to learn more about a company that values its drivers from day one. With Harbor, you can spend the next 20, 30, or 40 years in a career you love!
Sponsored