After 15 years in business and 3,346 projects, SCJ Alliance President Jean Carr knows something she didn't realize when the company began in 2006. "It doesn't matter what the issue is, we're going to figure out how to deal with it," she says. "Back in the day, I might have hoped that certain challenges wouldn't come up. Now I know that whatever happens, we've got the right team and the combination of people who can find the answer."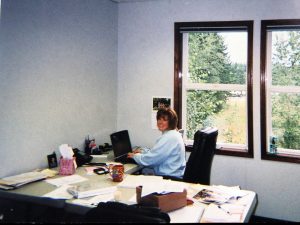 Founded in 2006, the company provides civil engineering; transportation planning and design; environmental and urban planning; landscape architecture; and public outreach services. In 2018, SCJ's Spokane Office Principal Bill Grimes blended his firm, Studio Cascade, with SCJ Alliance. Bill leads six team members out of Spokane, a combination of planners and engineers.
The firm has weathered economic crises, civil unrest, and most recently, a global pandemic while growing from a team of eight to a staff of 135 in 11 offices spanning 3 states. When SCJ recently celebrated its 15th anniversary it was an opportunity for Carr and co-founder and past President Perry Shea to reflect.
One achievement both point to as a point of pride: a dynamic and supportive company culture that encourages growth and fosters camaraderie. As SCJ expanded, that culture has remained intact. "It's about character," says Shea. "We hire people who appreciate our core values, are respectful and good listeners, who are team players and willing to do what it takes to make their clients, colleagues and the company successful. That makes for a really effective foundation."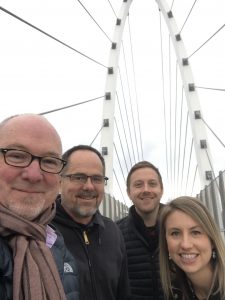 Carr agrees. "I'm so proud that after 15 years and multiple offices with over 100 employees, we're still operating as a team," she says. "It's the way we were in the beginning, but we've also been able to adapt and respond to the changes we've experienced along the way."
While camaraderie is encouraged, it's not prescribed so Carr is always glad to hear about ways in which staff at different offices and from different departments are spending time together apart from their jobs. "It helps them to build bonds, and those relationships support them to become more successful with their project work," she explains. "We see people playing frisbee golf at lunch or playing ping pong at the office. It's notable how much time they spend together, even when they don't have to."
Internally, SCJ provides opportunities for staff to move into new positions. Just two years into their existence, the leadership team had already devised and committed to a transition plan. Shea acknowledges that it may seem odd to have created such a strategy so early, but they knew it would be necessary eventually. "We felt that it was important to commit to bringing in new leadership, changing positions and delegating," he says. "We've held true to that. It may sound simple, but it's not. A lot of pieces had to come together, and it didn't happen overnight." SCJ became a 100% employee-owned company in 2019.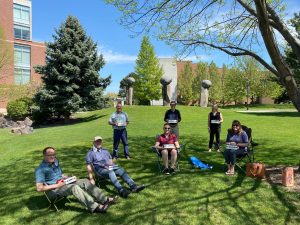 Externally, projects are always approached with the people they'll serve in mind, according to Carr, knowing they will impact the surrounding community. "We talk a lot with our staff about how these projects are a contribution that we're putting into the hands of the people who live there," she explains. Recent examples include the Spokane County Shoreline Master Program update, the Malden Community Recovery Plan, and the Lewiston/Clarkston Waterfront Vision. And sometimes the impact goes far beyond the people who live there like the Aerial Rapid Transit to Dodger Stadium project in Los Angeles that SCJ is working on.
Compared to the early days, projects are much more varied. Planning includes more stakeholders and considerations. Transportation design goes far beyond roadways and intersections, to include an ever-expanding variety of multi-modal options and even cable-propelled transit.
Within the regions where they operate, SCJ is known for its service ethic. Many staff members serve on local boards of nonprofit organizations and volunteer time in other ways. As Shea puts it, the 'laundry list' of organizations the staff supports is long and deep. "It takes a time commitment," he says. "We encourage our team to get engaged with their community. At the project level, that has a positive impact, but a personal desire to be involved is just as impactful."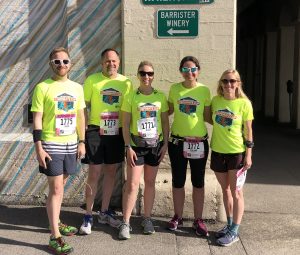 As COVID-19 related restrictions ease, Carr is looking forward to visiting teams in some of the company's newer facilities around Washington State, Colorado and Montana. "We have ten offices outside of our Lacey location," she points out. "We're looking to build those teams to a place where they can be contributing at the same level the Lacey office does to our local community. We're also going to have a new office somewhere else in the next several years, but we don't know where yet. We'll continue to find those opportunities, seize them and make the most of them."
Over the past several years, Shea has focused on expanding SCJ's services in the aerial transportation sector. That has enabled the company to grow into an international market, planning aerial rapid transit systems around the world. "Our company, with its headquarters in Lacey, is a thought leader in this industry," he notes. "We're one of just a half a dozen companies that do this. We're well-positioned to create a new way of transit. It's really taking shape and I'm really excited about that."
With the sky quite literally the limit, there is no doubt there will be even more to celebrate by the time SCJ Alliance reaches its 20th anniversary in 2026.
Learn more by visiting the SCJ Alliance website or sending an email to info@scjalliance.com.
Sponsored