It's summertime, and that means it's time for family vacations. Interestingly enough, 14% of the U.S. population chooses to go camping every year for their family vacation. That's 42 million Americans! So it's no surprise that camping is one of their favorite summer pastimes for community members of Spokane and surrounding areas. It gives them a chance to reset their natural clocks, reconnect with family, and enjoy the great outdoors. And lucky for everyone in the area, there are plenty of spots to go around and choose from.
Bowl and Pitcher Campground
Riverside State Park
Located within Riverside State Park's 10,000 acres along the Spokane and Little Spokane Rivers are four different camping areas to pick from — one of which is even an equestrian-only campground for the campers who want to ride their horses. All four are equally beautiful, with various opportunities for recreational activities, such as rock-climbing, off-roading, and a wide variety of water activities.
However, of these four different camping areas to choose from, the Bowl and Pitcher Campground is the most sought-after spot, thanks to over thirty sites that accommodate campers. Numerous locations have partial hookups available for tent campers and RVs, along with showers and flushing restroom facilities. In addition, two large group campsites can be reserved ahead of time for those families looking to invite everyone from their grandparents to their long-distance cousins. Of course, no trip to this campground is complete without exploring the area via the Civilian Conservation Corps-era suspension bridge.
Palouse Falls State Park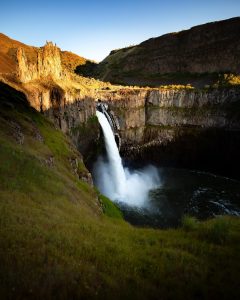 Palouse Falls
This next camping spot is definitely worth the two-hour drive out of Spokane since it's right next to our breathtaking state waterfall. Palouse Falls was created by Ice Age floods millennia ago, and they made the colorful basalt canyon we see today. The state park has three scenic viewpoints for the massive falls, so anyone visiting can get a glimpse of just how majestic it really is.
However, getting the best view for campers might not be easy, seeing how they're available on a first-come, first-served basis. The campground at Palouse Falls features 11 primitive tent sites with access to a vault toilet for campers.
Farragut State Park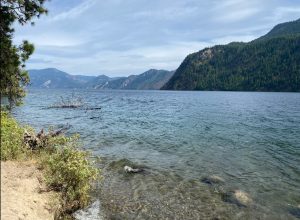 Idaho Panhandle
Located at the southern point of the scenic Lake Pend Oreille in the Idaho Panhandle is one of the best campgrounds in the state at Farragut State Park. There are over 200 available sights at this park spread over four main camping areas located next to flushing restrooms and hot showers. Farragut has spots for everyone, from tent campers to recreation vehicles, sites for group camps, equestrian areas, and even furnished cabins.
There will be no hint of boredom when camping at Farragut, thanks to its miles of multi-use trails, four professional 18-hole disc golf courses, and rich history that can be explored at the naval-focused Museum at the Brig.
Liberty Lake Regional Park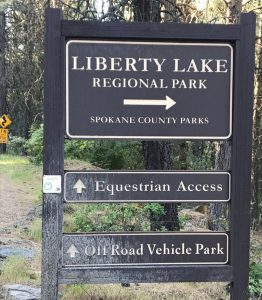 Liberty Lake
For those campers who love being by the water, the Liberty Lake Regional Park might be the absolutely perfect campground. The eight-mile hiking trail, known as the Liberty Lake Loop Trail, follows the water that's perfect for swimming, boating, and fishing. There are 17 RV sites and 10 designated spaces to pitch a tent within the park, as well as cabins and group sites.
This campground is open seasonally between May and October, with the ability to reserve these spots ahead of time. Visitors have access to hot showers, working restrooms, and a central waste system for sewage at this campground.
Heyburn State Park
Chatcolet Lake
Established in 1908, Heyburn State Park is the oldest state park in the Pacific Northwest and still charms visitors today. Located on the shores of Chatcolet Lake, just south of Coeur d'Alene, this park is full of 400-year-old ponderosa pine trees surrounding trails that open up to flower-filled meadows or tranquil lake waters, depending on which route you take. This campsite is perfect for fishing, swimming, horseback riding, biking and boating, thanks to the available boat rentals nearby.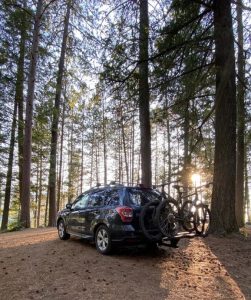 Camping at Heyburn State Park is divided into three different main areas. Farther east within the park is the Benewah Campground, located along the shores of Benewah Lake and features a mix of RV spots and tent sites available on a first-come, first-serve basis. The Chatcolet Lake Campground is located on the opposite shore of Chatcolet Lake and is designated for tent campers only, with 38 sites. Hawleys Landing is considered the scenic spot among the three since it features over 50 campsites, mostly accommodating RVs with full hookups available. Both Hawleys Landing and the Chatcolet Campground feature showers and flushing restroom facilities for those campers who prefer to be near those.
Campers in the area can also be found at Kettle Falls Campground, Nine Mile Recreation Area, and Edgewater Campground, just to name a few. No matter where outdoor enthusiasts pitch a tent, though, everyone is bound to be a happy camper wherever they settle and honestly, how can they not? So, finding that perfect spot where campers can fish, swim, mountain bike, or whatever they desire is easy as pie here in Spokane and the surrounding areas.