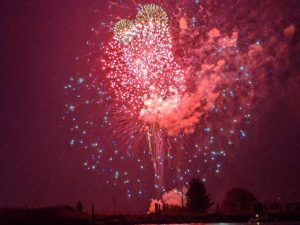 POSTPONED: Four planned 4th of July fireworks shows at Dwight Merkel, Ferris High School, Avista Stadium, and Plante's Ferry have been postponed due to an increased risk of fire danger. The fireworks will be rescheduled for celebration at a later date, and details will be shared when known.
Because Independence Day is typically an American holiday spent barbecuing in the backyard with friends, co-workers and relatives, there aren't many 4th of July themed events happening around the city of Spokane, especially in the time of COVID-19. There are, however, several locations where you can get some "oooohs" and "ahhhhhs" in while witnessing a spectacular array of roman candles bursting into the night sky.
The Spokane Indians Club Team, Parks and Recreation of Spokane, County Parks, and even Spokane Public Schools are working together this year to bring you several spectacular 4th July firework extravaganzas in almost every area of Spokane. Note that there will not be fireworks at Riverfront Park this year, but they have a nightly light show at the Pavilion that is sure to take your breath away.
This year, as times have changed, Spokane is offering four different drive-in displays of fireworks. These will be spread across the Spokane region, helping traffic flow and getting there easier and more convenient for people living in certain districts.
Are you looking to spend your evening in awe of Spokane's glorious fireworks displays? Look no further! We've got all the drive-in firework displays in Spokane for Independence Day.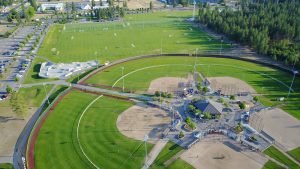 The Dwight Merkel Sports Complex
(North)
5701 N Assembly St.
Spokane
Dwight Merkel Sports Complex is Spokane's go-to spot for athletics. It consists of almost everything sporty you can possibly imagine. From a BMX track to soccer fields, to softball pitches, running trails, and skate parks—they've got it all. The complex hosts many events for youth and recreation sports leagues. This $11 million sports complex was freshly opened in 2010. From here, you can access Riverside State Park via a pedestrian bridge.
Ferris High School
(South)
3020 E 37th Ave.
Spokane
Ferris High School is a public high school in South Spokane. It was built and opened in a lovely Spokane September of 1963. Being one of Spokane's leading citizens of his time, the school was named after Joel E. Ferris.
Avista Stadium
(Central)
602 N Havana St.
Spokane Valley
Avista Stadium is home to the Spokane Indians! The Spokane Indians are a minor-league baseball team whose history dates all the way back to 1892. The Spokane Indians played at Ferris Field from 1937-1946 until folding during the season of 1954. In 2008, the team seized their eighth title through an electrifying four-game victory.
Plante's Ferry Sports Stadium
(Spokane Valley)
12320 E Upriver Dr.
Spokane Valley
Plante's Ferry Sports Complex is a sports stadium and is home to five softball diamonds and thirteen soccer fields maintained by the Spokane Valley Junior Soccer Association.  The facility can be rented out for a variety of events.
Safety Suggestions for Viewing Fireworks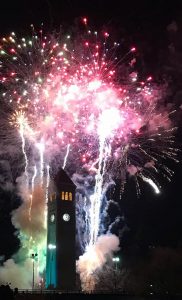 If you live near one of the locations, the city of Spokane encourages you to watch the show from the comfort of your backyard. If you need to drive to a viewing location, please make sure you are driving responsibly and not under the influence. America rocks, but drunk driving doesn't. The City of Spokane suggests that once you arrive at a firework-viewing location, you remain in your vehicle and appreciate the glowing spiders that flicker across the sky from your car in drive-in style.
With limited parking spaces available between the four locations combined, consider creative thinking. So, carpool with your quarantine buddies, bust out the soccer-mom van from the garage. Can I even suggest renting a party bus?
Firework Schedule & Parking
All the above parking lots open at 8:30 p.m. Get there a bit early to be sure you can snag a spot. Parking will be limited and varies by location. Anticipate lots filling quickly after opening at 8:30 p.m. and the possibility that will close the lots when they are full. Please have a second or third parking option in mind in case you encounter a full parking lot.
If the lots are full when you arrive before the event, consider the area and have a parking plan B and C in mind. Please be respectful of privately-owned parking lots nearby, and if parking on the streets, be courteous to neighbors and obey parking laws.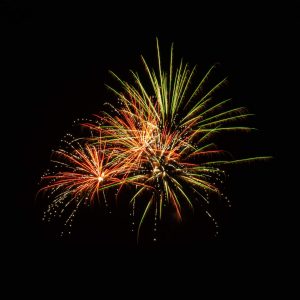 The shows will all run simultaneously. Like most things in life, too much of a good thing usually equates to a bad thing, so the show will last for approximately six to eight minutes (short and sweet), starting promptly at 10 p.m.
There is no admission fee. All of these 4th of July events are free for the Spokane community "thanks to our generous sponsors," said the City of Spokane.
The parking lots will all be staffed with professional security personnel, police officers and safety vehicles. They will be there to park cars, ensure safety, and uphold precautions.
Celebrate Independence Day 2021 at these festive events in Spokane.