Art Salvage is a blast from the past in the form of used and upcycled art supplies. It's far from your typical center for crafters. They're stocked with so many unique goodies sure to get your creative juices flowing simply by stepping foot in the store. Drop by Art Salvage in Spokane for a selection of ribbons, buttons, knitting needles, fountain pens, collage kits, beads, fabrics, photos, craft paper, old books, carving tools, and the funniest thing they've received this week—a set of tiny vintage porcelain cats all named in a child's handwriting. Basically, the more you look around at the wonderland that is Art Salvage in Spokane, the more treasures you're sure to find for your next creative project.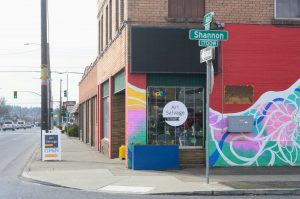 What is Art Salvage Spokane?
It's Spokane's first center for the creative reuse of art materials! "Creative reuse is about using otherwise discarded things to create art. You might call it upcycling or repurposing. Whether the end product is functional, decorative, or experiential, creative reuse is all about the merging of sustainability with creativity." Creative reuse organizations have been popping up all over the world lately, and for a good reason. They reuse scrap materials, thus keeping these usable art supplies out of landfills.
Since its beginning in 2015, Art Salvage Spokane has promoted the reuse of supplies to inspire creativity in Spokanites. Founder and Executive Director, Katie Patterson Larson, is dedicated to sustainability, community, and creativity with this local nonprofit. "Art Salvage offers a place to donate your art materials, a place to buy affordable art materials, and a place for people to be creative." All profits received through in-store sales go toward operations, building maintenance, utilities, staff payments and their art-supply grant program.
Katie talks passionately about educating the Spokane community about the importance of reusing materials. Her background in the art world stems from her MA in Art Therapy and Counseling. Before returning to her hometown, Spokane, she worked as a child and family therapist. Katie happily sits on the advisory board for the Spokane Arts Commission and is known for her monthly column "Upcycled Life" in The Spokesman Review.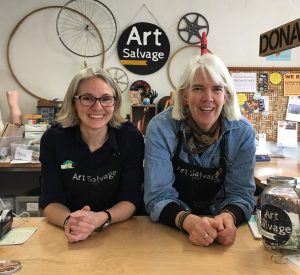 Initiating Art Salvage, Katie felt, "the biggest need in the Spokane area was affordable opportunities for making art." She hopped into developing this niche arts and crafts store for inspiration, creativity and adaptive reuse. The Art Salvage team continues to wonder at Spokane's thriving arts community. "There are all kinds of artists doing amazing work in many varying fields."
Katie is appreciative of Amy Mickleson, a dedicated Art Salvage volunteer that joined Katie soon after the original founding. "Amy has dedicated her time and expertise to help establish the nonprofit and has been a vital part of growing the organization from the ground up," she says. "Amy has served on the founding board of directors and currently manages the material donation intake."
Presently, they have up to thirty volunteers that work in the store and help with events.
What Can You Find at Art Salvage?
Because everything is by donation, Art Salvage has a vast and ever-changing arts and craft materials selection. Art supplies, scrapbooking materials, sewing notions, party supplies, office supplies, frames, signs, swatch samples, vintage goodies, wood pieces, containers, tools, metal, clay, figurines, pins, "doodads, widgets and whatnots," are some of the unending things you can find at Art Salvage. Every time you step into their store, it'll be an entirely new shopping experience. There's something fun for everyone, guaranteed.
Who Belongs at Art Salvage?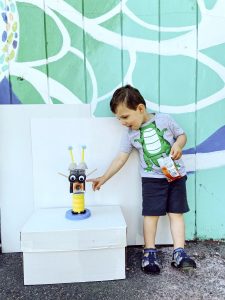 Whether you're a full-fledged professional artist, a savvy crafter, a student of any sort, or a teacher of any subject, you're welcome at Art Salvage. Art Salvage is passionate about educating and inspiring newcomers to use the recycled materials they've collected, no matter your background. They're excited to steward a more sustainable lifestyle here in Spokane.
The age range of individuals who enjoy Art Salvage is varied. Toddlers, retired folks, and well-established artists all love visiting the sustainable store. "There's such a diversity of artists coming through to search through all these different material selections."
You're welcome into the store any time during their business hours. To shop, you won't need an appointment. However, you will need to set up an appointment to donate materials.
They host a monthly "Family Make-and-Take," where the title says all you need to know about what takes place at this family-friendly event. When Spokane opens back up after the pandemic, they plan to offer a variety of classes.
If you want to catch Art Salvage out and about, they set up a fun crafting booth at West Central Farmer's Market on the first Tuesday of each month. At the market, they'll host a different craft activity based around reuse.
Donate Materials to Art Salvage
Art Salvage is supported entirely by community supply donations. "This ensures that materials are affordable, ever-changing, and a completely different experience than what you'd get at a traditional art store." Art Salvage Spokane is a great way to give your art supplies a second life! Things that were once a part of your past can be given a new future with Art Salvage. "By gathering all the scraps of usable things together in one place, we create an accessible and inspiring place to load up on art materials."
Let's be honest, we've all got a box of leftover scrap materials from old projects that we're hoarding in our cupboard or garage somewhere. We all tell ourselves, "Maybe I'll use it someday!" Likely, you've now misplaced the container in your most recent spring cleaning endeavor. Perchance you did find a way to use your craft box's contents, and it's now buried only to be found during next year's cleaning. There this poor leftover box of materials sits, collecting dust for all eternity. You're not the only one that's guilty! Most people have the exact same story.
Are you cleaning out your studio? Clearing your craft cupboard? Sorting your garage? Have extra teaching supplies? Art Salvage has a place for you and your stuff! By donating to Art Salvage, you can feel good about getting rid of some old supplies because they will make it back into the Spokane arts community, especially those in need of affordably priced art supplies.
Most of Art Salvage's materials come from the local Spokane, Colville, Pullman and Seattle area. They try to keep all materials within the community because the less materials have to travel, the more their impact on the environment is reduced.
Their goal is to connect with more local businesses for donations. Currently, they're looking for metal scraps, wood end cuts, damaged goods, and things people can't sell. If you're a business with damaged supplies, out-of-season materials, or things that are not needed anymore, you are wanted at Art Salvage.
Donations are by appointment only. To donate, call, or schedule an appointment through their website.
Get More Involved with Art Salvage
Would you like to volunteer for Art Salvage? Are you a creative person who dreams of leading a workshop? Send Art Salvage an inquiry email to let them know how your talents would benefit the Spokane arts community at connect@artsalvagespokane.com.
Get Help from Art Salvage
If you have a project or group in need of art supplies, you can apply for a mini-grant on their website. They enjoy funding other outreach programs that make a positive impact on the local community. Once accepted for a grant, groups can go into Art Salvage and choose the items they require with the granted money allotment. Grants will often cover $25 to $100 to spend on anything on the shelves of Art Salvage.
Art Salvage Store hours are from Wednesday to Saturday from 10 a.m. – 4 p.m.
Art Salvage Spokane
1925 N Ash St.
Spokane
509.598.8983