After months of seemingly endless cold and overcast days, spring has returned. Cooped up in their houses, people are ready to get back outside and bask in the warm weather. It's the time of year to build a new deck on the house or go on a day trip to a park to get more exercise. With this uptick in summer outdoor activity comes a sharp increase in the number of injuries, such as slips, strains, cuts, and minor fractures treated at MultiCare Indigo Urgent Care.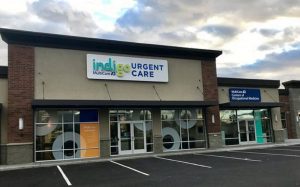 While these injuries are referred to as "common," they need not be if proper precautions are taken beforehand. When accidents do inevitably happen, how do you treat them? Is urgent care the best option? Or should you go to the emergency room?
Urgent care clinics provide quick assistance for minor injuries or illnesses that may not be severe enough to justify a trip to the emergency room. Thanks to the convenience, urgent care clinics have exploded in popularity over the last twenty years and are projected to continue to grow. You'll find quick and convenient care for many common summer injuries at any of the six Indigo Urgent Care clinics in the greater Spokane area — and another site is opening in Airway Heights later this summer.
Indigo Urgent Care provides a truly customer-focused experience, with quick turnaround times and online scheduling to move to the front of the line. Paperless registration and mobile check-in also reduce wait times. The clinics provide coffee, juice and comfort items to their patients as well.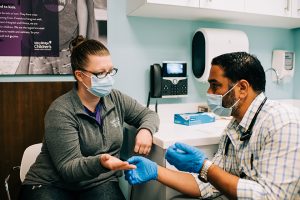 Jason Collins is a Physician Assistant with the Indigo Urgent Care in North Spokane. He's practiced medicine for 17 years, with the last five years in the urgent care field. Recently, Collins spoke about some of the most common injuries seen this time of year and the treatments for them available at Indigo Urgent Care and when to go to the emergency room.
"Ankle or wrist sprains, along with back strains, are some of the most common injuries that happen in the spring and summer," Collins noted. "The warm weather leads to more cyclists, and riding bikes are a common cause for sprains."
Spring and summer are also home improvement seasons and can lead to sprains as well. If the injury turns out to be a sprain, or even a minor fracture or bruise, then Indigo Urgent Care can provide medical assistance. The clinics have digital X-ray machines onsite to confirm or rule out fractures and can provide medical supplies if needed, such as crutches, walking boots or splints.
Fractures are another typical spring and summer injury, and these can lead to a tricky question — is it better to go to the emergency room than urgent care? "It depends on the type of fracture," says Collins. "In the case of a minor fracture, where the bone does not break through the skin, a visit to the urgent care is a good first step."
Urgent care is also a good place for treating hairline fractures as well. Indigo Urgent Care can evaluate fractures with their digital X-rays and provide treatment for minor fractures. If the fracture cannot be treated there, the patient can get a referral for more intense care. However, in more severe fractures, particularly if the bone is visibly deformed, bent or visible, Collins said the patient might want to skip the urgent care and visit an emergency room instead.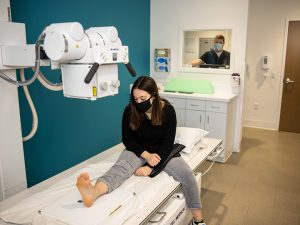 Collins pointed out another common cause of injuries in the summertime is flip-flop sandals. "I've seen people trip on them, as well as stub their toes or rip a nail off," he says. "Allergic reactions due to bug bites and sunburns are also common, and Indigo can treat those as well."
The medical professionals at Indigo Urgent Care can clean and treat minor cuts and scrapes, plus provide traditional stitches or alternatives to stitches if needed. Symptoms of an infected scrape or cut include redness, warmth and swelling, increased pain or pus and drainage from the wound, fever or red streaks around the injury. In the case of a deep cut or a possible severed nerve or tendon, it is best to go to the emergency room. This is also the case if the bleeding won't stop or is heavy or if there is a foreign object stuck in the wound.
So, what methods can people use to safeguard themselves from these spring and summer injuries? Collins stresses slowing down and taking a few extra steps to ensure you and your loved ones are safe. It can be something as simple as putting on protective gear, such as gloves and safety glasses, noting the large number of eye-related injuries they see this time of year. Being aware of your surroundings is another simple way of preventing injuries.
For your convenience, set up an appointment online via Indigo's website. Between the six local clinics, patients should be able to get a quick appointment. If you cannot find a time that works for you online, try calling the clinic directly to see if there are any openings. And walk-ins are always welcome at any of the locations.
Spring and summer in Spokane are glorious. It is a grand time to get out and see the beauty the area provides. The sunny weather also offers the perfect opportunity for home improvement projects. It is also a time for many potential minor injuries, but they are often preventable. And when they do inevitably happen, then Indigo Urgent Care is standing by to help seven days a week from 8 a.m. to 8 p.m.
Sponsored