As a tribute to Taco Tuesday, we want to aid in your festivities by giving you an online "taco tour" of Spokane. In order to find suggestions on where to find the best places for mouth-watering Mexican food, we conducted an unofficial survey and asked for people to vote on their favorite spots to find local Mexican cuisine. From the lovely citizens of Spokane directly to you, here are some of the top places to find terrific tacos and authentic Mexican food around Spokane. Let's taco about it!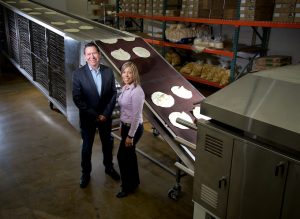 Spokane Store
102 E. Francis Ave.
Spokane
509.483.3033
Spokane Valley Store
15530 E Sprague Ave.
Spokane Valley
509.926.5009
Deli & Grocery Store:
Sergio and Mayra De Leon seem to be the power couple in all things Mexican food around Spokane. These friendly folks welcome you to De Leon's Mexican Grocery and Deli and have two lovely grocery store locations. They started De Leon Foods, Inc. to bring authentic Mexican grocery items and traditional family recipes to the Spokane community. At De Leon Foods, they offer a full-service deli, a bakery, and can you believe it? —Their very own fresh tortilla factory!
They make their own fresh and authentic tortillas in this "tortilleria." If you're looking for a full-on, culturally immersive experience while you wait for your food, head to De Leon Foods and watch their fresh tortillas come hot off the press. They supply their own restaurants and many other local restaurants with this in-house tortilla production facility.
At their grocery stores, you can find a wide variety of Latino products. They have a fabulous selection of meats, Hispanic foods, a bakery full of sweet Mexican treats, Piñatas, Mexican candy, Mexican sodas and classic Mexican canned goods. They have a bakery where they make beautiful Mexican breads, and a meat market where they carve their own meats for their stores, restaurants and recipes.
Find wonderful and affordable specials on the menu every single day of the week, so if you missed taco Tuesday, don't be sorry, you can still stop by. They can cook you up a fajita burrito, a chimichanga, nachos, enchiladas, pozole and much more any day of the week!
De Leon Foods Inc. and De Leon's Taco & Bar (below) have been voted the best Mexican food in Spokane in several previous years, and the owners are proud to continue bringing their high-quality meals and ingredients to the public in the years to come.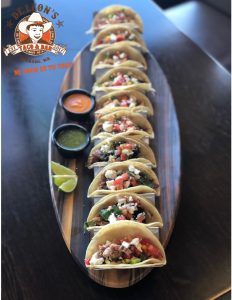 North Side Location
10208 N Division St. Ste 110
Spokane
509.822.7907
South Hill Location
2718 E 57th Ave.
Spokane
509.381.5540
Gonzaga District
1801 N Hamilton St.
Spokane
509.863.9591
With their grocery stores doing well, Sergio and Mayra De Leon decided to open authentic Mexican restaurants to bring the secret and delicious De Leon family recipes to Spokane. Originally from the Southern Texas and Mexican border area, the De Leon family brings historical family recipes and unique techniques to diners in Eastern Washington. "Old family recipes for new friends in Spokane," they say.
Don't miss the made-to-order street tacos, complete with your choice of slow-cooked and mouthwatering seasoned meats and fish. Their flavors aim to "take your taste buds south of the border." Here, you can have it your way with a variety of options when it comes to burritos, enchiladas, chilaquiles, quesadillas, tamales, nachos, and so much more. Don't forget about their freshly made salsas and guacamole!
You can also take a tequila tour of De Leon's Taco & Bar Tequila. On average, they have well over 50 different brands of tequila available to try.  "Sergio's Tequila Flights" are the best way to get acquainted with several different tequila selections. We especially recommend this as a fun activity to do on a date night.
Taco & Bar can also cater for your next special event. Whether your event is big or small, they guarantee the best quality for guests and ensure some of the most delicious Mexican food in town. They husk tamales by the dozen, offer chips and salsa, taco and enchilada trays and trays full of authentic sides and extras. Everything is made locally to fit your specific needs, so get in touch to customize your order.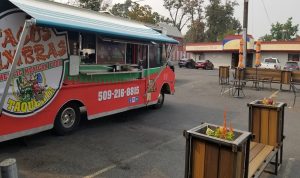 7 Day Truck Location
1311 N Hamilton St.
Spokane
509.216.8815
How do you make someone fall in love? With these words… "I bought you three tacos al pastor with avocado and an ice-cold Mexican Coke."
Tacos Tumbras is owned by Carlos, Susana, Juan Carlos, and Lindsey, a big family all sporting the Zuniga family name. They have been in the Spokane area for nearly 20 years. The family started out as one simple taco truck and opened some restaurants but decided they liked #vanlife more than restaurant life, so they let go of their restaurants and opened the three taco trucks they currently have today.
One truck is located in The Dalles, Oregon. Their main Spokane location is on Hamilton Street in a sweet little vendor parking lot that's the talk of the town amongst Gonzaga University students. Their Spokane food truck is brightly adorned with photos, colorful fonts and the friendly faces that will greet you at the order window. The third food truck is more mobile and used for catering and events.
The Zuniga family loves what they do, so they work seven days per week, keeping their dream alive. Tacos Tumbras is happy to be busy with catering and keeping their windows open seven days a week at the Gonzaga location. They've been open for so long, they are considered a popular staple of Mexican food in Spokane. With all authentic Mexican food and everything made from scratch, it's no wonder they've been around so long!
Monday to Friday from 11 a.m. – 7 p.m.
Saturday to Sunday from 12 p.m. – 7 p.m.
2610 W. Northwest Blvd.
Spokane
509.934.1940
Tecate Grill came highly recommended by their valued customers. They offer an array of colorful Mexican cuisines such as tacos, fajitas, macho burritos, quesadillas, sautés, seafood and even some fun and festive pasta dishes.
Tecate Grill offers amigos a delicious and authentic dining experience as if guests were dining in Mexico. Tecate Grill is carving a new niche into casual upscale dining. They work hard to capture the flavors and essence of various regions in Mexico, and they also feature some entrees that are unique to Southwest USA.
They're known for their incredible lunch combo plates available from 11 a.m. to 3 p.m. Monday through Friday. Through COVID, they've pivoted to providing exciting and creative "Margarita Kits." You can purchase a perfected margarita kit to make fancy cocktails from the comfort of your home. With restaurants opening up again, they offer a happy hour from 3 p.m. to 6:30 p.m. daily!
Tecate Grill's menu provides something fun and interesting for everyone in your dinner party. Their esteemed chefs are constantly creating unique dishes that utilize regional spices and capture the taste and feel of Mexico! Basically, here, you can go on your Mexican vacation without taking that long and expensive flight.
Summer Hours (April to October):
Sunday to Thursday from 11 a.m. to 9:30 p.m.
Friday & Saturday from 11 a.m. to 10:30 p.m.
For a culinary experience in delicious Mexican food, you don't have to go south of the border. Next time you've got a craving for Mexican cuisine, try one of these great restaurants. They all offer flavors that are sure to satisfy!