Your mamma brought you into this world! Moms are responsible for life on earth, so they deserve an extra-special "thank you" on Mother's Day Sunday, May 9. She may be hard on you sometimes, but let's be honest, most of it is out of love. It's our goal to give you ideas for activities, opportunities to support local businesses and fun events to partake in for every occasion happening in Spokane. So, treat mom (and you) this Mother's Day with fun ways to celebrate mammas in Spokane.
Green Acres Vendor Mall Mother's Day Market
16814 E. Sprague Ave.
Spokane Valley
509.309.3236
Take your mother and the whole gang, for that matter, to Green Acres Vendor Mall's 7th annual Mother's Day Event. For this fun family of vintage and thrifted slingers, Mother's Day basically kicks off their entire season with a bang. Their outdoor market will take place from 10 a.m. to 4 p.m. while their store will still stay open until 6 p.m. The Green Acres Vendor Mall Mother's Day Market is sure to be a super fun way to celebrate Mother's Day.
The market will cover their massive outdoor parking-lot area with room for over one hundred merchant spaces. Since their market is considered a farmer's market and because enough of their products are "essential," the State of Washington was comfortable keeping the market open this entire time. Staff will be wearing masks, and they strongly encourage attendees to wear masks. If you don't have a mask of your own, they will offer a free one for your convenience.
At this immersive large-scale event, find over 300 vendors (including the permanent vendors) set up shop in their building, several food trucks, and even the famous Francis the Flea will make an appearance! Find Francis the Flea signing posters throughout the day, and all the money generated will be donated to the Adopt Don't Shop animal rescue.
In 2015, Green Acres Vendor Mall started off in a small building, helping a woman save her small store and home. After saving the home, the growing business needed to move into a bigger space to meet local thrift and antique shopping demand. Their new store is a lofty 14,000 square-foot boutique vendor-mall that hosts 226 vendors currently. "We consider all our flea-market vendors to be business partners," said the owners. "Everyone is part of one big family here."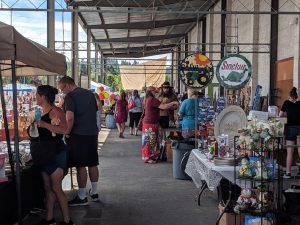 With 85% of their current collectors as women, most are moms working hard to bring their passion projects to life. Thus, they have a deep connection to mothers and want to help everyone celebrate their moms. All their markets are family-oriented, so please bring your kiddos for an incredible and eclectic "picking'" experience. Green Acres Vendor Mall Mother's Day Market has a wide array of items and vendors so that you can spend 25 cents or $2,500. Plus, they'll be doing giveaways for gift baskets, gift cards and local items throughout the day.
Proudly dorks, the owners squealed, "It's the place to flea… the place to be… the place to he… the place to she… and we've even got a place to pee!"
If you must miss the Mother's Day Market, be sure to check out their Second Saturday Markets, happening every second Saturday from Mother's Day through October. Are you interested in becoming a vendor? Fill out their vendor form.
Pinot's Palette Paint & Sip Studio
319 W. Sprague Ave.
Spokane
509.290.5098
Jackie Casey and her husband own and run this ultra-trendy and artistic business. When they decided to open in Spokane in 2014, it was entirely new for the area and something that had never been done before. At first, like many self-starters, they weren't sure if people were getting their idea, but low and behold, it has been a great success! They had so much fun with it that they opened a branch in Coeur d'Alene the following year.
Like most small businesses, through COVID, things have been hard. They were required to shut down for six months and were only recently able to reopen. Although, I don't know how the "peace" that making art gives people isn't considered "essential." They were ecstatic to reopen on Valentine's Day, their second most popular season of the year (right in there after Mother's Day). Date night with mom? I think yes!
The atmosphere at Pinot's Palette Paint & Sip Studio is quite remarkable. Social classes happen in person, so Pinot's Palette owners and staff are happy to be open once again. If you're still nervous about venturing out in public, private parties are also something that can happen any day and any time. They're also doing virtual paint parties at your convenience. Live classes are taught via zoom, but they're still very interactive from the comfort and safety of your own home.
Never painted before? Don't worry — their classes were designed for people who have never picked up a paintbrush. You'll be seated with your group — no matter whether you book separately, you just have to tell them the people's names in your group, and they prepare a cute little palette nametag welcoming you. Also, you can make your art entirely your own. Paint it however you like or follow the artist's steps.
Pinot's Palette painting is laid back and low pressure where the team assists everyone in finding and connecting with their "inner artist." More than focusing on technique, you can focus on fun with mom.  Paint, drink, be merry and have a grand-ole time treating your mom.
There's nothing like a fresh bouquet to give to that special someone, but fresh flowers don't last forever. Give the gift of "forever flowers" by enjoying a paint night at Pinot's.
They offer three classes on Mother's Day and the day before on Saturday, May 8. Join them for a paint party with mom, complete with $5 mimosas.
Saturday, May 8
11:30 a.m. – Abstract Flowers
3 p.m. – Eventide (Mountain Sunset)
7 p.m. – My Wish (Dandelion)
Sunday, May 9
11 a.m. – Freshly Picked Roses
3 p.m. – Monet's Water Lily
7 p.m. – Serene Sunset (Colorful sunset with trees)
View other fun events at Pinot's Palette Paint & Sip Studio and book here for reservations. They are required, so make sure to reserve your spot as soon as possible as Mother's Day is one of their busiest events.
*Note you must be over the age of 21 due to state laws to enter both studios.
Sweet Frostings Blissful Bakeshop
15 S. Washington St.
Spokane
509.242.3845
info@sweetfrostingsbakeshop.com
Since 2011, Sweet Frostings has been owned and operated by a mother-daughter team, Sally and Jessica Winfrey. A mother-daughter duo must make the best treats for a daughter (or son) to give their mom on Mother's Day.
Sally was a cake-decorator at Safeway for 11 years and had the opportunity to attend the American Institute of Baking in 2011. Sally's youngest of three children, Jessica, has worked at Sweet Frostings since they had their first vendor booth at the vintage thrift market in the summer of 2011.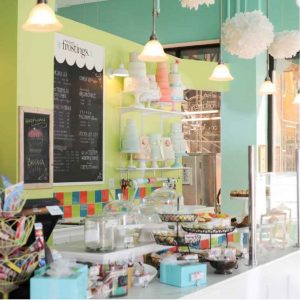 Not only are their deserts beautiful and delicious, by ordering sweets through them, you're also supporting a small and local Spokane business. How sweet is that?
If you're looking for something extra special to give to mamma, they can even make custom cakes. Fill out their "custom order" form with details of what you're looking for, and they'll quickly get back to you with pricing. Sweet Frostings Blissful Bakeshop makes magic happen in the most delectable way you can imagine. Please note that they do require three to four days' notice when ordering something custom.
Rose and Blossom Florist
219 N. Pines Rd.
Spokane Valley
509.921.7673
Maybe she says she "doesn't like flowers." Still, honestly, we all appreciate the beauty and wonderful aromas of a fresh-cut bouquet, especially when a group of local florists handcrafts it.
The team at Rose and Blossom work hard to create some of the most amazing floral arrangements in Spokane. The business is locally owned, with two locations catering to the community, one in Spokane and another in Spokane Valley. Rose and Blossom are proud to call Spokane home.
All their flower arrangements are carefully crafted by hand. They put the same amount of care and attention to detail into every flower arrangement, whether it's a simple Spring bouquet, a birthday present, a custom wedding arrangement, or a special gift to make mamma smile on Mother's Day.
Forgot an important anniversary? Or forgot about Mother's Day? Don't worry — you're in luck! Rose and Blossom offer same-day delivery to Spokane, Glenrose, Millwood, Dishman, and Liberty Lake. Just make sure your order is placed before their daily cut-off time.
All Rose and Blossom's flowers are 100% fresh. Their bouquets are guaranteed to "say what you feel," and they take pride in the quality of their work so, they offer a money-back guarantee if you're not satisfied. They take pride in each floral design because they really care about their customers. Their unique and colorful arrangements are sure to turn heads and melt mom's heart.
Mother's Day in Spokane
As always, we hope we've provided you with some great ideas for events, activities and resources around the Spokane area for Mother's Day and ultimately all year round. Who wouldn't want a paint night, sweet treat, fresh bouquet and a shopping extravaganza any time of the year?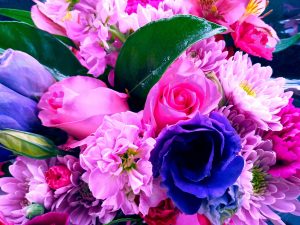 Make your mamma feel special this year by showing her some extra love! Buy her some flowers, take her shopping, get her a massage—she's worth it! Whether you know it or not, she probably loves spending time with you and having you around, no matter the gifting or activities you have planned.
We all need extra love and care through these times, so don't be afraid to pass it on! Give that special woman a big hug and a kiss from all of us at SpokaneTalk. Happy Mother's Day, Spokane!