In recognizing Arab American heritage, I reached out to Professor Kamilia Nemri at Spokane Community College. As we started our phone conversation, Kamilia stated, "We're all humans, and hopefully all of us have a focus on contributing to society." Throughout our discussion, it was apparent how important family and giving back to the community are in the Arab community. As shared by Kamilia, "Family support, other people, and education are very valued, and the little things are celebrated" in Arab families.
How is an Arab Heritage defined? A difficult question to answer, yet easy for many to misunderstand. An Arab is generally defined as someone who speaks the Arabic language as their mother tongue or whose parent's or grandparent's native language is Arabic. Arab countries typically apply to 22 countries that are in the League of the Arab States, which primarily include and not limited to those in west Asia: Iraq, Jordan, Lebanon, Syria, Palestine, Kuwait, Saudi Arabia, Qatar, Bahrain, Oman, United Arab Emirates and Yemen, while in Africa: Egypt, Algeria, Morocco, Tunisia.
Kamilia's Journey
Like many Arab Americans in Spokane, Kamilia immigrated to our community with her family. Her parents believed there would be more opportunity for her and her seven siblings in Spokane. Her father came to Spokane one year before his wife and eight children. They started with very little but had the blessing of each other and their extended family.
Imagine as a young Arab woman coming to Spokane in 1978 and working at Keytronic for about a year. Then, having already taught professionally in Jordan, to teaching high schoolers. This is how Kamilia's American journey began, which was quite a culture shock. Coming into a mostly white community, it was common, even today, to be asked where she is from because of her accent. Over the next decade, it was a lot of hard work. Her family persisted and supported each other, finding their own success in American life.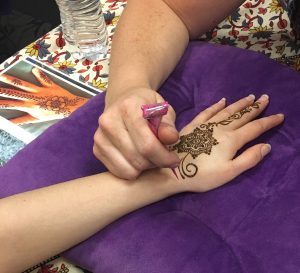 In 2010 Kamilia started an Arab Culture Club at her church. This club started because her friends and her children's friends loved that the Arab culture was so welcoming, friendly, and hospitable. Not to mention the amazing dishes they'd eat. At first, the club was held every Saturday at church, where nephews, nieces, and friends would gather to share Arab cultural activities, including cooking, language lessons, cultural celebrations, and guest speakers (elders in the Arabic community).
Soon after, Kamilia's son and nephew began to attend Spokane Community College. With Kamilia's guidance, they decided to bring the Arab Culture Club to the college to share the culture with the students and community in the area. At first, they held small events such as language lessons and Arabic dances. Soon the group hosted much larger events such as Arabian Nights including Arabic food from local Arabic restaurants, calligraphy, henna art, live music, and dancers with over 300 attendees.
As the world turned virtual last year, so did Kamilia. Catch her YouTube channel "Kamilia's Kitchen" and see how to make falafel, easter bread, baklava, lentil soup, and so much more! While she initially started the videos for her children to learn their favorite family dishes, several videos have hundreds of views, like camel burgers and orange cake. Personally, I'm excited to try Tomato Tahini Salad and Oregano Olive Bread. She focuses on creating mainly traditional Jordanian family meals and expanded her cooking to include American-influenced dishes.
The Diversity Discussion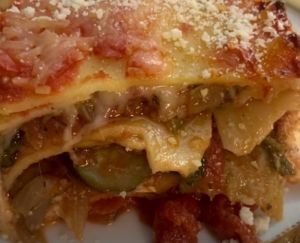 As we started talking about diversity and Spokane businesses run by Arabs, I was surprised the list was somewhat small. There are several grocery stores, including International Food Store on Mission near Spokane Community College, Damas Grocery Store in Spokane Valley, Mariam Market on Wellesley at Division, and Victor Foods. Dental offices with Arab dentists include Matta Woolf Family Dentistry with a new location opening soon in Airway Heights and Bright Now Dental on North Division. As for restaurants, find Azar's Restaurant on Monroe and Kabob House. Another great take-out restaurant is Feast World Kitchen, a non-profit, which offers various meals from a rotating group of chef-entrepreneurs in Spokane from around the world. For some fantastic Arabic music, check out Layali Arabia on KYRS.
We talked about how respecting the elderly is especially important in the Arab culture, particularly when serving others. For example, when offering coffee or tea, the elders should always be served first. This 'old-fashioned' value is also important in education, as teachers are sharing and mentoring you in your path.
The last question I asked Kamilia was, "What can be done about racism and prejudice towards Arabs, in your opinion?" There was no hesitation as Kamilia stated, "The way we improve racist behavior is to have people explore firsthand what the 'others' do in their (native) culture," she said. "American friends, come and see how my family and I celebrate – and appreciate it. This opens us up to each other, with ongoing discussions and sharing food." However, we agreed it would take patience, time, and a lot of work to see lasting change and intercultural harmony.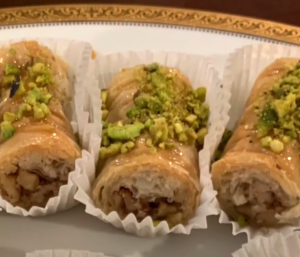 The Next Generation
After teaching for two years in Jordan, four years in California, 31 years at Spokane Community College and building a great family life, Kamilia can look back and be thankful. She can also look at her accomplishments and is proud of her four children. Two of her daughters followed her footsteps and are teachers, one in an elementary school and the other as an ESL teacher at Spokane Community College. The other two of her children are in the health field. Her daughter is an acupuncture physician, and her son recently graduated from the University of Washington Medical School and is starting his residency program at the University of Minnesota.
While I couldn't meet her in person, I felt a genuine connection with Kamilia, particularly in talking about little celebrations, like her grandchild's first tooth. I would welcome another opportunity to discuss diversity and inclusion with her in the future. And I'd love to go to Arabian Nights in 2022.