We've all seen the videos by now of unique diners and cafés worldwide, wishing we could visit one. In Spain, there's Disaster Café complete with simulated earthquakes. Japan has Vampire Café fit for Dracula himself, but these places are so far away from home. Well, the good news is now you don't have to travel so far to visit a cool café like this, thanks to Spokane's very own Kitty Cantina!
Kitty Cantina is a cozy little café in North Spokane run by husband and wife team Justyn and Tori Cozza. After opening its doors to the public in 2020, the cat cantina already managed to adopt out over 400 cats in that short time. Justyn and Tori became inspired to open the Kitty Cantina after visiting Portland, where they visited their first cat café. It was a purr-fect fit, seeing Justyn's interest in the food industry and Tori's love of coffee. Their mutual love of cats sealed the deal.
Justyn and Tori's Kitty Cantina features not only a lobby for the cats but also a bar, drive-thru, and there's talk of a patio area in the works. When walking in for the first time, customers encounter two doors, one leading into the café and one to the lobby that houses the felines. A glass wall separates the entry, but the special treat is there's a bar right beside it, so patrons can enjoy a drink while they sit and watch the cats play.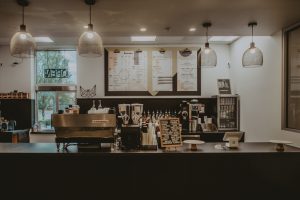 On the menu is beer, wine and seltzers, with everything offered at Kitty Cantina coming from as many local vendors as possible — from the art to the drinks themselves. "Everything we do is just trying to be behind Spokane," Justyn said. "The goal of Kitty Cantina is to be family-friendly but also with a nightlife."
Sometimes, visitation for the cat lobby itself is restricted due to a limited number of adoptable cats, but Justyn expects the visiting days to pick back up during the coming months as it gets warmer.
The café is always open from 8 a.m. to 6 p.m. Sunday thru Thursday, then from 8 a.m. to 8 p.m. on Fridays and Saturdays. Customers are welcome to grab a beverage and watch the cats enjoy a luxury, cage-free environment.
The biggest thing Justyn wants customers to know is, "We're cats first. Reservations are required to go in and meet with the cats, but it's for the benefit of the cats themselves. It would be too stressful for them to have people coming and going from their space all day."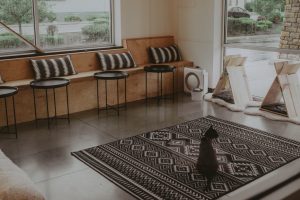 To meet the kitties on the days they're available, it must be done by appointment. Currently, only one household can go in at a time to meet the cats during these appointment times, and the family is charged for the room. Upon entering the room, a cat caretaker will introduce the family to all the kitties and let them know which of them have homes lined up.
If someone falls in love with any of the feisty felines that aren't scheduled to go home with someone yet, they do have to sleep on it before adopting the cat. After receiving an adoption application following the lobby visit outlining the process, they then must go home and consider it overnight as instructed. If they're still interested the following day, they call back to set up a day and time to pick up their new fur baby. When they come in, they receive an adoption packet and paperwork, and there is a shelter fee due to take home their new baby.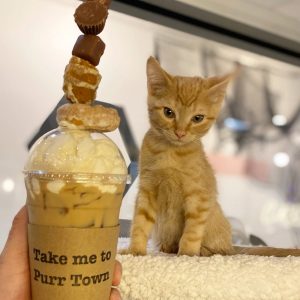 Partnering with SpokAnimal, which is who the shelter fee is paid to, Kitty Cantina does not profit off the lobby fee they charge. All money received goes toward any supplies needed to take care of the kitties, and to keep them healthy, happy, and safe.
They also accept donations from those who feel inclined to donate in the form of cat supplies, anything from litter to toys. Donations they can't use at Kitty Cantina goes directly to SpokAnimal.
To learn more about Kitty Cantina, the cats, and their adoption process, visit their website or reach out to them via phone at 509.558.7093.
Kitty Cantina
6704 N. Nevada St. Suite 1
Spokane